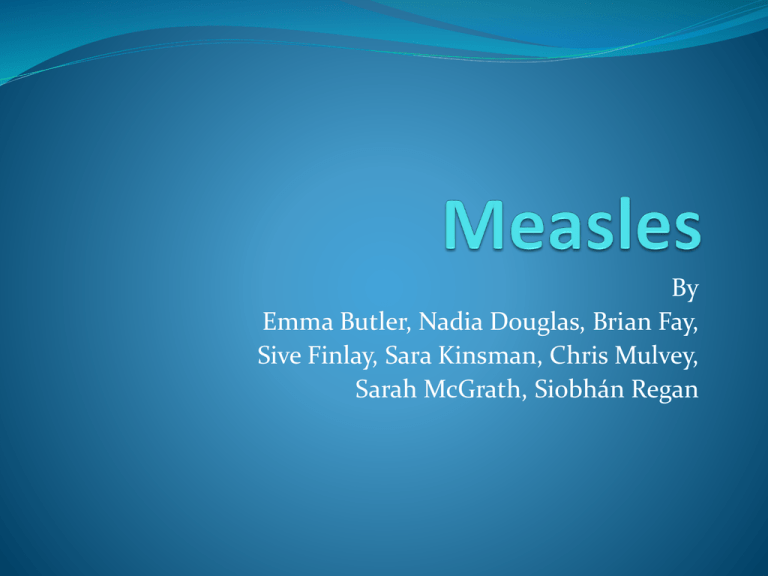 By
Emma Butler, Nadia Douglas, Brian Fay,
Sive Finlay, Sara Kinsman, Chris Mulvey,
Sarah McGrath, Siobhán Regan
What is Measles?
•
•
•
•
An infection of the
respiratory system
Caused by the Morbillivirus
Transmitted through
respiration
Symptoms: fever, cough, rash
koplik's spots
Diagnosis & treatment
 Clinical diagnosis requires a
history of fever of 3 days, with at
least 1 of: cough, cold,
conjunctivitis
 Koplik's spots are diagnostic, but
not always seen
 No specific treatment
Evolution of measles
 Evolved from the rinderpest
virus in the 11th and 12th
centuries
 Thought to have evolved in
an environment where cattle
and humans lived in close
proximity
 1st scientific description by
Muhammad ibn Zakariya arRazi
Historical treatments
 Ancient Egypt
 Mythology
 Herbal treatments
 Ancient Rome
 Mythology
 Herbal treatments
 American Indians
 Disharmony
 Medicine men
The Dark Ages & Medieval Era
 Proper obedience to God and the





will of the Church
Dirty water : to keep a baby from
growing up sickly
Rabbits foot: to prevent disease
Leeches
Bleeding : "draining out" the illness
Roasted mice
Homeopathy & Measles
 In Eastern medical philosophy,
poisons are believed to
accumulate in the baby's body
during life in the womb.
 Changes in your child's
behaviour.
 Measles strengthens the immune
system.
 Virgin population that has never
experienced the disease.
Fiji 1875
•
•
•
•
Measles epidemic killed over 40,000 people
Increased visiting vessels and shorter travelling times – from
Australia rather than England
No natural immunity – used as evidence for natives being less
evolved
Extrinsic factors increased the severity
• vitamin A deficiency
• coinfection with pneumonia and diarrheal disease
• starvation – hurricane and unable to gather food due to the
epidemic
• refusal to accept the risk – similar to HIV in the 1980s
Native American Indians
 Measles introduced to the
Americas by Old World settlers
beginning with the Voyages of
Columbus in AD 1492
 Separate evolutionary histories
for host-pathogen relationships
prior to Age of Exploration
 Lack of immunological memory
increased risk of infection,
morbidity and mortality
 "Virgin-soil" epidemics
Native American Indians
 Old World diseases preceded
contact by actual explorers
 Populations already
decimated by the time
Europeans settlers attempted
to colonise
 Intensified reactions to
measles vaccine observed in
unexposed populations of
American Indians to this day
Intrinsic & Extrinsic Drivers
• The intrinsic and extrinsic driving factors of
measles are well characterised.
• Earn et el (2000) used a seasonally forced SEIR
model to demonstrate how changes in complex
dynamics could be predicted, with just knowledge
of population size and vaccination rates.
Intrinsic & Extrinsic Drivers
 From studies similar to that of Earn et al (2000)-
intrinsic and extrinsic factors of measles are not
mutually exclusive of each other
 Interactions between
1. Intrinsic, nonlinear dynamics and
2. Extrinsic, seasonal cycles
Drive the disease and influences the epidemics
Cyclical Nature of Epidemics
Any Questions?