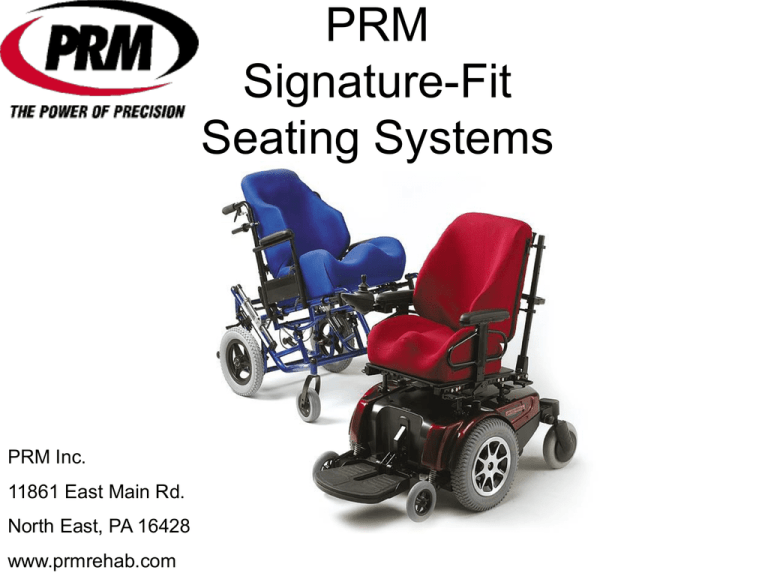 PRM
Signature-Fit
Seating Systems
PRM Inc.
11861 East Main Rd.
North East, PA 16428
www.prmrehab.com
Order Options
• Trial Fit
– Rough shape sent with liner
foam provides ability to trial
shape and field modify
• Cheese Cloth Trial Fit
– Same as trial except includes
disposable cloth covering to
hold foam in place
• Finish
– Cushion is manufactured
complete
– Minor field modifications can
be made with sewn removable
covers only
• VCO
– Raw foam carving only
Liner Foam
• Liner Foam chosen will effect
the support and feel of the
cushion
• Thinner, firmer foams will
provide more positioning and
support
• Thicker softer foam will provide
more forgiveness and pressure
relief
• ½ and ½, and ¼ and ½ liners
provide the best option to have
firm lateral control as well as
pressure relief on the weight
bearing area of client
Liner Foam Con't
• Bottoming Out vs Not
Sinking In
– Foam works best when it
allows for the client to sink
in but not bottom out
– If the client bottoms out
then the cushion will not
perform as required
– If the client does not sink
into the foam then the
cushion will not perform as
required
• Medium vs Soft
– The shape, size and
soft tissue mass of the
client will effect the
best option
– Error on the side of
making the foam too
firm or use foam
combinations (½ soft
on top and ½ medium
on bottom)
Junction Issues
• Molded with a gap
– Invacare has gap filled
due to plaster
– If gap is not accounted
for when digitizing gap
will be present
• How to account for
gap?
– Measure distance
between back of seat
and bottom of back
– Us digitizer to add to
bottom of back
cushion
– Ask PRM to add back
tongue, specify the
length of tongue. If not
specified will be 2"
Junction Issues Con't
• No Gap
– Make sure entire posterior
pelvic wall of seat is
digitized and pelvic control
junction is checked on
order form
– Make sure digitizing starts
at very bottom of back to
maintain proper distance
between back and seat
• Specified Gap 1", 2", or 3"
– Make sure to mark on
order form gap distance
– This will effect how we cut
rear of seat and bottom
back to obtain proper seat
to back angles
Reinforced Thin
Laterals
• PRM, Inc. reinforces
lateral supports using
1/8" or 1/4" ABS
plastic coming out to
match the lateral
depth. This provides
an extremely solid
lateral support.
Pressure Relief
Soft Spots
• Pressure relief soft
spots allow for
weight bearing on
safer surfaces
• Foam layers are
blended into the
molded shape
providing smooth
transition between
layers
Vacuum Formed
Vinyl
• An excellent option for the
institutional setting
because it is the easiest to
maintain. It can be wiped
clean using soap and
water but the vinyl does
not stretch limiting the
pressure relief capabilities
of the cushion.
Vacuum Formed
Neoprene
• Provides four way
stretch maximizing the
pressure relieving
qualities of the cushion.
Neoprene is incontinent
proof and can be
maintained by wiping
the cushion with soap
and water. Neoprene is
not as durable as vinyl.
Slip-On Removable
Covers
• Slip-On covers are available in
Lycra®, Waterproof Lycra®,
Polartech®, Dartex®, and
Spacer Mesh. Due to the
sewing of the fabric the covers
are not incontinent proof. Even
though the foam is protected
with a polyurethane film
incontinence barrier, we
recommend a second
removable cover for laundering
purposes.
• Minor field modifications can be
done when using sewn covers
Sewn Zippered
Covers
• Available in Neoprene®,
Waterproof Lycra®,
Polartech®, Dartex®, and
Spacer Mesh, zipper
covers provide increased
pressure relief. Due to the
sewing of the fabric the
covers are not incontinent
proof. Seams are sewn in
areas where moisture is
less likely to get into the
cushion. A polyurethane
film applied to protect the
foam.
Rail cuts, Footrest
Removal Notches…
• Signature-Fit has many
options to assist in the
interfacing of the
cushion to the
wheelchair. For a
complete list of options
and visual
representation see our
order form on-line or
call us and request an
order form.
Lead-time
• PRM will ship trial-fit and finished cushions
within seven to ten working days.
• You may doubt that we can really meet
this ridiculously short lead-time, send us
your order and we'll prove it to you.
Our Remake
Policy
• The Signature-Fit carving process allows
PRM to ship unfinished cushions to you for
"trial fit", providing the opportunity to make
changes to the shape prior to finishing the
cushion. If you are extremely confident no
modifications will be required you can bypass the trial-fit process and have the
cushions finished. The lead-time remains
at seven to ten working days even if you
by-pass the trial-fit step.
Why
Signature-Fit?
• Cushion Performance
• Lead-time
– Signature-Fit cushions utilize
– 7 to 10 business days
both firm and soft foam to
for finished cushions
provide the support your
• Trial Fit Policy
clients require and the soft feel
– Trial fit the cushions for
they demand
difficult clients, to be
• Functionality of product
sure the cushions will
– We can fabricate custom
provide the support
cushions to meet your
required
specifications
• Customer Service
– Data is easily captured and e– Custom seating is all
mailed to streamline the order
we manufacture
process
Finished Cushion
• Signature-Fit cushions
provide the support your
clients require using the
firm foam and the soft feel
they want using the soft
foam. The foam
combination maximizes the
pressure relieving qualities
of the cushion shape.