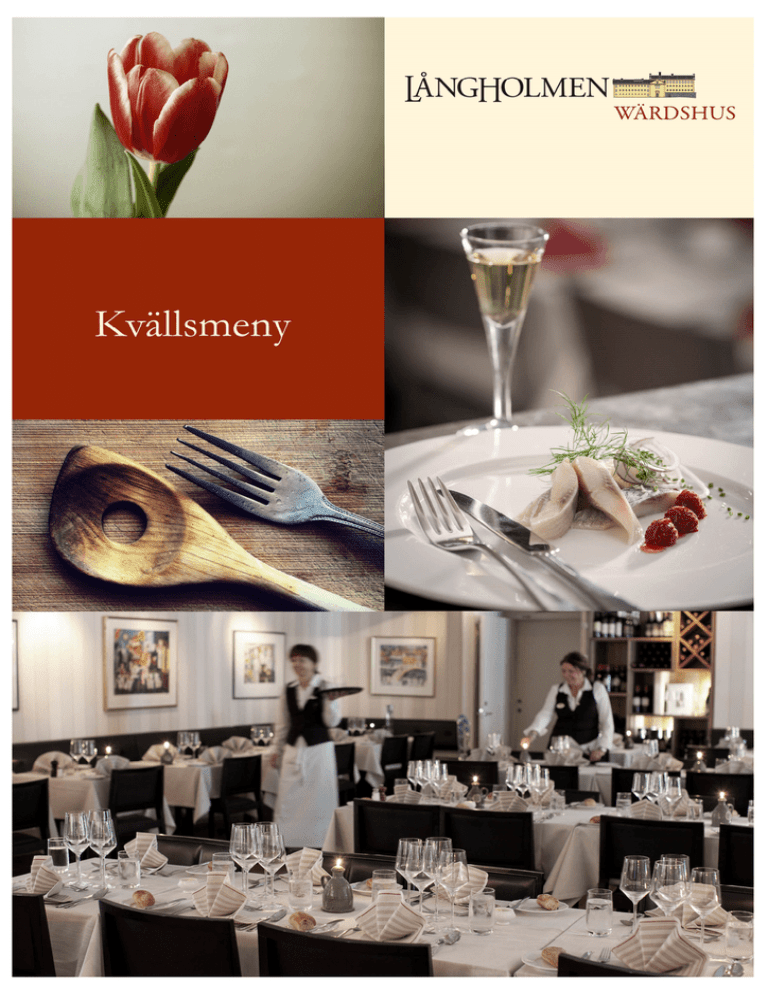 Förrätter Starters
Rödbetssoppa med smetana och rökt sidfläsk samt getostpirog
117:-
Beetroot soup with smetana and smoked belly of pork and goat-cheese pierogi
Jean Bousquet, Chardonnay - EKO
Gravad renytterfilé med picklad skogssvamp och lingon
135:-
Marinated reindeer fillet with pickled forest mushrooms and lingonberry
Chilcas Single Vineyard, Pinot noir
Långholmens silltallrik med tillbehör
115:-
Långholmen's pickled herring plate with accompaniments
Organic från S:t Eriks Bryggeri
Rökt regnbågslax från Tjärö med blomkålscrème och löjrom
Smoked rainbow trout from Tjärö with cauliflower crème and bleak roe
Walnut Block Wines Collectables, Sauvignon Blanc
Vi är Svanenmärkta!
145:-
Varmrätter Main courses
Pocherad torsk med champagnesås, löjrom och dill
250:-
Poached cod with champagne sauce, bleak roe and dill
Petit Chablis
Halstrad röding med brynt smör, hasselnötter och betor
225:-
Grilled char with brown butter, hazelnuts and beets
Pinot Gris Réserve - EKO
Grillad regnbågslax från Tjärö med friterad softshellsoftshell-krabba, mango, chili
och koriander
240:-
Grilled rainbow trout from Tjärö with fried soft shell crab, mango, chilli and coriander
(MSC labelled tuna)
Langenloiser Grüner Veltliner
Lammlägg och lammkorv med smak av timjan
serveras med syrad fänkål samt chilisky
225:-
Leg of lamb and lamb sausage with a taste of thyme served with soured fennel and chilli gravy
Mas Picosa, Grenache, Merlot och Syrah
Långholmens lammkorv med rostade rotfrukter och senapscrème
185:-
Långholmen's homemade lamb sausage with roasted root vegetables and mustard crème
Herrgårds Porter från Skebo Bryggeri
Grillad hängmörad entrecôte med broccoli, ädelost och valnötter
265:-
Grilled tenderized entrecôte with broccoli, blue cheese and walnuts
Amarone della Valpolicella Classico
Biff Rydberg
285:-
Biff Rydberg, diced fillet of beef, potatoes and onions
Columbia Crest Rwo Vines
Pastarulle med kantareller, parmesan och basilikasås
Pasta roll with chanterelle mushrooms, parmesan and basil sauce
Corte Giara Ripasso Valpolicella, Corvina, Rondinella, Molinara
185:-
Desserter Desserts
Pistageglass med vaniljkokta körsbär och havreflarn
115:-
Pistachio ice cream with vanilla cherries and thin oat biscuit
Muscat de Beaumes de Venise
Vaniljpannacotta med hjortronmylta och mandelkakor
115:-
Vanilla panna cotta with cloudberry preserve and almond biscuits
Château du Juge
Mörk chokladterrin,
chokladterrin, mousse på rostad vit choklad och chokladspongekakor
115:-
Dark chocolate terrine, roasted white chocolate mousse and chocolate sponge cakes
Museum Muscat
Lingonmousse med vit chokladsorbet
115:-
Lingonberry mousse with white chocolate sorbet
Royal Tokaji Late Harvest
Chokladtryfflar, tre bitar
60:-
Chocolate truffles, 3 pieces
Museum Muscat
Kaffe, en hemmagjord chokladtryffel och 4 cl Museum Muscat
Coffee, one homemade chocolate truffle and 4 cl Museum Muscat
Vi kan även rekommendera alkoholfria alternativ om så önskas.
If you prefer a non-alcoholic beverage, please ask for our recommendations.
Observera att alla priser i menyn är exkl. dryck.
Please note that all prices in the menu are exclusive of beverages.
100:-
Sherry
Pedro Ximenez
17:-
DrySack
17:-
Portvin
Grådask
15:-
Taylor`s 10 years Old Tawny
18:-
Dessertviner
Château du Juge
Cadillac
Frankrike
17:-
Tokaji Aszú, 5 Puttonyos
Ungern
27:-
Muscat Beaumes de Venise
Frankrike
18:-
Royal Tokaji Late Harvest
Ungern
20:-
Museum Muscat
Australien
22:-
Julbordstider!
På Långholmens Wärdshus serverar vi ett traditionellt, svenskt julbord.
Vällagad julmat, gjord på fina råvaror, i mysig wärdshusmiljö, mitt i Stockholm.
21 november - 21 december
pris från 495:- till 745:-
Vita
Mousserande & champagne
Glas
Flaska
Från friska & fruktiga mousserande viner till äkta pärlor
Sogas Mascaró Cava
Macabeo, Xarel-lo, Parellada
Spanien
80:-
320:-
Terra Organica Prosecco
Prosecco
Italien
85:-
335:-
André Clouet Grand Reserva
Pinot Noir
Frankrike
100:-
550:37,5 cl
295:André Clouet Rosé
Pinot Noir
Frankrike
115:-
615:-
Billabong
alkoholfritt mousserande
Australien
38:-
105:-
Friska & fruktiga
Torra viner med lätt fruktighet, smaker som äpple, citrus & passionsfrukt
Långholmens vita
Sauvignon Blanc
Frankrike
78:-
315:-
Léon Beyer Fruits De Mer
Pinot Blanc
Frankrike
94:-
375:-
GB Sauvage Riesling Trocken
Riesling
Tyskland
92:-
370:-
T. Rodriguez Gaba do Xil
Godello
Spanien
94:-
375:-
Walnut Block Collectables
Sauvignon Blanc
Nya Zeeland
98:-
390:-
Pazo de Señorans
Albariño
Spanien
459:-
Fylliga & smakrika
Torra viner med krispiga syror & fräschör.
Smaker som vanilj, citrus, tropisk frukt & inslag av fat, äpplen och päron
Yalumba Y Series
Viognier
Australien
89:-
355:-
Jean Bousquet
Chardonnay
Argentina
80:-
325:-
Jordan Chenin Blanc
Chenin Blanc
Sydafrika
108:-
425:-
Druviga & blommiga
Torra viner med tydlig druvkaraktär. Blommiga & kryddiga med mycket fruktiga aromer.
Petit Chablis La Chablisienne
Chardonnay
Frankrike
90:-
360:-
Couvent des Jacobins Bourgogne Blanc
Chardonnay
Frankrike
85:-
345:-
Langenloiser Grüner Veltliner
Grüner Veltiner
Österrike
96:-
385:-
La Belle Malvasia
Malvasia di Candia
Italien
105:-
420:-
Zensa Fiano
Fiano
Italien
85:-
340:-
Pinot Gris Réserve
Pinot Gris
Frankrike
110:-
435:-
Semillon
Australien
38:-
95:-
Merlot, Cabernet Sauvignon
Frankrike
80:-
315:-
Alkoholfritt vitt
Loxton
Rosé
Les Fumeé Blanches
Röda
Mjuka & bäriga
Glas
Flaska
Lätta, friska & mjuka viner. Typiskt för dessa är smak av röda bär
Långholmens röda
Syrah
Frankrike
80:-
315:-
Brolio Chianti Classico
Sangiovese
Italien
90:-
355:-
Chilcas Single Vineyard
Pinot Noir
Chile
108:-
425:-
Walnut Block Collectables
Pinot Noir
N. Zeeland
470:-
Kryddiga & mustiga
Viner med smak av torkad frukt, vanilj, peppar, kryddor & örter
Columbia Crest Two Vines
Shiraz, Cabernet Sauvignon, Merlot
USA
94:-
375:-
Yalumba Y Series
Shiraz, Viognier
Australien
90:-
360:-
Lupi Reali
Montepulciano d'Abruzzo
Italien
80:-
325:-
Amarone della Valpolicella Classico
Corvina, Rondinella, Molinara
Italien
Mas Picosa
Grenache, Merlot, Syrah
Spanien
88:-
350:-
595:-
Fruktiga & smakrika
Tydligt fruktiga viner med inslag av svarta vinbär, björnbär, körsbär, vanilj & mynta .
Cline Zinfandel
Zinfandel
USA
85:-
335:-
Corte Giara Ripasso Valpolicella
Corvina, Rondinella, Molina
Italien
85:-
345:-
Glorioso Crianza
Tempranillo
Spanien
90:-
350:-
Zensa Primitivo Organico
Primotivo
Italien
85:-
340:-
Strama & nyanserade
I dessa viner finns inslag av mörka bär, ceder, mörk choklad & rostat kaffe.
Smakrika viner som är både sträva & friska.
Annandale Cavalier
Cabernet Sauvignon, Merlot, Cabernet Franc
Sydafrika
450:-
Château du Seuil
Merlot, Cabernet Sauvignon
Frankrike
440:-
Merlot
Frankrike
Alkoholfritt rött
Pierre
38:-
95:-
Lite historik…
Långholmen har inte alltid varit känd för sitt fängelse. Här låg ursprungligen en malmgård,
uppförd år 1670 av bryggaråldermannen Jochum Ahlstedt. Malmgården, som idag inrymmer
Långholmens Wärdshus, fungerade senare som spinnhus, närmare bestämt under åren 1724
- 1827. I spinnhuset placerades kvinnor som gjort sig skyldiga till lösdriveri, bettleri och
lösaktigt leverne. Deras antal blev till slut så stort att den Ahlstedtska malmgården inte
räckte till och en ny epok påbörjades då Kronohäktet byggdes.
Kronohäktet uppfördes etappvis mellan åren 1833 - 1880. Åren 1849 till 1975 användes
Kronohäktet både som häkte och fängelse och innehöll då 200 celler. Här satt alla
brottslingar i väntan på dom. Anton Nilsson, alias Amaltheamannen, satt här i nästan 10 år.
Även politikern och sedermera statsministern Hjalmar Branting, sol- och våraren
Raskenstam och journalisten Barbro Alfving tillbringade tid här.
Centralfängelset var ytterligare ett fängelse som byggdes 1874 och var landets största med
mer än 500 celler. Det var i bruk fram till 1975 och revs 1982. Det låg på den öppna planen
framför det som idag är vår wärdshusentré. Hotellcellen har förutom celldörren inte mycket
kvar av sitt ursprungliga utseende. Åren 1975-1987 stod Kronohäktet tomt och förföll. Det
kunde, trots dåligt skick, renoveras och Långholmen hotell, vandrarhem, konferens och
wärdshus öppnade sina portar för nya gäster i maj 1989.
A bit of history...
Långholmen has not always been famous for its prison. A manor house was originally built
here in 1670 by the brewer and Alderman Jochum Ahlstedt, which today houses
Långholmens Wärdshus, it later served as a spin-house, more precisely during the years
1724-1827. Women who were found to be guilty of vagrancy, begging and promiscuity were
placed in the spin-house. Their numbers eventually became so many that Ahlstedt's manor
house was no longer adequate and a new era was born when the Kronohäkte (Crown
Remand) was built.
The Kronohäkte was built in stages between the years 1833-1880. During the years 1849 to
1975 the Kronohäkte was used both for remand and as a prison and had 200 cells. Here
waited all types of criminals for their judgement. Anton Nilsson, alias the Amalthea Man,
was held here for nearly 10 years. Even the politician and later Prime Minister Hjalmar
Branting, the con artist Raskenstam and the journalist Barbro Alfving, have spent time here.