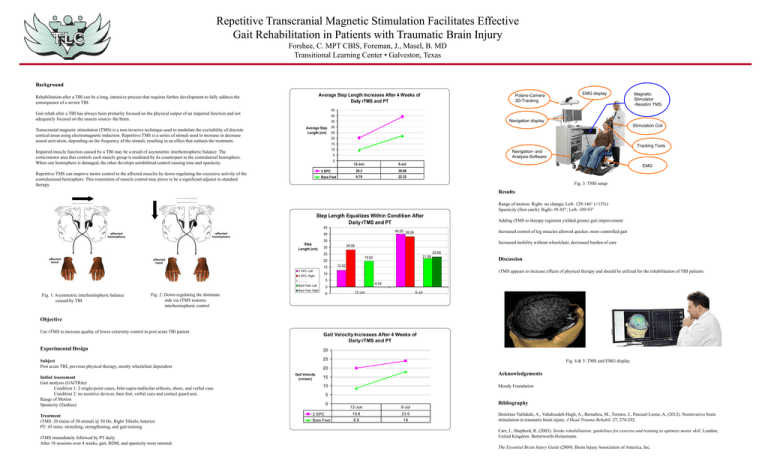 Repetitive Transcranial Magnetic Stimulation Facilitates Effective
Gait Rehabilitation in Patients with Traumatic Brain Injury
Forshee, C. MPT CBIS, Foreman, J., Masel, B. MD
Transitional Learning Center • Galveston, Texas
Background
Average Step Length Increases After 4 Weeks of
Daily rTMS and PT
Rehabilitation after a TBI can be a long, intensive process that requires further development to fully address the
consequence of a severe TBI.
EMG display
Magnetic
Stimulator
-Nexstim TMS
45
Gait rehab after a TBI has always been primarily focused on the physical output of an impaired function and not
adequately focused on the unseen source- the brain.
Transcranial magnetic stimulation (TMS) is a non-invasive technique used to modulate the excitability of discrete
cortical areas using electromagnetic induction. Repetitive TMS is a series of stimuli used to increase or decrease
neural activation, depending on the frequency of the stimuli, resulting in an effect that outlasts the treatment.
Polaris-Camera
3D-Tracking
40
Navigation display
35
Average Step
Length (cm)
Stimulation Coil
30
25
20
15
Tracking Tools
10
Impaired muscle function caused by a TBI may be a result of asymmetric interhemispheric balance. The
corticomotor area that controls each muscle group is mediated by its counterpart in the contralateral hemisphere.
When one hemisphere is damaged, the other develops uninhibited control causing tone and spasticity.
Navigation- and
Analysis-Software
5
0
Repetitive TMS can improve motor control to the affected muscles by down-regulating the excessive activity of the
contralesional hemisphere. This restoration of muscle control may prove to be a significant adjunct to standard
therapy.
12-Jun
6-Jul
2 SPC
20.3
39.06
Bare Feet
9.79
22.22
EMG
Fig. 3: TMS setup
Results
Range of motion: Right- no change; Left- 129-146° (+13%)
Spasticity (first catch): Right- 95-85°; Left- 109-93°
Step Length Equalizes Within Condition After
Daily rTMS and PT
Adding rTMS to therapy regiment yielded greater gait improvement
45
40
Step
Length (cm)
Increased control of leg muscles allowed quicker, more controlled gait
40.03 38.09
35
Increased mobility without wheelchair, decreased burden of care
28.08
30
22.85
25
20
15
2 SPC- Left
2 SPC- Right
Fig. 1: Asymmetric interhemispheric balance
caused by TBI
Fig. 2: Down-regulating the dominate
side via rTMS restores
interhemispheric control
21.58
19.62
12.52
rTMS appears to increase effects of physical therapy and should be utilized for the rehabilitation of TBI patients
10
……….
5
Bare Feet- Left
0
Bare Feet- Right
-5
Discussion
-0.04
12-Jun
6-Jul
Objective
Use rTMS to increase quality of lower extremity control in post acute TBI patient
Gait Velocity Increases After 4 Weeks of
Daily rTMS and PT
Experimental Design
30
25
Subject
Post acute TBI, previous physical therapy, mostly wheelchair dependent
Initial Assessment
Gait analysis (GAITRite)
Condition 1: 2 single-point canes, bilat supra-malleolar orthosis, shoes, and verbal cues
Condition 2: no assistive devices, bare feet, verbal cues and contact guard asst.
Range of Motion
Spasticity (Tardieu)
Treatment
rTMS: 20 trains of 30 stimuli @ 50 Hz, Right Tibialis Anterior
PT: 45 mins: stretching, strengthening, and gait training
rTMS immediately followed by PT daily.
After 18 sessions over 4 weeks, gait, ROM, and spasticity were retested.
Fig. 4 & 5: TMS and EMG display
20
Gait Velocity
(cm/sec)
Acknowledgements
15
Moody Foundation
10
5
0
2 SPC
Bare Feet
12-Jun
6-Jul
19.8
23.9
8.6
18
Bibliography
Demirtas-Tatlidede, A., Vahabzadeh-Hagh, A., Bernabeu, M., Tormos, J., Pascual-Leone, A. (2012). Noninvasive brain
stimulation in traumatic brain injury. J Head Trauma Rehabil. 27, 274-292.
Carr, J., Shepherd, R. (2003). Stroke rehabilitation: guidelines for exercise and training to optimize motor skill. London,
United Kingdom. Butterworth-Heinemann.
The Essential Brain Injury Guide (2009). Brain Injury Association of America, Inc.