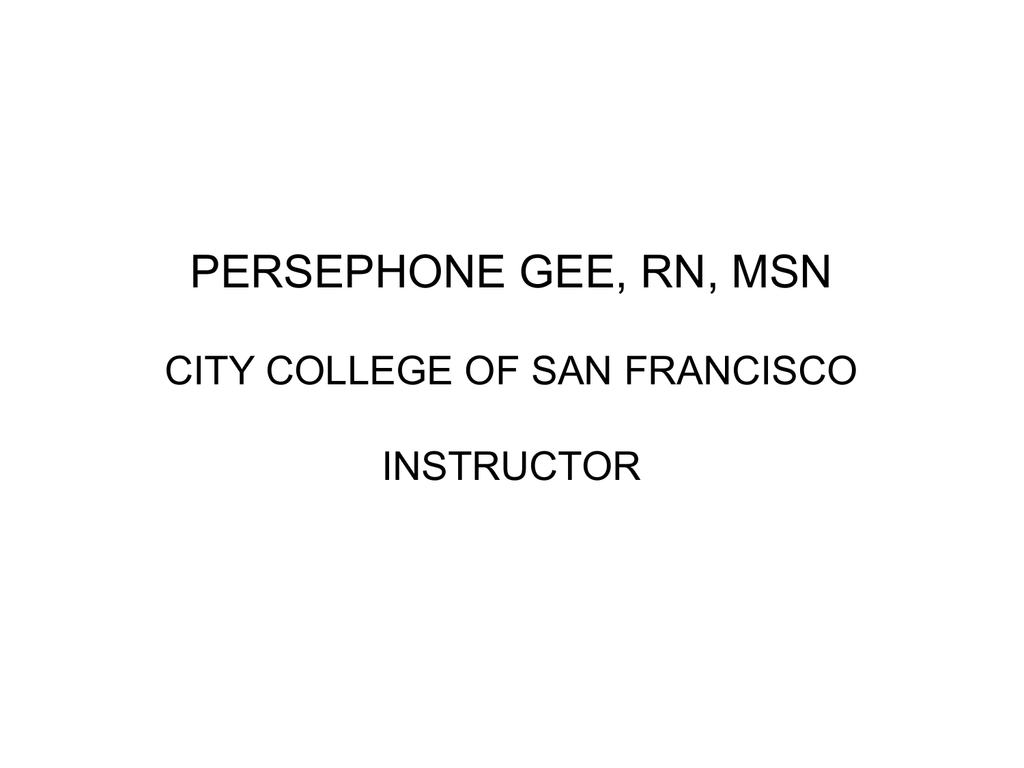 PERSEPHONE GEE, RN, MSN
CITY COLLEGE OF SAN FRANCISCO
INSTRUCTOR
Asepsis and Infection Control
introduction
• The nurse's major focus is wellness. In the hospital
setting, prevention of infection is primary.
• The nurse identifies, prevents, control infection, and
teach the patient and other healthcare providers asepsis
and infection control.
• Prevent spread of microorganism from person to person
and from place to place.
Start with definition of terms
• Asepsis-a condition free from germs,
infection, and any form of life
• Sterile-free from living
microorganisms, i.e. bacteria, fungi,
protozoa, viruses, spores, or other
living organisms
If sterile means:
•-free from living
microorganisms, i.e. bacteria,
fungi, protozoa, viruses,
spores, or other living
organisms-
•What is sterility?
It is a state-of freedom from
contamination or colonization by
living microorganisms.
STUDENT ACTIVITY
• Student draw a term written on a piece of paper to
define from the box (instructor explains the rules)
• Student draws a term to define. After giving his
comments, takes the term to another student or has the
other student choose another term to define.
Current CDC Guidelines
• Standard precautions—used in care of all hospitalized
patients
– Apply to blood, body fluids, secretions, excretions,
non-intact skin, mucous membranes
• Transmission-based precautions—used in addition to
standard precautions for patients with suspected
infection
– Include airborne, droplet, or contact precautions
Targeted body fluids in standard
precaution:
• Blood
• All body fluids: BLOOD, URINE, SPUTUM, EMESIS,
VAGINAL SECRETIONS, AMNIOTIC FLUID, PERITONEAL
FLUID, THORACENTESIS FLUID, SPINAL FLUID
• Secretions
• Excretions (except sweat)
• Non-intact skin
• Non-intact mucous membranes
Personal Protective Equipment
and Supplies
• Gloves
• Gowns
• Masks
• Protective eye gear
Components of the Infection Cycle
• Infectious agent—bacteria, viruses, fungi
• Reservoir—natural habitat of the organism
• Portal of exit—point of escape for the organism
• Means of transmission—direct contact, indirect contact,
airborne route
• Portal of entry—point at which organisms enter a new
host
• Susceptible host—must overcome resistance mounted by
host's defenses
The Infection Cycle
Infectious Agents
• Bacteria—most significant and most prevalent in hospital
settings
• Virus—smallest of all microorganisms
• Fungi—plantlike organisms present in air, soil, and water
Bacterial Flora
• Transient—attached loosely on skin, removed with
relative ease
• Resident—found in creases in skin, requires friction with
brush to remove
Classification of Bacteria
• Spherical (cocci), rod shaped (bacilli), corkscrew shaped
(spirochetes)
• Gram positive or gram negative—based on reaction to
Gram stain
• Aerobic or anaerobic—based on need for oxygen
Factors Affecting an Organism's
Potential to Produce Disease
• Number of organisms
• Virulence (ability to cause disease)
• Competence of person's immune system
• Length and intimacy of contact between person and
microorganism
Possible Reservoirs for Microorganisms
• Other humans
• Animals
• Soil
• Food, water, milk
• Inanimate objects
Common Portals of Exit
• Respiratory
• Gastrointestinal
• Genitourinary tracts
• Breaks in skin
• Blood and tissue
METHODS OF TRANSMISSION
• INFECTED WATER
• RAW VEGETABLES
• VECTORS
• DIRECT CONTACT
• SEXUAL CONTACT
• AIRBORNE
• DROPLET SPREAD
Play-acting instruction
• Trace the path of the Hepatitis B virus
• Prevent the infection. Break the chain of infection
Play-acting:
• The chain of infection: Hepatitis B pathogen (blood and
body fluid transmission
• Actors: host, what will make you susceptible?
• the organism, where do you go? Portals?
• Susceptible individual, how can you diminish your risk
Transmission barriers
• Hand washing
• Barrier techniques (sterilization, decontamination,
dispose waste properly)
• Personal protective equipment (gloves, mask, gown,
protective eye gear)
The Infection Cycle
Laboratory Data Indicating Infection
• Elevated white blood cell count—normal is 5000 to
10,000/mm3
• Increase in specific types of white blood cells
(neutrophils-bacterial, eosinophils-allergic, parasitic,
basophils-parasitic, allergic, lymphocytes-viral (measles,
rubella,chicken pox, infectious mono), monocytes-severe
infection by phagocytosis
• Elevated erythrocyte sedimentation rate
• Presence of pathogen in urine, blood, sputum, or
draining cultures
Aseptic Technique
• Includes all activities to prevent or break the chain of
infection
• Two categories
– Medical asepsis—clean technique
– Surgical asepsis—sterile technique
USE OF GLOVES, EYE PROTECTORS &
APRONS
• SURGICAL PROCEDURES
• GENERATION OF DROPLETS
• SPLASHING BLOOD, AND/OR BODY FLUIDS
SITUATIONS REQUIRING GLOVES
• ADMINISTRATION OF INJECTIONS
• APPLICATION OF TOPICAL PREPARATIONS
• EMPTYING DRAINAGE BAGS (BILE, URINE, ETC.)
• PERINEAL CARE
• HANDLING SOILED LNEN
Proper handling of linen & soiled articles
• Keep soiled linen from touching clothing
• Do not put soiled linen on the floor
• Avoid raising dust
• Place soiled linen in plastic bag, dispose in appropriate
containers
Practice good hygiene and grooming
• Shampoo hair regularly
• Pin hair up or have it cut short
• Keep fingernails short and free of broken cuticles and
ragged nails
• Avoid artificial nails
• Avoid wearing rings with grooves
• Follow institutional guidelines re infection control
Any questions or comment?
Measures to Reduce Incidence
of Nosocomial Infections
• Constant surveillance by infection-control committees
and nurse epidemiologists
• Written infection-prevention practices for all agency
personnel
• Hand hygiene recommendations
• Infection control precaution techniques
• Keeping patient in best possible physical condition
Stages of Infection
• Incubation period—organisms growing and multiplying
• Prodromal stage—person is most infectious, vague and
nonspecific signs of disease
• Full stage of illness—presence of specific signs and
symptoms of disease
• Convalescent period—recovery from the infection
Body's Defense Against Infection
• Body's normal flora
• Inflammatory response
• Immune response
Factors Affecting Host Susceptibility
• Intact skin and mucous membranes
• Normal pH levels
• Body's white blood cells
• Age, sex, race, hereditary factors
• Immunization, natural or acquired
• Fatigue, climate, nutritional and general health status
• Stress
• Use of invasive or indwelling medical devises
Ball toss
• Toss the ball to a student, the class will listen to
student's statement about who is at risk, your rationale.
Evolution of Specialized Infection
Control Precautions
• Early CDC guidelines
• Specific isolation techniques
• Disease-specific isolation
• Universal precautions
• OSHA regulations for universal precautions
• Body substance precautions
• Current CDC guidelines
Type N95 Particulate Respirator
REVIEW
Infection Control Measures
• Identifying the infection
• Preventing infection
– Breaking the chain of infection
• Controlling infection
– Minimizing complications
– Reducing adverse outcomes
• Teaching patient about infection
Aseptic Technique
• Includes all activities to prevent or break the chain of
infection
• Two categories
– Medical asepsis—clean technique
– Surgical asepsis—sterile technique
Practice of Asepsis
• Medical asepsis (clean technique)
– Involves procedures and practices that reduce the
number and transfer of pathogens
• Surgical asepsis (sterile technique)
– Includes practices used to render and keep objects
and areas free from microorganisms
Basic Principles of Medical Asepsis
• Practicing good hand hygiene
• Carrying soiled items away from body
• Keeping soiled items off the floor
• Avoiding having patients cough, sneeze, or breeze on
others
• Moving equipment away when cleaning articles
• Avoiding raising dust
• Cleaning least soiled areas first
Basic Principles of Medical Asepsis (cont.)
• Disposing of soiled or used items in appropriate
containers
• Pouring discarded liquids directly into the drain
• Sterilizing items suspected of containing pathogens
• Using personal grooming habits that prevent spread of
microorganisms
• Following guidelines for infection control or barrier
technique
Basic Principles of Surgical Asepsis
• Only a sterile object can touch another sterile object
• Follow guidelines for opening sterile packages
• Avoid spilling solution on a sterile setup
• Hold sterile objects above waist level
• Avoid talking, coughing, reaching over sterile field
• Never turn your back on a sterile field
Basic Principles of Surgical Asepsis
(cont.)
• Sterilize all items brought in contact with broken skin or
sterile body cavities
• Use dry, sterile forceps when necessary
• Consider outer 1 inch of sterile field to be contaminated
• When in doubt, consider all suspect items contaminated
Use of Surgical Asepsis
• Operating room, labor and delivery areas
• Certain diagnostic testing areas
• Patient bedside
– e.g., for procedures that involve insertion of urinary
catheter, sterile dressing changes, or preparing and
injecting medicine
Criteria for Performing Hand Hygiene
• Before and after contact with each patient
• Before putting on sterile gloves
• Before performing invasive procedures
• After accidental contact with body fluids
• When moving from contaminated body site to clean one
• After contact with inanimate objects near the patient
• After removal of gloves
Lathering Hands With Soap and Rubbing
With Firm Circular Motion
Washing Areas Between Fingers
Washing to 1 inch Above the Wrist
Using Fingernails to Clean Under Nails of
Opposite Hand
Rinsing Hands Under Running Water With
Water Flowing Toward Fingertips
Standard Precautions
• Follow hand hygiene techniques
• Wear clean nonsterile gloves when touching body fluids
• Wear personal protective equipment during care
activities likely to generate splashes or sprays of blood
• Avoid recapping used needles
• Handle used patient care equipment appropriately
• Ensure routine care, cleaning, and disinfection
procedures are followed
• Review room assignments carefully
Mask and Goggles
Glove Cuffs Covering Wrists of Gown
Transmission-Based Precautions:
Airborne
• Use for patients who have infections spread through air
• Place patient in private room with monitored negative air
pressure
• Use respiratory protection when entering room of patient
• Transport patient out of room only when necessary;
place surgical mask on patient
• Consult CDC guidelines for prevention strategies for
tuberculosis
Transmission-Based Precautions: Droplet
• Use for patient with infection spread through droplets
• Use a private room (door may remain open)
• Wear a mask when working within 3 feet of patient
• Transport patient out of room only if necessary; place
surgical mask on patient
• Keep visitors 3 feet from patient
Transmission-Based Precautions: Contact
• Use for patients infected by a microorganism spread by
direct or indirect contact
• Place patient in private room if available
• Wear gloves when entering the room; change as
appropriate
• Wear a gown if contact with infection agent is likely
• Limit movement of patient out of room
• Avoid sharing patient care equipment
Guidelines for Effective Use of PPE
• Put on PPE before contact with patient
• Choose appropriate PPE based on type of exposure
• When wearing gloves work from clean to dirty areas
• Touch as few surfaces and items with PPE as possible
• Avoid touching or adjusting other PPE
• Keep gloved hands away from face
• Remove and replace torn or heavily soiled gloves
• Do not substitute goggles with personal glasses
Patient Teaching for Medical
Asepsis at Home
• Wash hands before preparing or eating food
• Prepare foods at high enough temperatures
• Use care with cutting boards and utensils
• Keep food refrigerated
• Wash raw fruits and vegetables
• Use pasteurized milk and fruit juices
• Wash hands after using bathroom
• Use individual care items
Evaluating Patient Goals
• Use techniques of medical asepsis
• Identify health habits and lifestyle patterns promoting
health
• State signs and symptoms of an infection (teach patient
s/sx to report)
• Identify unsafe situations in the home environment
• Have patient "be the driver", have him come up with
goals
homework
• Describe strategies for implementing CDC guidelines for
standard and transmission-based precautions when
caring for patients.
• Submit typed, 2-3 pages, include rationale. Due at the
beginning of next class.