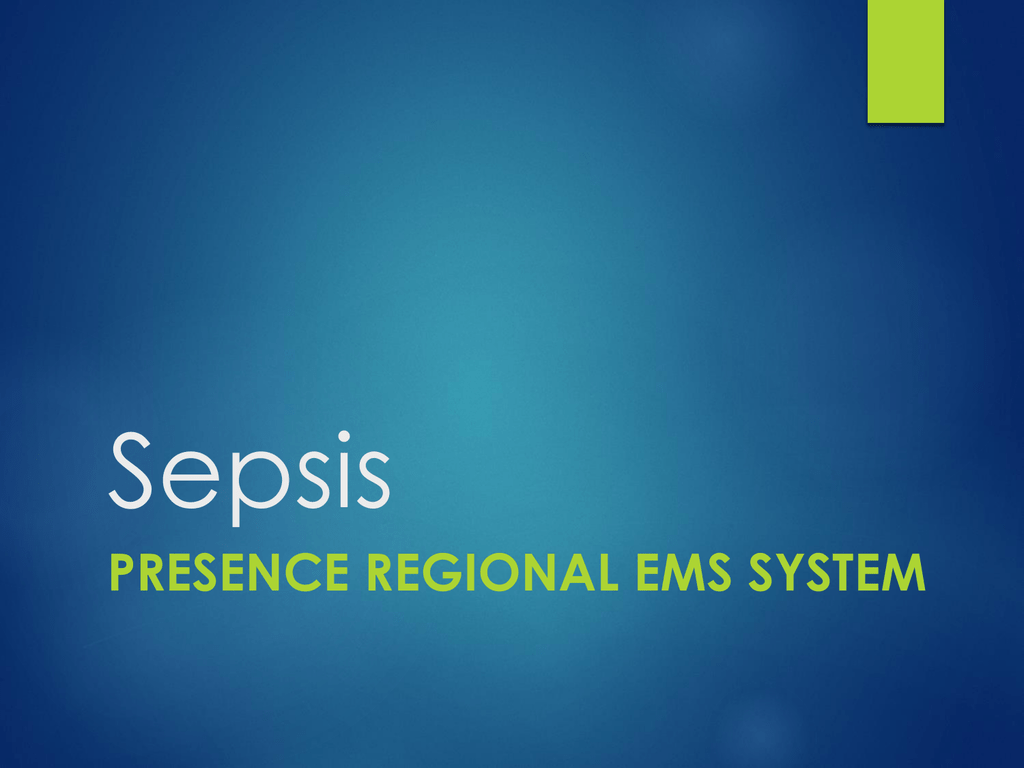 Sepsis
PRESENCE REGIONAL EMS SYSTEM
In the movie
Independence Day

Will Smith and Jeff Goldblum
destroy the alien invaders by
inserting a "virus" into their system.
Sepsis

Overwhelming infection in the
blood

10th leading cause of death

50 deaths per 100,000 Americans

1/3 arrive in ED by EMS
Objectives
Outline the physiology of the immune
system
 Describe the pathophysiology of sepsis
on the cell level and how it presents on
the systemic level.
 Discuss the signs and symptoms of sepsis
 List the appropriate PPE for EMS providers
caring for patients with sepsis


Outline the assessment and
management of the septic patient

Discuss the rationale for Advanced
treatment measures for the septic
patient

Review the Presence Health Code
Sepsis protocol
Immune System
"If
you ain't for us,
you're against us"
It's a jungle out there. . .

Immune system

Leukocytes – white blood cells

Natural barriers

Inflammation
What makes you sick?

Bacteria

Viruses

Prions

Fungi

Parasites
Natural Immunity

Anatomical Barriers

Inflammation
Anatomical Barriers/ Castle
Walls

Epithelium

Sebaceous glands

Sweat, tears, saliva

Mechanical responses—
respiratory, urinary,
gastrointestinal
Functions of Inflammation

Destroy and remove unwanted
substances.

Wall off infected and inflamed
area.

Stimulate the immune response.

Promote healing.
Biochemical Agents of
Inflammation

Vasoactive amines.
 Histamine

Chemotactic factors
 Attraction
of WBC
So what happens
Vascular response.
Increased permeability.
Exudation of white cells.
Fever.
Leukocytosis.
Increased circulating plasma
proteins
Leukocytes
Phagocytes
Inflammation
Hallmarks of Acute
Inflammation

Redness

Pain

Heat

Swelling
Sepsis

Bacterial infection in blood

Inflammation system wide
 Too
much of a good thing
 Heat
= fever
 Capillary
leaking = distributive
 Systemic
edema
shock
Who Gets Sepsis?

Elderly

Infants

Immunosuppression

Hospitalized patients

Preexisting conditions

Severe trauma
Sources of Infection

Urinary Tract Infection

Pneumonia

Wounds – decubiti
Sepsis

Overwhelming systemic infection

Hemodynamic instability
 Systemic
 Leaking
inflammation
capillaries
 Hypotension
 Tachycardia
Poor Perfusion on Cell Level

Normal Aerobic Metabolism
 Breaking
 End

down glucose with oxygen
products = CO2 and H2O
Hypoxic Anaerobic Metabolism
 Breaking
oxygen
 End
down glucose without
product = lactic acid
Lactate Production

Makes cells acidic

Damages cells

Damages vital organs

Multi-organ failure
Septic Shock -Distribuatory

Systemic vasodilation
 Container

too big
Capillary Leaking
 Loss
of fluid into interstitial spaces
 Can't
get fluid back
Signs and Symptoms of
Sepsis

Change in temperature (high or low)

Hypo-perfusion – shock
 MAP
< 60 mm/Hg
 MAP
=

 BP
(2X DP) + SP
3
88/40 (2 x 40) + 88 = 168 = 56
3
3

Tachycardia

Tachypnea –
 Acute
Respiratory Distress
Syndrome

Altered mental state

Elevated WBC

Elevated lactate levels

Skin: rashes, color changes, lymph
nodes
Complications with Elderly

Poor temperature regulation

Relative hypotension (MAP <80)
 What

is normal BP at this age
Relative bradycardia
 Damaged
baroreceptors in
carotid arteries
 Rx
Beta Blockers
First Rule of EMS
 If
it is wet, and it's not yours,
don't touch it.
Second Rule of Sepsis BSI
 If
the patient is coughing,
wear a mask.
Sepsis

Management
 100%
Oxygen
 Ventilation
 Fluid
support
replacement
 BP/perfusion
maintenance -vasopresssors
 "Kill
off the Bug"
 Outcome
is frequently fatal
Code Sepsis
Definitions
Systemic Inflammatory Response Syndrome –
SIRS is a widespread inflammatory response to
a variety of severe clinical injuries. This
syndrome is clinically indicated by the
presence of two or more of the following:

Hypotension – systolic less than 90

Tachycardia – greater than 90

Temp - 101 or less than 96.8

Altered level of consciousness

Respiratory rate greater than 20
31
 Sepsis – Clinical signs of SIRS are
present together with evidence of
infection.
 Severe Sepsis – Sepsis associated with
organ dysfuction, hypoperfusion, or
hypotension.
32
Why Do We Care?
 Every year, severe sepsis strikes more than 1
million Americans (globally 20-30 million
patients)
 Estimated cost is more than $20 billion for
sepsis care
 Patients surviving sepsis have twice the risk of
death in the following 5 years
 The incidence of sepsis following surgery
tripled between 1997 and 2006
 Hospitalizations for sepsis have doubled in
the last 10 years
33
Where Did We Start?
 Baseline data: PCMC
25.6%
Sepsis Mortality
 Baseline data: PUSMC Sepsis Mortality
17.8%
 Baseline data: PCMC Cost Per Patient
$22,191
 Baseline data: PUSMC Cost Per Patient
$17,073
34
Why Do We Care?
Patients receiving the sepsis bundle within
the first hour have a mortality rate reduction
of 14% and a reduction of 5.1 days in length
of stay.
Early sepsis strategies are associated with 1
life being saved for every 7 treated.
The Genesis Project
35
Why Do We Care?
We have the ability to save lives
by using the appropriate tools to
catch and treat sepsis.
36
Definition of Code Sepsis
 Patient must be hypotensive with one
other SIRS criteria and a possible source
of infection.

Hypotension – systolic less than 90

Tachycardia – greater than 90

Temp - 101 or less than 96.8

Altered level of consciousness

Respiratory rate greater than 20
37
Code Sepsis Creates a
Team Response
 Code Sepsis will be paged overhead.
 Responders to include:
 Physician
 House
Supervisor
 Phlebotomy
 Primary
RN
 Radiology
38
Procedure – EMS to
Emergency Dept.
Paramedic
unit follows established Region VI
protocols and care guidelines for Sepsis
Patients.
Paramedic
unit calls report to the hospital
prior to leaving the scene to initiate the Code
Sepsis.
If
the patient meets criteria then a Code
Sepsis will be called.
39

The RN receiving the radio report will notify
the charge nurse and the emergency
department physician.

The designee will activate the Code Sepsis
by dialing communication and giving the
Location.

Upon patient arrival, RN initiates sepsis
protocol.

Immediate evaluation per emergency
room physician.
40
Code Sepsis Protocol
1. Labs: CBC, CMP, PT/PTT, Procalcitonin,
Blood cultures, UA/UC
2. RT: ABG (Lactic Acid), Oxygen to keep sat
greater than 90%
3. Portable CXR, if not done previously
4. IV: 2 Large bore PIVs
 1 Liter 0.9% NS bolus via pressure bag.
 Notify physician for vasopressors if pt.
remains hypotensive despite fluid
resuscitation.
41
5. Cardiac monitor, Vital signs every 15
min. Undress pt. and place in gown,
Insert Foley catheter – Strict I & O
6. Discuss with physician possible need for
central line if patient remains
hypotensive despite fluid resuscitation
and vasopressors are needed.
7. Discuss with physician stat antibiotic
orders.
42
Surviving Sepsis Starts
With You
 Be aware of sepsis signs / symptoms
 Complete MEWS screens every 8 hours
 Complete screening on all ED patients age
18+
 ED physicians, assess all admissions
 Call Code Sepsis when patient meets
criteria
 Follow protocols
43
Case Study 1

You are called to an apartment for
a 19 year old "man down"

You find Lou lying prone in bed. He
is pale and looks to be sleeping. His
chest is barely moving

His roommate says he came home
from work and found Lou like this.
Lou moans when you stimulate him,
He does not wake up and does not
follow commands. He will not open
his eyes
 His airway is open and clear
 He is breathing 28 per minute with
rales and rhonchi in his lungs
 His skin is pale, hot and dry, pulse is
fast and weak


Lou's roommate said he was
complaining of a sore throat and a
massive headache this morning
and decided not to go to class at
the community college. He has
been studying and working 2 jobs.

He has no known allergies, no
medical history. He has been
taking Tylenol cold pills for 2 days
for his symptoms

His roommate just found him and
called 911

BP 88/60, P. 140, R. 28, Temp hot

Pulse Oximetry 89% on room air

Blood sugar 100

When you examine Lou you find a
fine petechial rash on his chest,
back and arms. Lou cries out
whenever you move him,
particularly his neck and back

What is wrong with Lou?

Does he meet Code Sepsis criteria?

What body system is infected in this
case?

What BSI should you have on?

What can you guess his lactate
level is? High or low?

How do you want to manage Lou?
Case Study 2

Dispatched at 1000 for elderly person sick
for 2 days with a urinary tract infection.

You respond to a large assisted
living center.

Your patient is 82 year old Mrs.
Schmidt, who is sitting in a recliner
in her apartment.
Initial Assessment

Mental Status: lethargic, moans
when disturbed

Airway has large amounts of mucus
in mouth and rattling in her throat

Breathing is labored and shallow.

Skin is very pale and warm, moist to
touch, poor radial pulses, very
weak and irregular
History

Allergies: None

Medications: Capoten 25 mg TID,
Diabinese 100 mg daily, pyridium
200 mg TID, Gantrisin 1 gm. TID

Previous Illnesses: Breast cancer 7
years ago, completed radiation
and chemotherapy, hypertension
and type II diabetes

Current Health Status: Mrs. Schmidt
has been in good health. She has
been at this facility for 2 years. She
is up and dressed every day and
eats her meals in the dining room.
She is very active in social activities.

Events: Mrs. Schmidt went to see
her doctor 2 days ago for a urinary
tract infection. He put her on
pyridium and gantrisin, which she
has been taking. Mrs. Schmidt told
the staff that she did not feel well
yesterday and that she ached all
over. She wanted only tea for
supper last night. They found her
this morning in her recliner in this
condition.
Focused Physical
BP 80/60
 Pulse 88 irregular
 Respirations 20, she breathes fast,
then slows down to a period of
apnea and then speeds up again
 Blood sugar 190
 Pulse oximetry: 86% on room air
 Montior shows atrial fibrillation with
unifocal PVC

Head to Toe

Responds only by moaning when
spoken to

Jugular veins distended

Breath sounds have soft crackles in
bases

Abdomen soft and not tender

Gross edema of legs, arms and
face

What is wrong with Mrs. Schmidt?

Does she meet Code Sepsis
criteria?

What is the source of the infection?

What BSI should you have on?

What can you guess her lactate
level is? High or low?

How do you want to manage Mrs.
Schmidt?

What do you do if she doesn't
tolerate fluid boluses?
Case Study 3

Dispatch: You are dispatched to
transfer an 18 month old boy to
Children's Hospital in Chicago.
Initial Transfer History

Jason has been sick for 3 days. It
started out as an ear infection, but
he is much worse today.

Jason has been in the ED for 90
minutes.

Chief Complaint: Fever
Initial Assessment

Mental Status: Lethargic. Responds
to pain only by whimpering and
trying to draw away.

Airway: Open, but must be
suctioned periodically for mucus

Breathing: Shallow and gasping 32
times/minute

Circulation: Skin is cool, pale and
clammy. His arms and legs are
mottled. He has purple blotches
and petechiae on his trunk. He has
peri-oral and peripheral cyanosis.
His pulse is 150 and weak. His blood
pressure is 70/50.
Focused History
Events: Jason's mother took him to
the doctor for an ear infection 3
days ago. He was much worse this
morning.
 Physical Illnesses: Frequent ear
infections
 Current Health Status: Other than
frequent ear infections is growing
well and is normal size for his age.
 Allergies: none
 Medications: Amoxicillen
250mg/5ml BID, Tylenol every 6
hours

Focused Physical
Vital Signs: BP 70/50, pulse 150 and
weak, resp. 32 shallow and
gasping. O2 sat 88% on 15 liters
blow by. Temp. 102.6 F. (rectal)
 Diminished breath sounds with rales
and rhonchi.
 He does not like to be touched and
will not bend his head without
screaming.


Other Findings : 22 ga. IV catheter
left anticubital. Normal saline
running at 20 ml/kg boluses (one so
far)

Jason weighs 24 pounds.
Lab Values
Hematocrit 50 Hemoglobin 20
 WBC 18,000 (high)
 Sodium 140
Potassium 5.2
 Chloride 100
CO2
33
 Glucose 50 (low)
 BUN
17
 Creatinine 1.3
 Lactate
6 (high)

Lab Values

pH
7.3

pO2 63

pCO2
54

HCO3
24
X-ray Findings

Chest film shows fluffy patches of
white in the lower lobes of both
lungs

What is wrong with Jason?

What is the pathology behind his vital
signs?

Why are Jason's lab values
abnormal?

Why does Jason have petechiae?
What is this caused by?

Do you need to do any additional
interventions to manage Jason's
ventilations?

What can be done to improve
Jason's vital signs?

Does Jason need IV fluids? How
much of what kind?

Is Jason stable enough to be
transported? If not what needs to
be done prior to transport?

What medications might Jason
need enroute?

Do you need to make any infection
control arrangements prior to
transporting Jason?

What are you doing to do with
Jason's Mommy?

What is Jason's prognosis? What is
he at risk for?