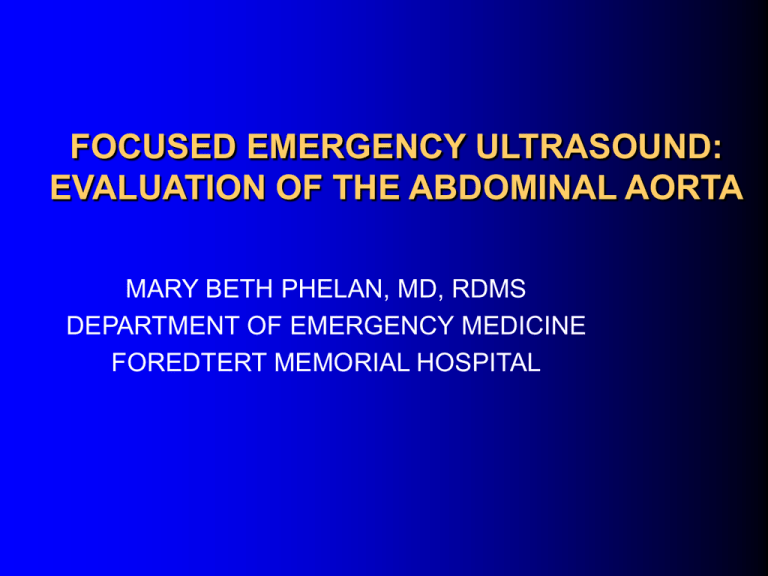 FOCUSED EMERGENCY ULTRASOUND:
EVALUATION OF THE ABDOMINAL AORTA
MARY BETH PHELAN, MD, RDMS
DEPARTMENT OF EMERGENCY MEDICINE
FOREDTERT MEMORIAL HOSPITAL
Lecture Objectives
Describe clinical role of bedside
ultrasound in screening for AAA
 Describe the technique of acquiring
sonographic images of the aorta
 Describe the sonographic appearance
of the normal aorta
 Describe the sonographic appearance
of AAA

SAEM
2
Case History
A 62-year-old man comes to the
emergency department at 11PM
complaining of left flank pain for
approximately 2 hours. He has a
history of hypertension.
His initial vital signs are: HR 98, RR 24,
BP 190/105, Temp 98.0.
SAEM
4
Case History
The emergency medicine resident
equipped with the latest in emergency
medicine ultrasound technology and
training, IMMEDIATELY performs an
abdominal ultrasound on the patient.
This exam reveals the following:
SAEM
5
SAEM
6
Case History
The patient is taken to the OR after only
30 minutes in the ED.
SAEM
7
OVERVIEW







Epidemiology
Clinical presentation
Anatomy
US exam
Sonographic anatomy
Scanning techniques
Pitfalls
Epidemiology
AAA present in 2-4% of the population >
50
 Incidence increasing
 Male > female
 10,000 deaths/yr
 Rupture has a > 80% mortality rate

Epidemiology: Risk Factors

Cardiovascular disease

Family History increases risk 10-20%

Age > 50

Smoker
Clinical Perspective
Settings in which to perform US in the ED
–
Abdominal/back/flank pain and hypotension
–
Stable elderly patient with abdominal or
back pain
SAEM
11
Clinical Perspective

Rate of expansion variable
– 4-4.9 cm AAA has a 3.3% risk of rupture
– 5cm AAA has a 14% risk of rupture
– > 5cm has a 20-40% risk of rupture
Clinical Perspective

4cm or less: annual US examinations

Between 4-5 cm: US every 6 months

Greater than 5cm: Elective repair

Mortality rate for elective repair is 5%
Clinical Presentation
Highly variable
 Classic triad:

– Abdominal/Back pain
– Pulsatile mass
– Hypotension

Less than 1/3 of patients will have the
triad
Clinical Presentation

Diagnosis
– A formidable clinical challenge
– Notorious for masquerading as renal colic
– May be mistaken for:
 Diverticullitis
 GI bleed
 MI
 Musculoskeletal back pain
SAEM
15
Clinical Presentation

Stable vital signs

Back or flank pain, left side > right

Testicular or leg pain

Hypertension

Mortality rate same as elective repair
Clinical Presentation

Vast majority are retroperitoneal

10 -30 % intraperitoneal

GI bleeding most often seen in patients with
aortic grafts

Mortality 50%
Does this patient have an abdominal
aortic aneurysm?LEDERLE, JAMA 99
2 groups
 Sensitivity of examination for ruptured
AAA
 Sensitivity of exam with increasing
size of AAA
 CONCLUSION:Cannot be relied on to
exclude AAA

Misdiagnosis of Ruptured Abdominal
Aortic Aneurysms
MARSTON W ET AL J OF VASCULAR SURG 1992

Misdiagnosis= delay >6hr or other diagnosis

Most common physical findings in
misdiagnosed group: ABD PAIN, SHOCK,
BACK PAIN

Pulsatile mass present more often in correctly
diagnosed group
SUSPECTED LEAKING ABDOMINAL AORTIC
ANEURYSM:USE OF SONOGRAPHY IN THE
EMERGENCY ROOM SHUMAN WP, ET AL, RADIOLOGY 88






US IN ED FOR SUSPECTED AAA
1 MIN EXAM
CORRECTLY IDENTIFIED 31/32 AAA
DECISION TO OPERATE BASED ON 3
CRITERIA CORRECT 21/22
DX EXTRALUMINAL BLOOD BY
SONOGRAPHY POOR 4% (1/24)
NO FALSE NEG EXAMS
Diagnosing AAA

Palpation of the abdomen alone

Plain radiographs

Computed tomography

ULTRASOUND
Diagnosis: PE

Absence of mass does not R/O AAA

Obesity

Bleeding into retroperitoneum may create
doughy abdomen.

Hypotension minimizes pulsations
Diagnosis: Plain Radiographs

AAA can be seen in 60-75% of cases

Calcification of aortic wall

Paravertebral mass

Cross table lateral most helpful view

Negative study not helpful
Diagnosis: CT Scan

Near 100% accuracy
 Better demonstration of extent of aneurysm
 Will detect complications of the aneurysm
– Retroperitoneal blood
– Dissection

Drawbacks
– Contrast
– Patient has to leave the ED
– Delays time to diagnosis
Diagnosis: US

Ultrasound
– Best test for detection of AAA in the ED
– Sensitivity 97% to 100%
– Small percentage can not be imaged due
to bowel gas

6% in one study
SAEM
25
Diagnosis: US

Ultrasound
– In some studies as accurate as CT
– Measurements within 3 mm of surgical
specimens
– Angiography may underestimate AAA
diameter
SAEM
26
Diagnosis: US
Emergency department ultrasound scanning
for abdominal aortic aneurysm: accessible,
accurate and advantageous
Kuhn et al. Ann Emerg Med 2000
"Relative neophytes can perform aortic ultrasound
scans accurately. These scans appear useful as a
screening measure in high-risk emergency patients;
they may also aide in rapidly verifying the diagnosis
in patients who require immediate surgical
intervention"
SAEM
27
Diagnosis: US
ED Ultrasound Improves Time to Diagnosis
and Survival in Ruptured AAA
Plummer D, et al: Abstract at 1998 SAEM, Chicago, IL.
•Average
minutes
•Average
•Average
minutes
•Average
minutes
time to diagnosis by bedside US = 5.4
time to diagnosis by CT = 83 minutes
time to OR for diagnosis by US = 12
time to OR for diagnosis by CT = 90
SAEM
28
US EXAM

Transducer is 2.5-3.0MHz curvilinear

Place the transducer in the subxiphoid area,
using the left lobe of the liver as an acoustic
window

Pressure must be applied to displace bowel
gas

The aorta must be examined in both the
longitudinal and transverse planes
Longitudinal
Orientation
Marker
Transverse
Orientation
Marker
Orientation
is similar to
that of a CT scan
Position
probe is
perpendicular to long axis
of body or to long axis of
object that is being
IVC,Liver
studied
Aorta
SAEM
31
US EXAM

The aorta appears as an anechoic, pulsatile
tubular structure to the left of the spine
 After the longitudinal scan, the transducer is
rotated 90 degrees to the aorta to obtain
transverse views.
 The key landmark in the transverse view is to
locate the spinal column as a hypoechoic
area at the bottom of the screen.
 The aorta is located above and to the left of
the spine
AORTA

Left sided structure
 Thick vascular wall
 Not compressible
 Pulsatile
IVC

Right sided structure
 Thin wall
 Will collapse
– "Sniff"
– Valsalva

May pulsate from
aortic transmission
US EXAM
Measure from outside wall to outside
wall
 An aneurysm is identified as any
measurement of 3 cm or greater
 Measure at:

– Epigastric region
– Take off of SMA
– 3-4 cm intervals to bifurcation

Measure any aneurysm
US EXAM





Obesity or excessive bowel gas may obscure
the aorta
A coronal view of the aorta may be a
reasonable alternative
The patient is supine
The transducer is placed in the mid-axillary
line (probe indicator toward the patient's
head)
The aorta is visualized adjacent to the vena
cava
SONOGRAPHIC APPEARANCE OF
THE NORMAL AORTA: LONGITUDINAL
SONOGRAPHIC APEARANCE OF
THE NORMAL AORTA:
TRANSVERSE
Mid portion
Bifurcation
SONOGRAPHIC APPEARANCE OF THE
NORMAL AORTA
(L LATERAL DECUB/CORONAL)
ABDOMINAL AORTIC ANEURYSM

90% of AAA are infra-renal
 70% involve the renal vessels
 Thrombus is common, and usually forms on
the antero-lateral walls of the aneurysm
 Two forms
– Sacular
– Fusiform – most common
ABDOMINAL AORTIC ANEURYSM
First sign may be loss of normal taper
 AP diameter > 3CM
 Focal dilitation even if less than 3 cm
 Thrombus
 Intimal flap

AORTIC ANEURYSM
Large fusiform AAA
SAEM
42
AAA with clot
SAEM
43
Another AAA with clot
SAEM
44
ULTRASOUND EXAM: PITFALLS

Bowel gas can be a major problem
– Apply pressure
– Roll the patient on their left side ( use the liver as
an acoustic window)

Does not detect complications of AAA
– Retroperitoneal rupture
– Dissection

CT/MRI/angiography for stable patients is still
recommended
Pitfalls in Technique





Failure to acquire high resolution images due
to bowel gas
Inaccurate measurements – do not measure
what you cannot see!
Distinguishing the IVC from the aorta
Not identifying extraluminal fluid
Failing to distinguish the normal "tortuous"
aorta from an abdominal aortic aneurysm.