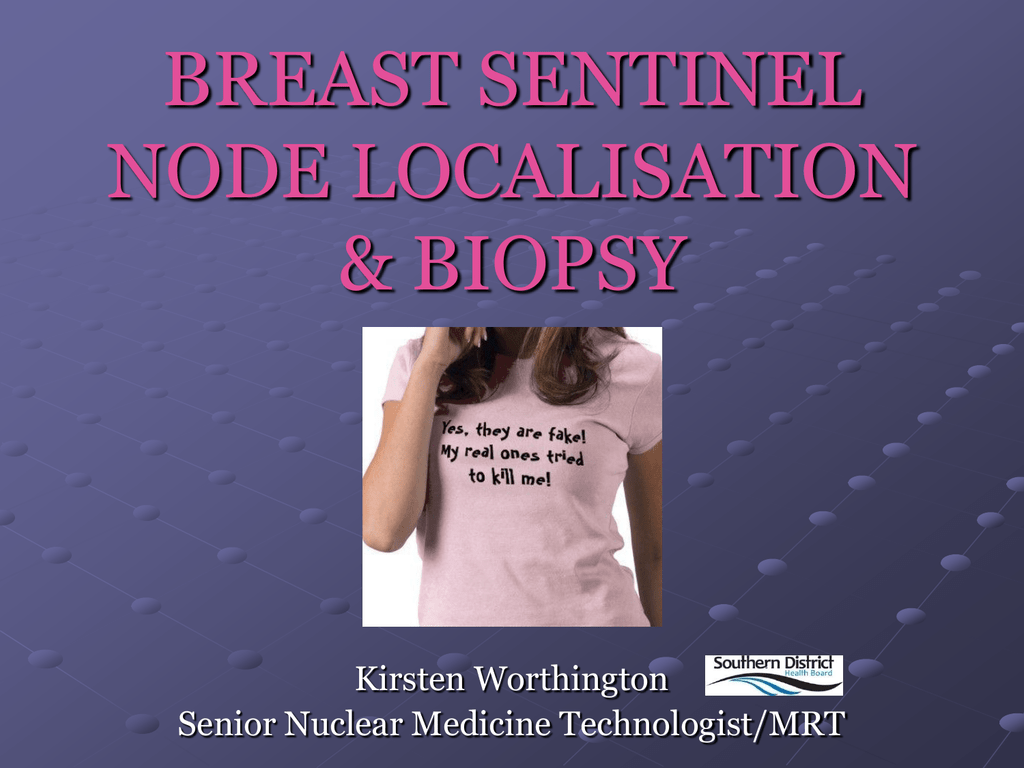 BREAST SENTINEL
NODE LOCALISATION
& BIOPSY
Kirsten Worthington
Senior Nuclear Medicine Technologist/MRT
What is a 'Sentinel' lymph node (SLN)?
The very first lymph
node to receive
drainage from a
cancer containing
area of the breast
Typically located in:
- Axilla (armpit)
but can also be in:
- Internal Mammary
- Clavicular groups
a)
b)
c)
Axillary lymph nodes
Internal mammary lymph nodes
Supra & infra clavicular lymph
nodes
Axillary Clearance (A.C)
All axillary lymph nodes removed in
patients with breast cancer
Pathological lymph node analysis
important in 'staging' disease
Typically 1015 nodes removed (Diehl, Chang)
A.C reduces chance of cancer returning to
axilla. Gold Standard Procedure
Side Effects from Axillary Clearance
Lymphedema +/- Stiff shoulder
- Numbness (nerve damage)
- Fluid collection
10-15 cm surgical wound
Long recovery period
70% of DCIS breast cancer cases have not
metastasized to the lymphatic system
(Journal of Nuclear Medicine, Vol. 42 No.8, 2001)
What is 'Sentinel Lymph Node
Biopsy' (SLNB)?
Recent technique checking for lymphatic mets
without performing an A.C
13 sentinel node/s removed only
Sentinel node/s identified at surgery by:
- 99mTc Senti-scint/Geiger probe
- Isosulfan Blue Dye Test
Preliminary pathological analysis of nodes
during surgery
Negative biopsy result  operation completed
Positive biopsy result  Patient will require A.C
Who can have Sentinel Lymph
Node Biopsy?
Patients with 'in-situ' breast carcinoma
- small tumours (DCIS)
SDHB: Procedure done in conjunction
with lumpectomy or mastectomy
Who Shouldn't have a SLNB?
Women with large carcinomas
- >5 cm
Had R/T or surgery to breast/axilla area
Present with enlarged axillary lymph
glands
Multifocal tumour
Occult Malignancy
Possible Side Effects from
SLNB
Blue urine  24 hrs
Breast stained blue  2 weeks
- Mild reaction to dye: 1-2% risk (NSW Breast Cancer Institute)
- Severe reaction: rare
Wounds in breast, armpit & sternum
Lymphedema: 1-2% risk (NSW Breast Cancer Institute)
Numbness
False negative result possible
Advantages of SLNB
(over Axillary Clearance)
Reduced hospital stay
Smaller axillary scar
Quicker recovery time
Reduced risk of lymphedema, pain &
numbness
How is the breast SN mapped in
Nuclear Medicine?
Technique
1
Affected breast  4 x injections 99mTc Sentiscint
Radioactive injections are placed tumour
quadrant around areolar (about o'clock position)
How is the breast SN mapped in
Nuclear Medicine?
Technique
2
2 x injections 99mTc Senti-scint placed either
side of breast tumour
Require Radiologist + ultrasound machine
Senti-scint Localisation in Lymph
Node
Radioactivity travels freely in lymph vessels but
trapped in lymph nodes
Isotope travels from tumour location to Sentinel
Node
Breast massage encourages flow of radio-tracer
Scanning occurs & lymph node is identified
Nuclear Medicine SLN Images
Peri-areolar Technique
Node/s identified
- Anterior + 57Co Flood Field
- Lateral + 57Co Flood Field
Node/s marked on patient's
skin
Patient ready to proceed to
surgery
Nuclear Medicine SLN Images
Peri-tumoral Technique
Axillary nodes
- Multiple
IM node positive
SPECT / CT Images
3D volume
rendered
SPECT/CT
CT (top line)
SPECT data (middle line)
Fused data (bottom line)
Surgery/Biopsy of SN
Blue dye injected at commencement of
surgery  turns SN blue
Geiger probe detects radioactivity in SN
Success of biopsy depends greatly on
experience of breast Surgeon
Incision at SN position and blue node
removed
SN analysed for metastatic spread
SLNB Results
Pathological analysis categorizes nodes in
groups:
Negative (no cancer cells)  axilla treatment
finished
Positive (contains cancer) or Indeterminate
(uncertain of cancer cells) A.C required
Pathologist report authorised
False-negative Result
Occurs when SN has no cancer cells, but
another node in axilla does
Metastatic spread will go undetected
8% risk of this result with SLNB (NSW Breast
Cancer Institute)
Patient is undertreated as they won't
receive chemotherapy at time of biopsy
? Significance to progress of disease
? Further lumps of cancer in axilla
Clinical Trials
Global research on SLNB has been under
way for quite some time and is still ongoing
18 years research for SLN Biopsy
Conclusion
Results show that SLNB is a safe & reliable
technique in appropriately selected
patients
Determines who should or should not
require A.C
Thanks
References
Bova D, Dillehay G, Halama J, Karesh S, Wagner R, Zimmer A (2006)
Nuclear Medicine (2nd Ed). China: Mosby Elsevier.
Diehl KM, Chang AE. Sentinel Node Biopsy: What Breast Cancer Patients
Need to Know. Available: [online]
http://www.cancernews.com/printer.asp?aid=202
Imaginis (updated Jan 31, 2008) Sentinel Lymph Node Biopsy. Available:
[online] http://www.imaginis.com/breasthealth/sentinelnode.asp
Mariani G, Moresco L, Viale G, Vialla G, Bagnasco M, Canavese G,
Buscombe J, Strauss HW, Paganelli G (2001) Radioguided Sentinel Lymph
Node Biopsy in Breast Cancer Surgery. Journal of Nuclear Medicine. Vol.
42 No. 8, P1198-1215.
The NSW Breast Cancer Institute, Sentinel Node Biopsy, An Information
Guide for Patients (Jan 2008). Available: [online] http://www.bci.org.au
QUESTIONS?