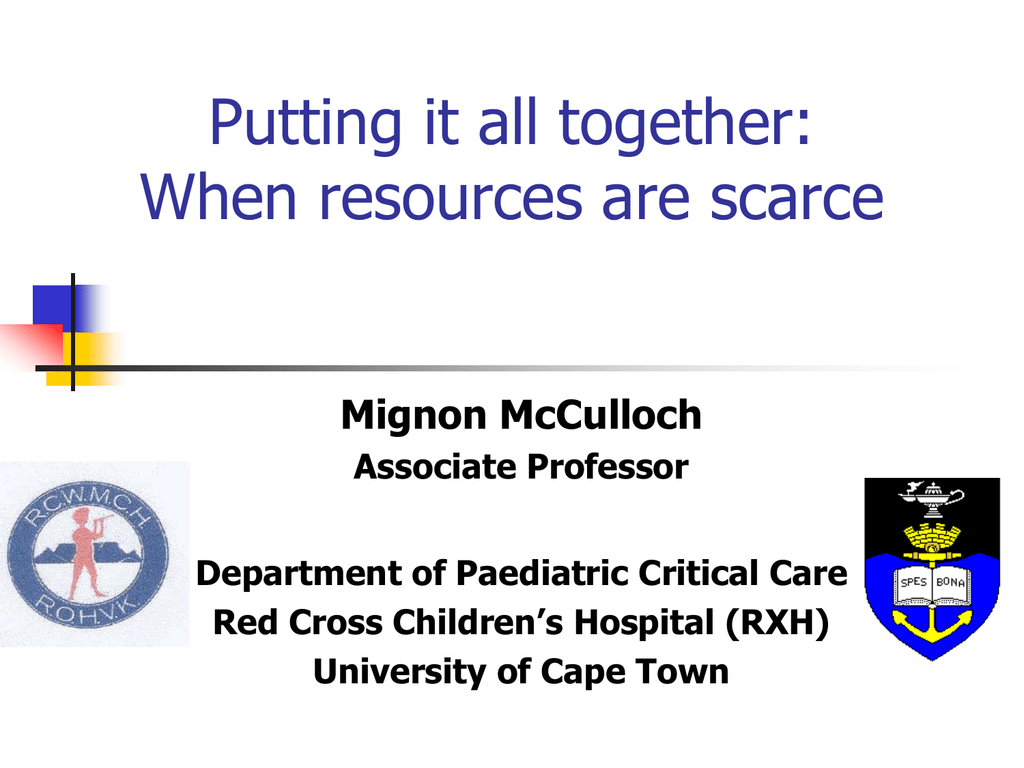 Putting it all together:
When resources are scarce
Mignon McCulloch
Associate Professor
Department of Paediatric Critical Care
Red Cross Children's Hospital (RXH)
University of Cape Town
Acknowledgements

Thanks to Stuart and Tim


Including all forms of CRRT
Disclosures


Passionate about PD
Access for children with AKI in poorly
resourced areas
Clinical Patients





2.5kg boy
Complex Congenital
Heart
Post-op surgical
No urine output x 8hrs
What next?





12year old boy
Meningococcal Sepsis
Shocked needing
inotropic support
Poor urine output x 12hrs
What next?
Less than 1km down the road…
Role of Fluid

FO >20% @ time of CRRT initiation
%FO = (Fluid In – Fluid Out) x 100%
(PICU Admission weight)
Goldstein et al(2005). KI 67:653-658

But what happens before?
Goal directed therapy
Study of Emergency Department Management
Rivers et al, N Engl J Med, 2001
de Oliveira CF et al, Intensive Care Med, 2008
de Oliveira CF et al, Intensive Care Med, 2008
Severe sepsis and septic shock
guidelines 2008
FEAST Trial ?
FEAST Study
(Fluid Expansion as Supportive Therapy)
NEJM June 30, 2011 Maitland et al

Severe febrile illness & impaired perfusion
randomised to:




Bolus 5% Albumin 20-40ml
Bolus 0,9% Saline
No bolus
Halt recruitment 3141/3600


48hour mortality
10.6% bolus vs 7.3% non-bolus(p=0.003)
Maitland et al, N Engl J Med, 2011
Maitland et al, N Engl J Med, 2011
Criticisms 




NEJM Oct 6, 2011
Severely anaemic children - 32% Hb<5mg/dl
 Acute haemodilution in pre-existing anaemia
 Impaired oxygen delivery leading to organ failure
Malaria – 57% thus have sequestration of red cells
in microcirculation
Shock – not all forms are the same – related to
high CO or diminished O2
Compromised oxygen delivery – 77% thus
worsening cellular dysoxia
Malnutrition
Plans


Rapid triage and treatment
Monitoring in a low resource setting


What is physiologic fluid best for bolusing




What is possible? CVP
Blood vs fluid boluses
Choice of fluids BMJ 2010;341 Maitland,
Colloids vs Crystalloids for fluid resuscitation Cochrane
2012 – Perel P
Low-volume fluid resuscitation insufficient for
patients in shock – Inotropes?
Needed:
Observational Trial in Septic Shock


Fluid challenge – 10-20ml/kg…then
Observe response:


Heart rate and BP, Resp rate, Oxygen sats
Cardiac output in response to fluid





Portable Uscom/Echocardiography validation
Pulmonary oedema – Lung impedance
High flow Oxygen/CPAP/Ventilation
Inotropes – peripheral/central
AKI???
Renal Replacement Therapy
What we have done in Cape Town?
Initial Management

Urine output:
Aim for > 1ml/kg/hr

Fluid challenge



10ml/kg 0.9% Saline over 30 minutes and reassess
urine output
If no improvement & no signs of fluid overload,
repeat bolus
Clinical assessment regarding intravascular
volume status +/- invasive assessment
"Encouraging Agents"


Fluid and Perfusion
Furosemide ivi





Boluses 1 - 5mg/kg or
Infusion 0.1 – 1mg/kg
Mannitol/Metolazone
Aminophylline 1 - 5mg/kg ivi if stable
**Dopamine 2 – 5mcg/kg/min infusion
Kenya
Nigeria
Nigeria
IPNA/ISN Training for Africa
Benin
Ghana
Uganda

Challenges on Return





Poor Staffing
Lack of Facilities & Equipment
Radiology – Ultrasound only
Support from Home Institutions
Histology support
100%
86%
86%
71%
57%
Paradise ?
ISN Sister Program
PD Workshop
Accra, Ghana
04.12.2011
PD Catheters

Art of Medicine? Innovative and Creative






Cannulas
Naso-gastric tubes/Chest Drains
Venous Central lines
Rigid 'Stick' catheters
'Peel away' Tenchkoff
Flexible Multi-purpose drainage catheters

Auron A et al Am J Kidney Dis 2007
Devices for Peritoneal Dialysis
New Generation Cook Catheters
Kimal 'Peel-away' Tenchkoff
Tips for Success



Size matters…keep skin nick at minimum or nil at all
 Else will leak!!!
Avoid metal needle that comes with pack
 Rather Jelco/Venous access catheter
 Withdraw needle 0.5mm as go thru peritoneum and
advance plastic sheath
Run fluid in freely to fill abdomen before wire and catheter
 If not free-flowing  pull needle back slightly
 May be in bowel?....role of ultrasound
 Don't forget to empty bladder
Automated Dialysis
Home choice machine
Manual Dialysis with Fluid Warmer
Post Abdominal Surgery
8Fr Cook
Pigtail multi-purpose
drainage device
8Fr Cook PD
Catheter
Improvised equipment and solution
used in the procedure
4/7/2015
Dr S. Antwi: Paediatric Nephrologist KNUST-SMA/KATH
41
5-yr old with HUS
PD duration - 8 days
4/7/2015
Dr S. Antwi: Paediatric Nephrologist KNUST-SMA/KATH
42
PD progress in 1st 24 hrs
4/7/2015
Dr S. Antwi: Paediatric Nephrologist KNUST-SMA/KATH
43
PD in session
4/7/2015
Dr S. Antwi: Paediatric Nephrologist KNUST-SMA/KATH
44
CONCLUSION

Peritoneal dialysis as a form of acute renal
replacement therapy is:



Practical
Appropriate for developing countries
Results reflected suggest that due to ease of
use, it may also be appropriate for centers where
access to CVVH/D may not be available


due to lack of equipment or
trained staff
PRACTICAL SKILLS WORKSHOP
IPNA/ISN/SKCF/Saving Young Lives
…..and all other supporters
12-16 Nov 2012
Thank you to all my colleagues @
RXH
Thank you for your time and
attention !