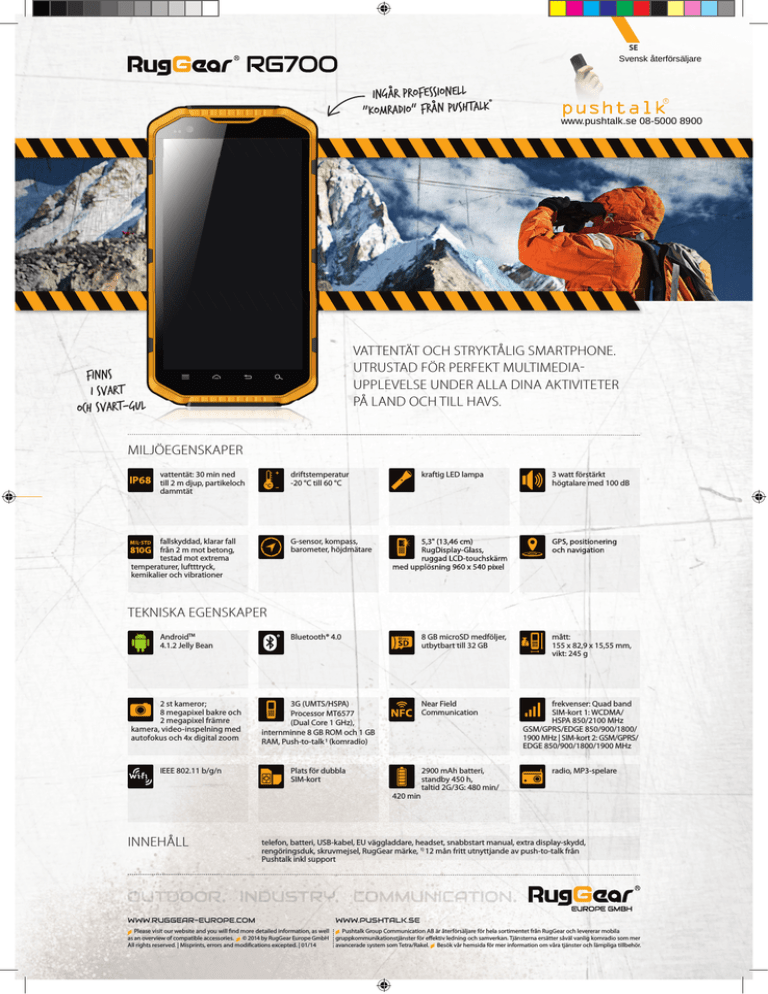 SE
Svensk återförsäljare
INGAR PROFESSIONELL
®
"komradio" FRAN PUSHTALK
www.pushtalk.se 08-5000 8900
VATTENTÄT OCH STRYKTÅLIG SMARTPHONE.
UTRUSTAD FÖR PERFEKT MULTIMEDIAUPPLEVELSE UNDER ALLA DINA AKTIVITETER
PÅ LAND OCH TILL HAVS.
FINNS
I SVART
OCH SVART-GUL
MILJÖEGENSKAPER
kraftig LED lampa
driftstemperatur
-20 °C till 60 °C
vattentät: 30 min ned
till 2 m djup, partikeloch
dammtät
G-sensor, kompass,
barometer, höjdmätare
fallskyddad, klarar fall
från 2 m mot betong,
testad mot extrema
temperaturer, luftttryck,
kemikalier och vibrationer
5,3" (13,46 cm)
RugDisplay-Glass,
ruggad LCD-touchskärm
med upplösning 960 x 540 pixel
3 watt förstärkt
högtalare med 100 dB
GPS, positionering
och navigation
TEKNISKA EGENSKAPER
AndroidTM
4.1.2 Jelly Bean
Bluetooth® 4.0
2 st kameror;
8 megapixel bakre och
2 megapixel främre
kamera, video-inspelning med
autofokus och 4x digital zoom
3G (UMTS/HSPA)
Processor MT6577
(Dual Core 1 GHz),
internminne 8 GB ROM och 1 GB
RAM, Push-to-talk 1 (komradio)
IEEE 802.11 b/g/n
8 GB microSD medföljer,
utbytbart till 32 GB
Near Field
Communication
Plats för dubbla
SIM-kort
420 min
INNEHÅLL
2900 mAh batteri,
standby 450 h,
taltid 2G/3G: 480 min/
mått:
155 x 82,9 x 15,55 mm,
vikt: 245 g
frekvenser: Quad band
SIM-kort 1: WCDMA/
HSPA 850/2100 MHz
GSM/GPRS/EDGE 850/900/1800/
1900 MHz | SIM-kort 2: GSM/GPRS/
EDGE 850/900/1800/1900 MHz
radio, MP3-spelare
telefon, batteri, USB-kabel, EU väggladdare, headset, snabbstart manual, extra display-skydd,
rengöringsduk, skruvmejsel, RugGear märke, 1) 12 mån fritt utnyttjande av push-to-talk från
Pushtalk inkl support
OUTDOOR• INDUSTRY• COMMUNICATION•
WWW.RUGGEAR-EUROPE.COM
WWW.PUSHTALK.SE
Please visit our website and you will find more detailed information, as well
as an overview of compatible accessories. © 2014 by RugGear Europe GmbH
All rights reserved. | Misprints, errors and modifications excepted. | 01/14
Pushtalk Group Communication AB är återförsäljare för hela sortimentet från RugGear och levererar mobila
gruppkommunikationstjänster för effektiv ledning och samverkan. Tjänsterna ersätter såväl vanlig komradio som mer
avancerade system som Tetra/Rakel. Besök vår hemsida för mer information om våra tjänster och lämpliga tillbehör.