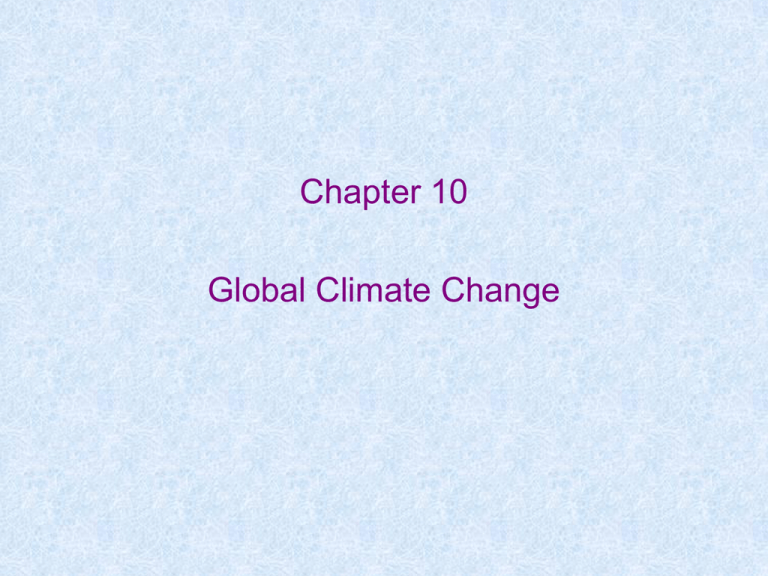 Chapter 10
Global Climate Change
1. Global Temperature Record
Regional Temperature Patterns
Predicting Climate Change
Forecasting Global Warming
• 100s to 1000s of assumptions
• Geophysical approach
– Fluid dynamic models
• Statistical approach
– Time-series analysis
2. Global Environmental Changes
•
•
•
•
Climate change: warmer, wetter, drier
Increasing atmospheric CO2
Habitat fragmentation and loss
Biotic insertions (invasive species),
deletions (local extinction)
• Pollution (mainly reactive nitrogen)
2a. Ecological Impacts
• Focus on Species
– Fundamental biological unit
– Global warming? Adapt; Migrate poleward
or higher elevation
Physiological Responses
Photosynthesis & Respiration
Rosenzweig, C, et al., 2008, Attributing physical and
biological impacts to anthropogenic climate change,
Nature, 453, 353.
2b. Ecological Impacts
• Species interactions lead
to a Community
• Communities are complex
• Complexity leads to
confusion
– What is biodiversity?
– Why is species richness
important?
– Is functional diversity more
important than species
diversity?
– Should we worry about rare
species?
Tylianakis, JM, 2008, Global change and species
interactions in terrestrial ecosystems, Ecology Letters,
11, 1351.
Climate Change
Climate change vs Biotic invasion
2c. Ecological Impacts
• Focus on Ecosystems
• Ecosystem function
– Productivity
– Nutrient cycling
– Water cycling
• Ecosystem functions become ecosystems
services, depending on social template
• What if: biodiversity = ecosystem services
4. Adapting to Climate Change
• Develop Predictions of the future to guide
current and future actions (versus old
management: return to pre-existing
conditions)
• Downscale predictions to the regional, local
scale
• Recognize that Disturbances
(fire,flooding,diseases, hurricanes, etc.)
shape ecosystems
• Drought & Sea Level Rise are central to the
global change scene.
Adaptive Management
How to Cope with Climate Change & Biodiversity
• Develop refuges, parks reserves that
provide habitat for many species
• Connect reserves to allow migration
• Flexible management as conditions
change - constant monitoring and
modeling outcomes
1. Continuing Group Presentation
2. Final Course Assessment (oral/papery)
3. Final Course Article
Final Course Article
Title:
International Water Resource Management: Issues and Strategies
Due Date:
Before December 22, 2009
Requirement:
1) No less than 3,000 words either in English or in Chinese
2) Submission both in paper and by email. Please submit paper to
Room 226, Key Laboratory of the Eco-Environment of the
Three Gorges Reservoir, Teaching Building No. 29.
Email: lichangx@swu.edu.cn or call 68253795 or
13883380115 if necessary.
Grades:
1 project report 15%
1 group class presentation 25%
1 final course article 50%
Attendance, participation in class 10%
More Information
• A study group of 20-30 participants will
be organized.
• Each participant is required to have
good English and strong interest in
INRM.
• The activities will be supported by SWU
and Cornell mainly through the Global
Seminars.
• Please send an email to me if you want
to join.