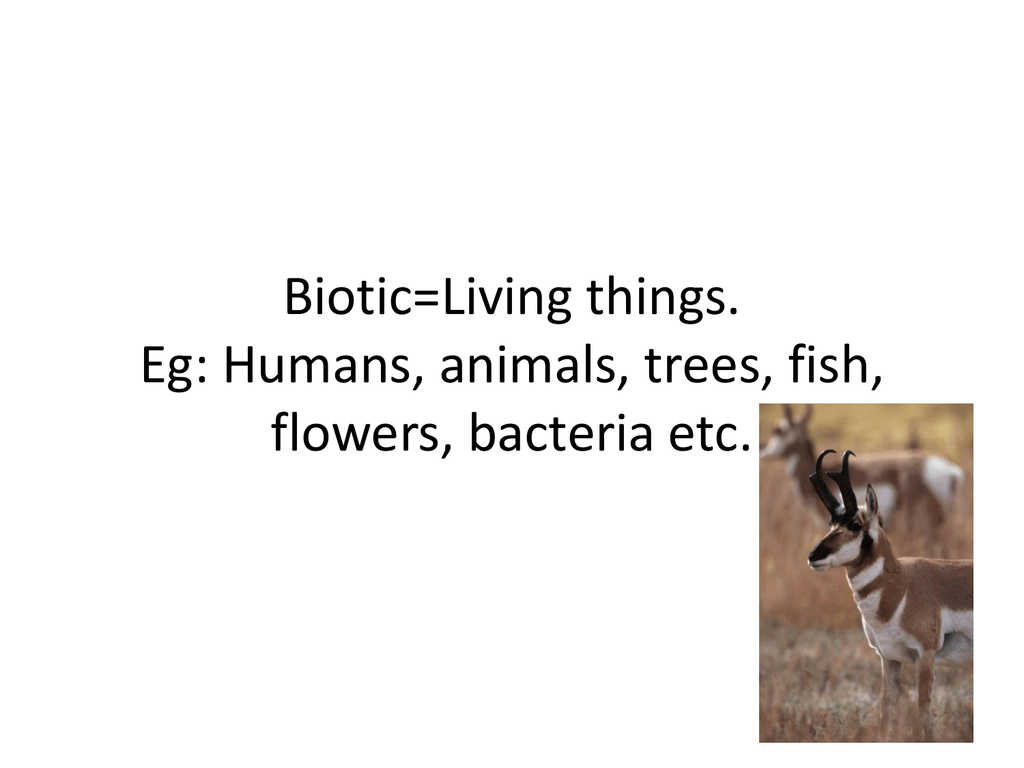 Biotic=Living things.
Eg: Humans, animals, trees, fish,
flowers, bacteria etc.
Abiotic=non-living things.
Eg: Sunlight, minerals, air,
soil, water, etc.
Example
Biotic:
•Other
Pronghorns
•Insects
•Bacteria
•Grasses
•Other
mammals
•predators
Abiotic:
•Water
•Air
•Soil
•Temperat
ure
Pronghorn
Environment: Everything which affects
an organism throughout its life, and
everything which the organism effects.
Individual
Organisms
Populations
Ecologists: Scientists who study the
interactions of organisms with one
another and their environment.
Communities
Ecosystems
Individual organisms: Want to learn
how the abiotic environment in which
an individual lives affects it behavior or
physical features.
The Banff spring snails
Alpine plant
Populations
• Species: organisms that breed
with one another to produce
fertile offspring's
• Population: group of same
species living at a specific area
at the same time
Describes the changes in site as time
passes;
Example:
Lilies in Bugaboo Mountains
• How the population;
– Increases
– Decreases
– Remains consistant
during a period of time
Also study
• Rate at which a population changes in size
• Factors that determine relative numbers of
males or females (or young and old)
Example:
The Study of Changes in Population of Pikas
Pikas
• Related to rabbits and live in alpine regions
• They forge on grasses and flowers that they hoard in
haystacks in their tunnels for winter
• Vulnerable to temperature changes:
• Population decrease
– Global warming -> Rising temperatures -> changes in
vegetation -> less to eat
– Lack of snow -> reduces cover on their rock tunnel homes
– Lack of snow -> not enough to provide insulative blanket
• Populations of different species are rarely
isolated; instead they interact with one another
• Community: all individuals of interacting
populations in given area
– Study interactions among populations
Example:
Why some communities made up of many species compared to a
community of few species
Saskatchewan
• Compared number of species in birds within section of
intact forest and forest fragments
• Found:
– Species preferred interior, common in intact forest
– Species preferred "edges", common in forest fragments
Interactions that influence structure of
community
• Competition between same species in different
populations
• Relationship between predators and prey population
• Abiotic factors that have a strong influence on which
and how many species live in a community;
– How much moisture is present
– Number of hours of sunlight
Examples
• Bird species competing for nesting habitat
• Droughts change composition of plant species
growing in area
Communities
• Dynamic
• Change as abiotic conditions in environment change
• As population of one organism fluctuates, effects the
population level of other organisms that they can
consume or be consumed by
• Modify community by interaction to become suitable
• Gradually take over and form new community
Example:
• After a fire in forest, open area is created
– First organisms to establish themselves are members of
species that do well in disturbed habitats
• Create:
– Shade
– Alter soil
– Make habitat less suitable for species like themselves and more
suitable for other species
New habitats
• Become available after:
–
–
–
–
Rockslides
Floods
Volcanic eruption
Glacier recedes
• Example:
Century after ice has melted
lush meadow grows
evolves into forest
Ecosystems
• An Ecosystem is a community of populations,
together with the abiotic factors that surround
and affect it. It includes all of the non-living
parts of the environment in a particular area
and all the living organisms, as well as the
interactions among them.
• Ecosystems can be any size. There are smaller
ecosystems within larger ecosystems.
Example
• This lichen covered boulder could be
considered an ecosystem within an ecosystem.
It contains a community of living things
together with abiotic components such as air,
water and minerals. This ecosystem interacts
with and is a component of a larger
ecosystem.
The Earth's Biosphere
• All the ecosystems in the world and their
interactions make up the biosphere. The
biosphere is thought of as the largest possible
ecosystem. It consists of all parts of Earth
which are inhabitable by some type of life and
extends several kilometers into the
atmosphere and several meters into the soil.
The Earth's Biosphere
• Each species has its own "place" in the
biosphere. For example mountain goats live in
specific places in Canada. They do not live
across the entire country.
• The distribution of species is related to the
ways the biotic and abiotic components of an
environment affect individual organisms and
their ability to survive.
MOUNTAIN LION
Summary
• Biotic and abiotic components are part of any environment.
• The interactions between organisms is divided into four
parts by ecologists—individual organism, populations,
communities and ecosystems.
• Ecologists usually specialize and focus on one level of the
environment eg. A community ecologist.
• The research of an individual organism includes the effect
of the abiotic elements of its environment on physical
features or behavior.
Summary
• The study of a population includes every member of
the same species inhabiting a specific area plus their
interactions with and the effects of the abiotic
elements of their environment.
• The study of a community includes all individuals of all
interacting populations in a specific area.
• The study of an ecosystem includes all abiotic and
biotic elements and their interactions.
• Usually communities change over time because the
abiotic elements change over a time period. Changing
abiotic elements affect organism and their interactions
on all levels.