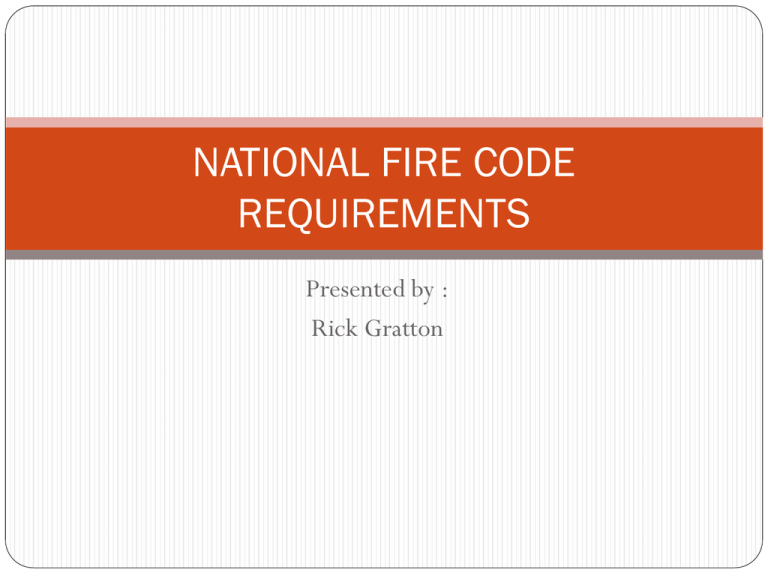 NATIONAL FIRE CODE
REQUIREMENTS
Presented by :
Rick Gratton
Section 5.6
 CONSTRUCTION AND DEMOLITION SITES
Fire Code Relevant Sections
 PROTECTION OF ADJACENT BUILDING 5.6.1.2
 FIRE SAFETY PLAN FOR EACH SITE





5.6.1.3
ACCESS FOR FIREFIGHTING
5.6.1.4
FIRE EXTINGUISHER ON SITE
5.6.1.5
HOT WORKS
5.6.1.7
SAFE EGRESS
5.6.1.8
DISPOSAL OF COMBUSTIBLE REFUSE 5.6.1.19
5.6.1.2
 PROTECTION OF ADJACENT BUILDING
 1) Protection shall be provided for exposed adjacent
buildings and facilities that would be exposed to fire
originating from buildings, parts of buildings, facilities and
associated areas undergoing construction, alteration or
demolition operations.
 The objective of the NFC is to limit the probability that
adjacent buildings or facilities will be exposed to an
unacceptable risk of damage due to fire
NFC Appendix Notes
NFC Appendix A5.6.1.2
 Methods or materials used to protect adjacent buildings
include:
 Gypsum Sheathing
 Spatial Separation
 Water Curtains
 Temporary fire barrier such as fire tarpaulin
CURRENT ISSUES WITH 5.6.1.2
 No defined distance to adjacent buildings
 Definition of "undergoing construction"
 Enforcement
 Protection required on inside or outside of coated sheathing?
BUILDING CODE REQUIREMENTS
FIRE CODE REQUIREMENTS
(EXAMPLES OF COMPLIANCE)
9.25 Condensation Control
 Sheet and panel-type materials must have a water vapor
permeance less than 60 ng when incorporating into a
building assembly required to be insulated
 Gypsum sheathing - 1373
 OSB - 44 but allowed as a wood based sheathing not more
than 12.5 mm thick
 Coatings must not affect the ability of such sheathings to dry
QUESTIONS?