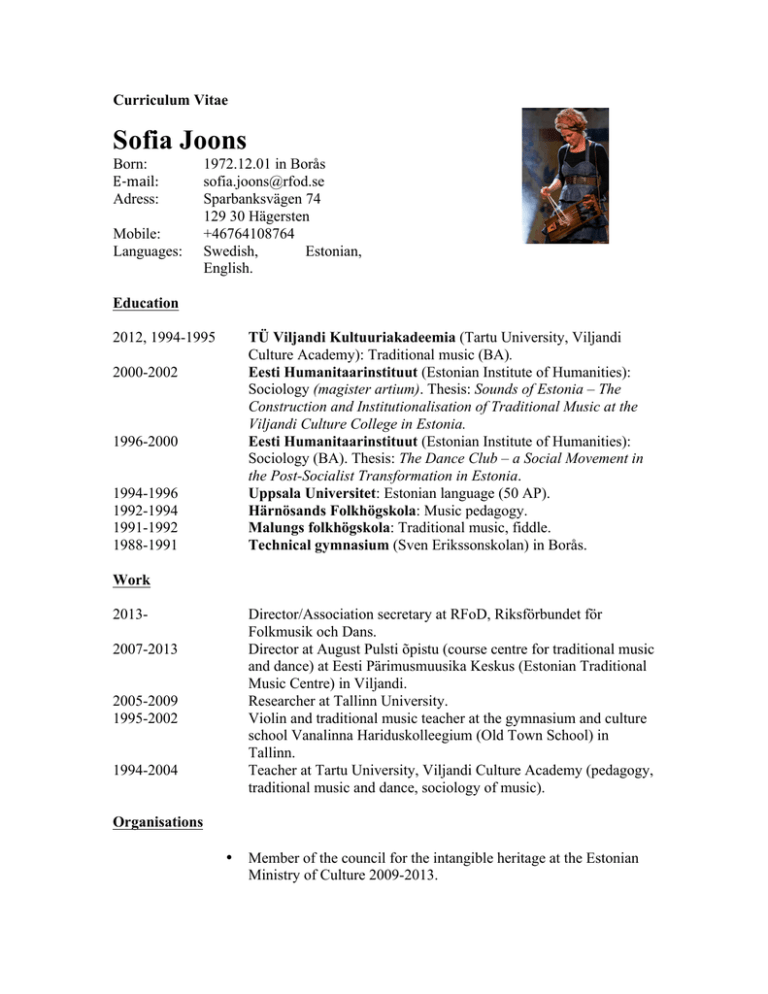 Curriculum Vitae
Sofia Joons
Born:
E-­‐mail: Adress:
Mobile:
Languages:
1972.12.01 in Borås
sofia.joons@rfod.se
Sparbanksvägen 74
129 30 Hägersten
+46764108764
Swedish,
Estonian,
English.
Education
2012, 1994-1995
TÜ Viljandi Kultuuriakadeemia (Tartu University, Viljandi
Culture Academy): Traditional music (BA).
Eesti Humanitaarinstituut (Estonian Institute of Humanities):
Sociology (magister artium). Thesis: Sounds of Estonia – The
Construction and Institutionalisation of Traditional Music at the
Viljandi Culture College in Estonia.
Eesti Humanitaarinstituut (Estonian Institute of Humanities):
Sociology (BA). Thesis: The Dance Club – a Social Movement in
the Post-Socialist Transformation in Estonia.
Uppsala Universitet: Estonian language (50 AP).
Härnösands Folkhögskola: Music pedagogy.
Malungs folkhögskola: Traditional music, fiddle.
Technical gymnasium (Sven Erikssonskolan) in Borås.
2000-2002
1996-2000
1994-1996
1992-1994
1991-1992
1988-1991
Work
2013-
Director/Association secretary at RFoD, Riksförbundet för
Folkmusik och Dans.
Director at August Pulsti õpistu (course centre for traditional music
and dance) at Eesti Pärimusmuusika Keskus (Estonian Traditional
Music Centre) in Viljandi.
Researcher at Tallinn University.
Violin and traditional music teacher at the gymnasium and culture
school Vanalinna Hariduskolleegium (Old Town School) in
Tallinn.
Teacher at Tartu University, Viljandi Culture Academy (pedagogy,
traditional music and dance, sociology of music).
2007-2013
2005-2009
1995-2002
1994-2004
Organisations
•
Member of the council for the intangible heritage at the Estonian
Ministry of Culture 2009-2013.
•
Member of the Estonian-Swedish Culture Council 2007-2011,
chairperson 2011-2013.
Creative work
CD: Strand...Rand (2001) and Strand...Rand II (2012)
Own production: Performance in music and words: Perestroika in Ormsö. Sofia Joons
och Kristiina Ehin. 2011.
Music in theatre productions:
• Islands klocka (Halldór Laxness) Eesti Draamateater 2012
• Trollpojken (Selma Lagerlöf), Eesti Riiklik Nukuteater 2005.
• Ormens väg på hälleberget (Torgny Lindgren), Eesti Draamateater 1998.
• Den yngre Eddan (Snorre Sturlasson/Jaanus Rohumaa), Tallinna Linnateater
1998.
Some main publications
Joons, Sofia (2010). Pärimusmuusika kultuurilise identiteedi loojana koolis August Pulsti
õpistu tegevuse näitel. (Folkmusik – skapare av kulturell identitet i skolan. Analys av
folkhögskolan August Pulsti õpistus verksamhet) Luisk, Ülle (Eds.). Läbivad teemad
õppekavas ja nende rakendamine koolis (58 - 68).
www.ut.ee/curriculum/orb.aw/class=file/action=preview/id=807523/
LT_KOGUMIK_I.pdf: Tartu Ülikool
Joons, Sofia (2007). Uute mittetulundusühenduste organisatsiooniline küpsemine. (Hur
nya intresseföreningar mognar organisatoriskt) Rikmann, Erle; Enno, Katrin; Lagerspetz,
Mikko; Proos, Ivi; Ruutsoo, Rein (Eds.). Algatus, osalus ja organisatsioonid : uurimusi
Eesti kodanikuühiskonnast (132 - 152). Tallinn: Tallinna Ülikooli Kirjastus
Lagerspetz, Mikko; Joons, Sofia (2006). Tallinn as Multicultural City: Structures,
initiatives, debate. Dorota Ilczuk & Yudishthir Raj Isar (Eds.). Metropolis of Europe:
Diversity in urban cultural life. (184 - 221). Warsaw: CIRCLE & Pro Cultura Foundation
Lagerspetz, Mikko; Joons, Sofia (2004). Glocalmig series : migrants, minorities,
belonging and citizenship : glocalization and participation dilemmas in EU and small
states. Vol. 4 : Estonian Institute of Humanities Migrants, Minorities, Belongings and
Citizenship: The Case of Estonia. Bergen: University of Bergen
Loogma, Krista; Joons, Sofia; Vilu, Raivo; Ümarik, Meril. (2003). Identity Formation in
the IT Sector: Employers ́ Perspectives with Examples from Estonia, Czech Respublic,
Germany and United Kingdom. Kirpal, Simone (Eds.). How Personnel Management and
HR Policies Shape Workers ́Identities in Europe (71 - 84). Bremen: Bremen University
ITB
Joons, Sofia (2003). Svenskhetens, trons och koralernas återkomst i Estland. Gamla
Psalmmelodier - en bok om folkliga koraler, insamling och forskning, 19, 101 - 120.