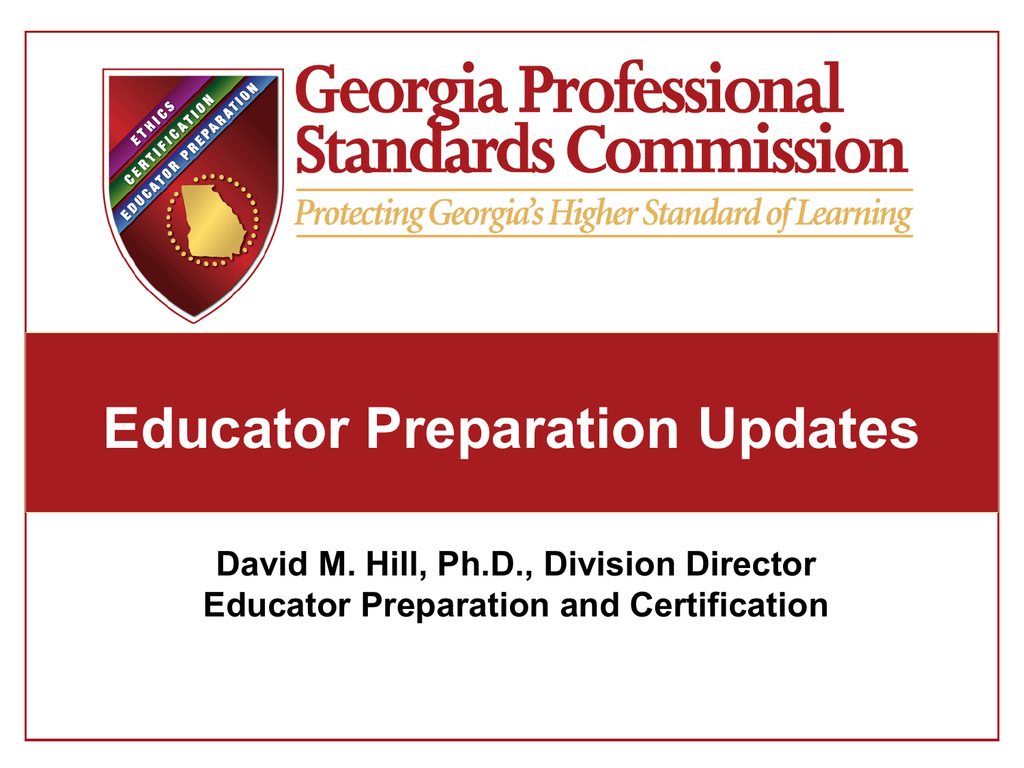 Educator Preparation Updates
David M. Hill, Ph.D., Division Director
Educator Preparation and Certification
Ed Prep Updates
•
•
•
•
•
•
Race To The Top Progress
Upcoming Rule Changes
New Preparation Requirements
GaTAPP
GACE -- Testing Program
ICP and GSS
Georgia's Race To The Top
Progress Report
RTTT Progress Report
GaPSC/GaDOE joint development of induction
guidelines for new teachers & leaders
• guidelines create a model for school system
induction (available on GaDOE website)
• guidelines currently used in RTTT districts
• once tiered certification is in place, induction
will have increased importance
• universities are interested in helping with
induction work
RTTT Progress Report
Development of measures to assess
effectiveness of teacher & leader
preparation programs
• GaPSC task force has developed a
recommended set of measures
• GaPSC is working on creation of
implementation guidelines
• Timeline: piloting in 2013-2014; extended
piloting, 2014-2015; effective in 2015-2016
RTTT Progress Report
Alternative Prep of School Leaders
• Think of this as GaTAPP for school leaders
• Designed to attract people with leadership
experience in other fields; teachers will be
eligible too
• Performance-based with an emphasis on leader
dispositions
• School district will play major role in selection of
program participants
• Limited number of programs
RTTT Progress Report
Tiered Certification
• Described by Kelly Henson
• Work began in December and will be completed
by fall 2013
• Tiered certification assumes
– Need for growth opportunities without leaving the
classroom
– Teacher leadership is important in school improvement
– The learning community is the most viable model for
improving teaching & learning
2012-13 Rule Changes
Rule 505-3-.01
• The overarching rule for all educator
preparation programs
• Definitions
• Requirements for seeking approval
• Approval requirements for units and programs
• Program requirements
• Regulations related to recommending
candidates for certification
Prep Program Changes
• Focused on raising the bar; improving the
preparation of educators
• Effective January 15, 2013
• Programs must be based upon the 2011
InTASC Model Core Teaching Standards
• The new standards include elements associated
with performances, essential knowledge, and
critical dispositions
• Focused on the learner, as opposed to the
teacher
InTASC Standard Ex.
• Standard: Uses understanding of individual differences,
diverse cultures, & communities to ensure inclusive
learning environments that enable each learner to meet
high standards.
• Performance: Accesses resources, supports, &
specialized assistance & services to meet particular
learning differences or needs.
• Essential Knowledge: Knows how to access information
about the values of diverse cultures & communities, &
how to incorporate learners' experiences, cultures, and
community resources into instruction.
• Critical Disposition: The teacher makes learners feel
valued & helps them learn to value each other.
Prep Program Changes
• Field experiences emphasize
practice/demonstration of KSD over
observation
• Student teaching/internship must last a
minimum of one full semester
–one full school year is the ideal
• The rule will define partnerships between
program providers and P-12 schools as…
Partnerships
Collaborative relationships between program
providers and P-12 schools are formalized as
partnerships and focused on continuous school
improvement and student achievement through
the preparation of candidates and professional
development of P-20 educators.
•
Reciprocal relationship
•
School Improvement
•
Student achievement
•
P-20
Caution: Ongoing Complaints
Complaints continue from educators about
online, for-profit programs
• Added course work that was not revealed at
beginning of program (rather than 9-12 hours for
dissertation work, 15-24 hours has been
reported)
• Some provide no support for field experiences &
student teaching expecting the school district to
handle this
• Caution employees about these problems!
Other Rules
• Slated for revision this year:
– Reading Endorsement
– Reading Specialist
– School Psychology
– Visual Impairment
– Add a Field Rule (more restrictive)
Rules coming soon:
– Alternative Prep of School Leaders
New Certificate Fields
• Three fields: teacher leadership,
instructional technology, & curriculum and
instruction
• Programs are scheduled for approval in
February and should be ready to accept
candidates summer or fall of 2013
• Certification will come later once new
GACE assessments are developed for
these fields
Professional Learning Task Force
• Follow-up to legislative study committee & 5year relaxing of the professional learning
requirement for certificate renewal
• Task force will design a new rule linking
professional learning to certificate renewal
• Collecting PLUs as representative of seat time
will be deemphasized; focus will be on link
between professional learning & student
achievement, & will be integral part of a tiered
certification system
Professional Learning Task Force
• Task force work schedule: begin summer 2013;
complete rule development spring or summer
2014
• We don't know how the new rule will be phased
in (grandfathering period or not?)
• Important for those educators whose certificates
expire on June 30, 2016, to be prepared to
renew under renewal requirements in effect
before HB1307 suspended the PLU requirement
• We will keep you posted!
Contact Information
Penney McRoy
Assistant Division Director, Educator Preparation
Educator Preparation and Certification
[email protected]
404-232-2629
The Georgia Teacher
Academy for Preparation
and Pedagogy (GaTAPP)
Perceptions and Facts
Framework of GaTAPP
Significant Components
• Summer "Boot Camp": The Essentials of Effective
Teaching
• Candidate Support Team
• Individualized based on Candidate Assessment Data
• Job-embedded Clinical Practice
• One-Three Years to complete
• Candidates Highly Qualified
• Assessment of Academic Content Competency
Characteristics of Candidate
• Career Switchers
• General Education
• Career Technical and Agriculture Education
(CTAE)
• Undergraduate degrees/Majors
• No related degree to ECE and Special
Education
• Unfamiliar with School Culture
Filling the Gaps:
No related degree to ECE and Special Education
• Candidates expect additional instruction
• Instruction developed by identified Sped and
ECE specialists:
• Instruction based on Candidate performance
assessment data
• ECE and Special Education Specialist
designed instruction and assessment to
measure knowledge, skills, and dispositions
Filling the Gaps:
Unfamiliar with School Culture
• Candidate Support Team (CST)
• School-based Administrator
• School-based Mentor
• Provider Supervisor
• Content Specialist
• CST Member Training/Assessment
• Program Requirements/Assessments
• Coaching Standards
• Assessed for Coaching/Performance in Role
Framework of GaTAPP
Essentials of Effective Teaching (eModules and
Common Assessment System with Common
Assessments)
− Blended Model: Face-to-Face and online: Flipped Classroom
− Common Core Georgia Performance Standards
− Developing appropriate assessments and using data to make
teaching decisions for student learning
− Strategies for engaging all students
− Classroom management and discipline
− Ethics in Education
Contact Information
Phyllis Payne
Director of Non-Traditional Educator Prep
[email protected]
404-232-2554
GaPSC Program Approval
Program Approval
• Reviews and monitors all programs
leading to GA certification
• IHEs, LEAs, RESAs, and organizations
• Currently 75 approved program providers
• Average approximately 10 reviews per
semester
• Reviews conducted by volunteers
Volunteers are Board of Examiners
• BOE teams are diverse in:
– Educational positions IHEs, LEAs and RESAs
– Gender
– Geographic Location
– Experience
• GaPSC provides in-depth training for BOE
• Focused on ensuring programs meet state
and national standards
• We need more BOE members
Contact Information
Hilda Tompkins
Director of Program Approval
[email protected]
404-232-2656
Latest on GACE
Educator Testing Program
New Program (ETS)
• At launch (October 2013), all tests will be offered via
computer only, except for the performance portion of
American Sign Language.
• Due to new technologies, most tests (not all) will
contain selected response items only.
• All tests will be customized for Georgia and aligned
with state and national standards for educator
preparation and with state standards for the P-12
student curriculum, the Common Core Georgia
Performance Standards (CCGPS).
New Program (ETS)
• An eligibility or "approval to test" code will be required.
• Candidates will have access to test centers within 50
miles of program provider sites.
• Increased number of free test preparation materials.
Full-length, interactive practice tests will be available for
purchase for every subject.
• The number of testing sessions available to examinees
will move from 3,555 (currently) to 18,668.
New Program (ETS)
• Currently Georgia educators are helping develop
GACE assessments (includes item development,
bias review, & other activities)
• Ed Leadership is a field that will be assessed by
the current testing provider (ES) until spring 2014
before we rollout a new leadership assessment
that better aligns with performance-based
programs
• Assessments for three new cert fields will be
developed and rolled out in spring of 2014:
– instructional technology
– teacher leadership
– curriculum & instruction.
Title II, Part A Updates
Title II, Part A
Highly Qualified (HiQ):
• The HiQ2 Data System is Open and will close June 30,
2013.
• All Principals and Superintendents will need to sign off
electronically on all data. Directions have been sent to your
Title II, Part A LEA Coordinator regarding:
– How to use the HiQ2 system
– How to request login credentials
– Upcoming HiQ2 Webinars
– Timelines
Contact Information
If Questions, Suggestions, Comments:
GACE
Anne Marie Fenton
404.232.2654
[email protected]
Title II, Part A
Your assigned GaPSC Title II-A Specialist
GaPSC Educator Workforce
Recruitment and Development
New Data Analysis Tools
New PSC Tools
Designed specifically for educator workforce
analysis and planning
• Instructional Capital Planner (ICP)
• Georgia School Staffing Survey of Certified
Personnel Vacancies (GSS)
Instructional Capital Planner
(ICP)
• ICP is an educator workforce information and
planning tool
• Statewide task force provided guidance for
ICP concept and development
• Shows all current core content teachers by
building, certification, HiQ, and other fields
• Will expand to include additional content
areas and professional fields
ICP
• Estimates attrition risk by teacher by school
• Provides recruiting assistance via a "Supply"
pool of available traditional and nontraditional candidates - by field and source
• Training for school systems, RESAs,
GATAPP and educator preparation programs
• Allows searchable, differentiated access
– Superintendents, Human Resources, Principals and
RESAs and educator preparation programs
Georgia School Staffing Survey
(GSS)
• GSS is a bi-annual count of true teacher
vacancies by school and content area
assignment
• PSC will collect the data
• Collection is in October and March to
coincide with CPI and FTE reporting periods
• Will eventually encompass certified service
personnel and leadership personnel
Contact Information
If Questions, Suggestions, Comments:
Educator Workforce Recruitment and Development
Cyndy Stephens
404.232.2619
[email protected]
Contact Information
David M. Hill
Division Director
Educator Preparation and Certification
[email protected]
404-232-2640
Thank you!