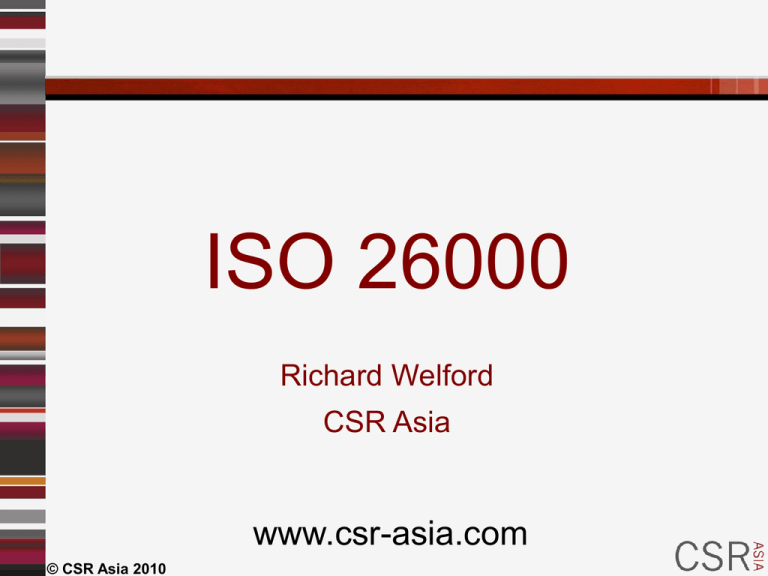 ISO 26000
Richard Welford
CSR Asia
www.csr-asia.com
© CSR Asia 2010
ISO26000:
Now we know what CSR is not
It is not about:
1.
2.
3.
4.
Giving away money
Planting a few trees
PR photo opportunities
Feeling good and being
a "caring company"
Seven principles of
Social responsibility
Recognizing social
responsibility
Accountability
Seven core
subjects
Transparency
Human
rights
Stakeholder identification
and engagement
Organizational
governance
Labour
practices
The
environment
Fair
operating
practices
Consumer
issues
Community
Involvement &
development
Ethical behaviour
Related actions and expectations (issues)
Respect for
stakeholder
interests
Integrating social
responsibility into
the organization
Relationship of the
organization's
characteristics to social
responsibility
Understanding the
social responsibility of
the organization
Respect for the
rule of law
Respect for
international norms
of behaviour
Respect for human
rights
Voluntary initiatives on
social responsibility
Reviewing and improving the
organisation's actions and
practices related to social
responsibility
Practices for
integrating social
responsibility
throughout the
organization
Communication on
social responsibility
Enhancing credibility
regarding social
responsibility
Principles: Accountability
•
•
•
•
Accountability for its impacts on society and the
environment
The organization should accept and encourage
scrutiny
Accountability imposes an obligation to be
answerable to stakeholders
An organization should account for:
– the results of its decisions and activities,
including significant consequences, even if they
were unintended or unforeseen; and
– the significant impacts of its decisions and
actions on society and the environment
Principles: Transparency
• An organisation should be transparent in its
decisions and activities that impact on
society and the environment
• Clear, accurate and complete disclosure of
policies, decision-making and activities
• The organization should be transparent with
respect to:
– the purpose, nature and location of its activities
– the manner in which decisions are made,
implemented and reviewed
– the impacts of its activities on society and the
environment
Principles: Ethical behaviour
•
•
An organization should behave ethically at all
times based on principles of honesty, equity and
integrity
The organization should promote ethical conduct
by:
–
–
–
–
–
developing governance structures that promote ethical
conduct
identifying, adopting and applying its own standards of
ethical behaviour
encouraging and promoting good standards of ethical
behaviour
establishing oversight mechanisms
establishing mechanisms for reporting of violations
Principles: Respect for
stakeholder interests
•
•
An organization should respect, consider and
respond to the interests of its stakeholders
The organization should:
– Identify its stakeholders
– Respond to the needs of its stakeholders
– Recognize the legal rights and legitimate
interests of stakeholders
– Consider the views of stakeholders that may
be affected by a decision even if they have no
formal role in the governance of the
organization
Principles: Respect for
the rule of law
• An organization should accept that
respect for the rule of law is
mandatory
• The organization should:
– comply with legal and regulatory
requirements
– ensure that is relationships and activities
fall within the intended and relevant legal
framework
– remain informed of legal obligations
– periodically review compliance
Principles: Respect for
international norms of behaviour
• In countries where national law or its
implementation does not provide for
minimum environmental or social
safeguards, an organization should
strive to respect international norms of
behaviour
• In situations of conflict with international
norms of behaviour, and where not
following these norms would have
significant consequences, an
organization should, as feasible and
appropriate, review the nature of its
activities and relationships within that
jurisdiction
Principles: Respect for
human rights
• An organization should respect
human rights and recognize their
importance and their universality
Recognizing core subjects
Human rights
Materiality:
Community
involvement
and
development
Labour
practices
Organizational
governance
Assess significance of
impacts
Fair
operating
practices
The
environment
Consumer
issues
Identification of
relevant issues
Consider impacts on
stakeholders
Consider 'sphere of
influence'
Materiality Matrix
Importance to stakeholder
Crucial
Little
importance
Policy clarified in
communications
Communicate focus:
Including performance indicators
and measurement
Not included
Impact clarified in
communications
Relevance/importance to business
Crucial
Consider your 'sphere of influence'
Core business activities
Supply
chains
Community
interaction
Public policy
& advocacy
Communication on social responsibility
The role of communications in social
responsibility
Demonstrate accountability and
transparency
Disclosure of information relating to
corporate responsibility
Characteristics of information relating
to social responsibility
Understandable
Responsive
Demonstrating how the organization meets
it commitments
Raising awareness inside and outside the
organization
Providing information about the impacts of
the organization's operations
Helping to engage and create dialogue with
stakeholders
Accurate
Balanced
Timely
Facilitating benchmarking among peer
organizations
Enhancing the organization's reputation
Available
Questions for the future
•
•
•
•
What is the implication of ISO26000 for CSR?
ISO26000 represents the next CSR "revolution"
How can ISO26000 guide CSR programmes?
Emphasis on transparency, accountability and
disclosure.
• What is the best way to communicate our social
responsibility efforts?