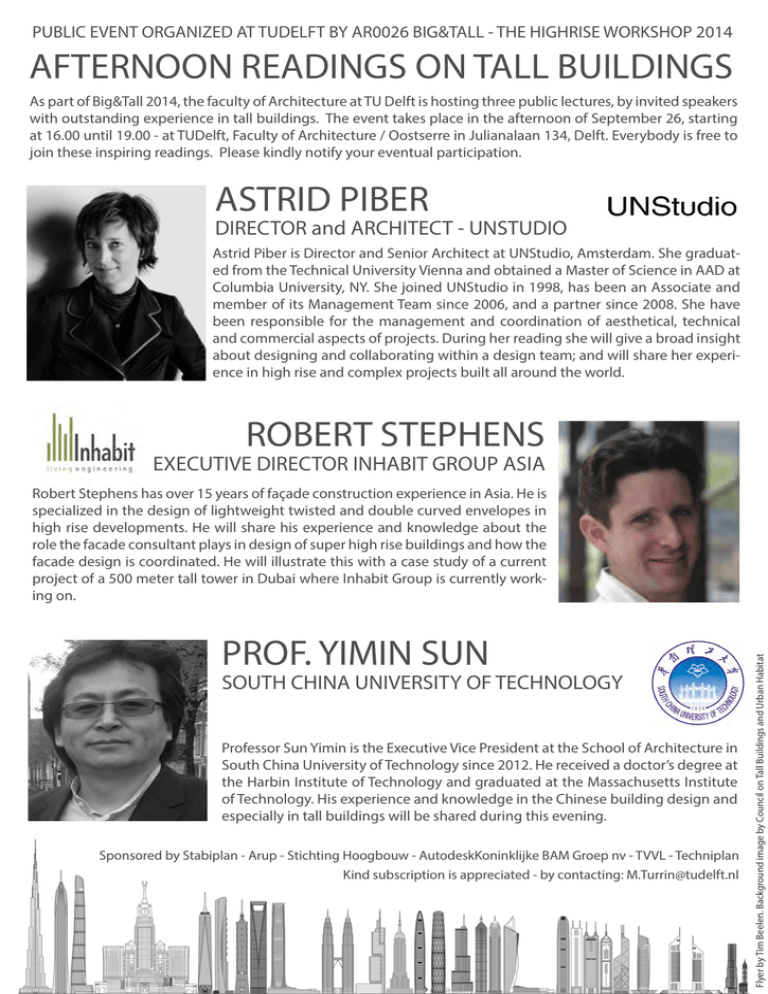 PUBLIC EVENT ORGANIZED AT TUDELFT BY AR0026 BIG&TALL - THE HIGHRISE WORKSHOP 2014
AFTERNOON READINGS ON TALL BUILDINGS
As part of Big&Tall 2014, the faculty of Architecture at TU Delft is hosting three public lectures, by invited speakers
with outstanding experience in tall buildings. The event takes place in the afternoon of September 26, starting
at 16.00 until 19.00 - at TUDelft, Faculty of Architecture / Oostserre in Julianalaan 134, Delft. Everybody is free to
join these inspiring readings. Please kindly notify your eventual participation.
ASTRID PIBER
DIRECTOR and ARCHITECT - UNSTUDIO
Astrid Piber is Director and Senior Architect at UNStudio, Amsterdam. She graduated from the Technical University Vienna and obtained a Master of Science in AAD at
Columbia University, NY. She joined UNStudio in 1998, has been an Associate and
member of its Management Team since 2006, and a partner since 2008. She have
been responsible for the management and coordination of aesthetical, technical
and commercial aspects of projects. During her reading she will give a broad insight
about designing and collaborating within a design team; and will share her experience in high rise and complex projects built all around the world.
ROBERT STEPHENS
EXECUTIVE DIRECTOR INHABIT GROUP ASIA
PROF. YIMIN SUN
SOUTH CHINA UNIVERSITY OF TECHNOLOGY
Professor Sun Yimin is the Executive Vice President at the School of Architecture in
South China University of Technology since 2012. He received a doctor's degree at
the Harbin Institute of Technology and graduated at the Massachusetts Institute
of Technology. His experience and knowledge in the Chinese building design and
especially in tall buildings will be shared during this evening.
Sponsored by Stabiplan - Arup - Stichting Hoogbouw - AutodeskKoninklijke BAM Groep nv - TVVL - Techniplan
Kind subscription is appreciated - by contacting: M.Turrin@tudelft.nl
Flyer by Tim Beelen. Background image by Council on Tall Buildings and Urban Habitat
Robert Stephens has over 15 years of façade construction experience in Asia. He is
specialized in the design of lightweight twisted and double curved envelopes in
high rise developments. He will share his experience and knowledge about the
role the facade consultant plays in design of super high rise buildings and how the
facade design is coordinated. He will illustrate this with a case study of a current
project of a 500 meter tall tower in Dubai where Inhabit Group is currently working on.