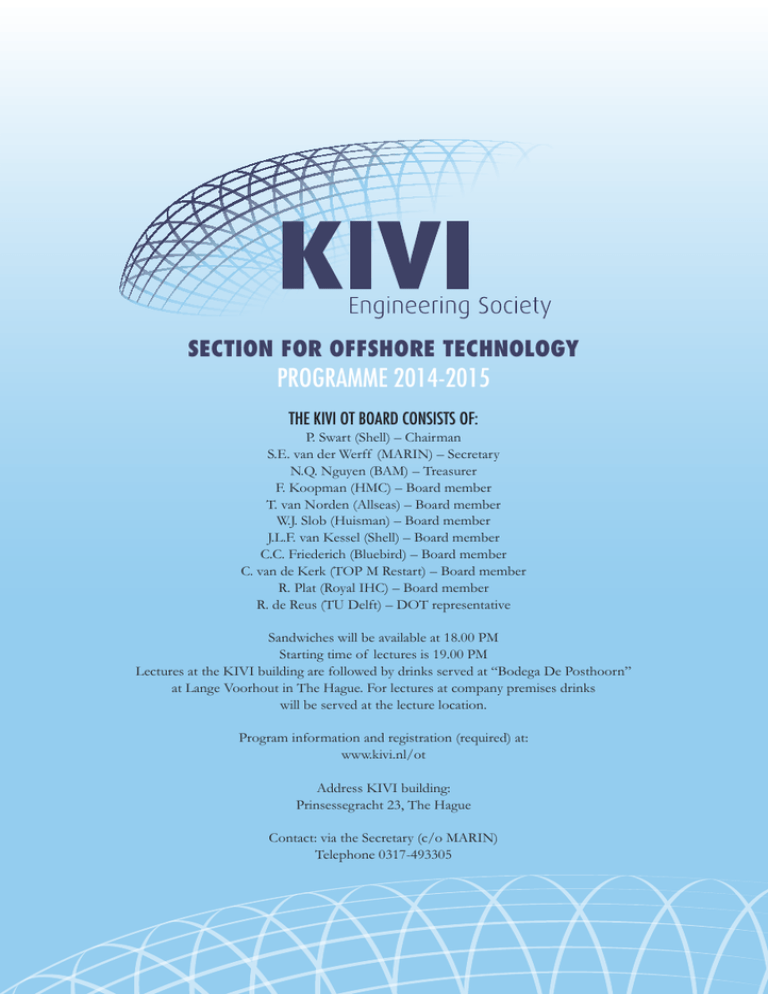 SECTION FOR OFFSHORE TECHNOLOGY
PROGRAMME 2014-2015
THE KIVI OT BOARD CONSISTS OF:
P. Swart (Shell) – Chairman
S.E. van der Werff (MARIN) – Secretary
N.Q. Nguyen (BAM) – Treasurer
F. Koopman (HMC) – Board member
T. van Norden (Allseas) – Board member
W.J. Slob (Huisman) – Board member
J.L.F. van Kessel (Shell) – Board member
C.C. Friederich (Bluebird) – Board member
C. van de Kerk (TOP M Restart) – Board member
R. Plat (Royal IHC) – Board member
R. de Reus (TU Delft) – DOT representative
Sandwiches will be available at 18.00 PM
Starting time of lectures is 19.00 PM
Lectures at the KIVI building are followed by drinks served at "Bodega De Posthoorn"
at Lange Voorhout in The Hague. For lectures at company premises drinks
will be served at the lecture location.
Program information and registration (required) at:
www.kivi.nl/ot
Address KIVI building:
Prinsessegracht 23, The Hague
Contact: via the Secretary (c/o MARIN)
Telephone 0317-493305
SETTING NEW RECORDS IN OFFSHORE WIND
18 SEPTEMBER 2014 | KIVI BUILDING THE HAGUE
STEFAN MARÉCHAL
Proposal Manager Van Oord
WILLEM SCHELLINGERHOUT
Fair Wind Consultancy
RIK STAPEL
Project manager platform,
TenneT
DolWin and Gemini are considered
record breaking offshore wind
projects, involving the largest
conversion platforms, hundreds
of foundations and turbines, and
enormous budgets. In this lecture the
financing aspects and their influence on the design choices will be discussed. An overview
will be provided of all aspects involved in the realization of these offshore wind farms, such
as design, construction and installation of turbines and platforms. In addition the technical
and operational aspects of the record breaking Dolwin converter station will be presented,
which is a combination of a semi-submersible and gravity based platform. This lecture is
offered in conjunction with the KIVI section for Civil Engineering. Sandwiches beforehand
and drinks afterwards are offered with the compliments of Van Oord and TenneT.
TECHNOSTARTERS
16 OCTOBER 2014 | KIVI BUILDING THE HAGUE, START AT 17.00 H
JASPER WINKES
Founder of Fistuca
JELTE KYMMELL
Managing director at
Mocean
MARTIJN KOPPERT
Director at Bargemaster
REMKO LUYTEN
Director at Offshore
Indepentents
The speakers of this evening
all had innovative ideas about
brand new technologies and
methodologies, that lead to the
start of their own companies.
During the short existence of
their companies, they have
gained valuable experience
that they will share with the attendees. What went right and wrong during their startup,
how to make optimal use of the (limited) means available, what pitfalls came along the way,
and what are the key aspects to develop a successful company? Sandwiches beforehand and
drinks afterwards are offered with the compliments of IRO.
CHALLENGES OF THE OLYMPUS DEVELOPMENT
20 NOVEMBER 2014 | SHELL, KESSLER PARK 1, RIJSWIJK
ROBERT PATTERSON
Executive Vice President
Project & Engineering
Services at Shell
The Mars B development is the first
of its kind in the sense as a brownfield
development that expands an existing
oil field operation in the Gulf of
Mexico. A major feat of teamwork
and collaboration overcame numerous
challenges and successfully delivered a
number of innovations and technology
firsts that will be discussed during this
presentation. At the entrance you will
be asked for your identification (passport or driving license). Registration latest on 13
November. Sandwiches beforehand and drinks afterwards are offered with the compliments
of Shell.
LEWEK CONSTELLATION – A GAME CHANGER IN REEL LAY
11 DECEMBER 2014 | HUISMAN, ADMIRAAL TROMPSTRAAT 2, SCHIEDAM
GERARD VELTHOEN
Project Manager Vessel
Assets & Machinery at
EMAS
HUGO HEITLING
Technical Superintendent
at EMAS
EMAS's newest addition to the fleet,
Lewek Constellation, features an 800mt
multi-lay system built by Huisman that
combines capabilities for pipe laying in
flexible mode, reel-lay mode and J-lay
mode. Due to the modular approach, pipe
can be spooled in parallel with the critical
path of pipe laying. The presentation will
provide insight in EMAS's worldwide
pipelay operation with a focus on the Lewek Constellation's capabilities and its contribution
to these activities. Additionally, a tour around the Huisman facilities will be given. At the
entrance you will be asked for your identification (passport or driving license). Sandwiches
beforehand and drinks afterwards are offered with the compliments of Huisman.
STRUCTURE INSTALLATION: FROM ANALYTICAL CHALLENGE TO IMPLEMENTATION
15 JANUARY 2015 | KIVI BUILDING THE HAGUE
BART GERRITSMA
Unit Head Engineering at
Allseas
The installation of subsea
structures is a challenging
process. Allseas has spent
many years optimising an
applied analytical model to
prove the installation of these
structures can be performed within the installation criteria. The presentation will cover the
selection process of the optimised analytical method and will show successful installations
of different subsea (pipeline) structures, thereby directly providing answers to the question
of whether the analytical model is found to be acceptable. Sandwiches beforehand and
drinks afterwards are offered with the compliments of Allseas.
FLOATING LNG PRODUCTION – CLOSE TO REALITY
19 FEBRUARY 2015 | SBM, KAREL DOORMANWEG 66, SCHIEDAM
WIM VAN WIJNGAARDEN
Consultant Gas Technology,
SBM Schiedam
CHRISTIAN BAUDUIN
Manager Concept
Department, SBM Monaco
An
eye-catching
development
of SBM Offshore concerns the
"Twin-Hull conversion FLNG",
offering a FLNG unit based on
the conversion of two MOSSType LNG carriers, which will be
structurally interconnected to form
the Twin-Hull. The hull lay-out and
its hydrodynamic performance, and
the dual nitrogen processing plant will be presented. With the turret for Shell's Prelude
project nearing completion, the turnkey delivery of large gas turrets will be presented as
well. Registration latest on 16 February. Sandwiches beforehand and drinks afterwards are
offered with the compliments of SBM Offshore.
PIPELAY- AND INTERVENTION TOWERS FOR THE OFFSHORE INDUSTRY
19 MARCH 2015 | ROYAL IHC, SCHAARDIJK 24, KRIMPEN A/D IJSSEL
MARTIN BINGHAM
Director of Technology at
IHC Engineering Business
FLORIAN VAN DEN BROEK
Managing Director at IHC
Offshore Systems
In recent years Royal IHC designed, manufactured and installed
a number of handling towers for pipelay- and well Intervention
operations on offshore construction vessels. IHC will take the
audience through the design process up to the realisation of such
complex structures. Besides a number of typical design challenges
the lecture will include lessons learned from manufacturing and
the offshore operation.
A tour around the yard and on board of one of the vessels
currently under construction is part of the programme.
Registration latest on 13 March. At the entrance you will be
asked for identification. Sandwiches beforehand and drinks afterwards are offered with the
compliments of IHC.
ARCTIC RESEARCH IN OPERATION & AWARD CEREMONY BEST OFFSHORE GRADUATE
16 APRIL 2015 | TU DELFT, MEKELWEG 2, DELFT
WIM JOLLES
Canatec
ANDREI METRIKINE
Professor at TU Delft
JEROEN HOVING
PhD at TU Delft
RENATE VAN VLIET
PhD at TU Delft/Shell
CHRIS KEIJDENER
PhD at TU Delft/NTNU
DANIELA MYLAND
PhD at TU Delft/HSVA
Future operations in Arctic regions impose great
challenges that require the brightest ideas and the newest
technologies. It is for this reason that the Arctic is the
topic of many recent research programs. As will be
demonstrated by presentations of PhD researchers,
their projects have a strong link with technology and
operations. Gaining operational experience is difficult in
these conditions, however, there is quite some practical
know-how already, that could be used in current research work.
During this science-oriented evening, the ceremony for awarding the best Offshore
Graduate Student will take place. Please check the KIVI website for a complete overview
of the programme.
RECORD BREAKING SEMI-SUBMERSIBLE CRANE VESSEL
21 MAY 2015 | KIVI BUILDING THE HAGUE / 19.00 -19.15H GENERAL MEETING OF THE OFFSHORE TECHNOLOGY SECTION
ANNE DE GROOT
Manager Project
Department at Huisman
Equipment
SIPKE SCHUURMANS
Sr. Project Manager
at Heerema Marine
Contractors
With two record breaking Huisman
cranes of 10,000mt each, Heerema
renews its semi-submersible crane
vessel scheme to maintain and
enhance its position in the heavy
lifting industry. The development of
the 10,000mt Tub Mounted Cranes
has led Huisman to reinvent its crane
design philosophy. In a combined
presentation, Heerema and Huisman
will present some remarkable design efforts to ensure a seamless match between the vessel
and crane designs. Sandwiches beforehand and drinks afterwards are offered with the
compliments of Heerema and Huisman.