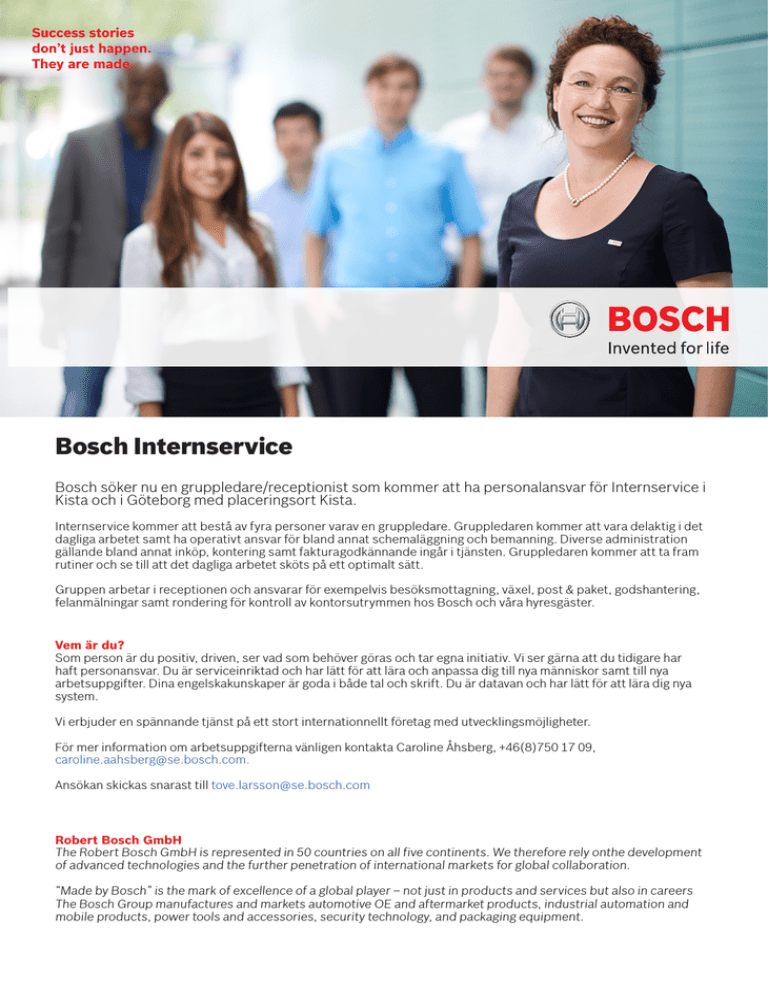 Success stories
don't just happen.
They are made.
Bosch Internservice
Bosch söker nu en gruppledare/receptionist som kommer att ha personalansvar för Internservice i
Kista och i Göteborg med placeringsort Kista.
Internservice kommer att bestå av fyra personer varav en gruppledare. Gruppledaren kommer att vara delaktig i det
dagliga arbetet samt ha operativt ansvar för bland annat schemaläggning och bemanning. Diverse administration
gällande bland annat inköp, kontering samt fakturagodkännande ingår i tjänsten. Gruppledaren kommer att ta fram
rutiner och se till att det dagliga arbetet sköts på ett optimalt sätt.
Gruppen arbetar i receptionen och ansvarar för exempelvis besöksmottagning, växel, post & paket, godshantering,
felanmälningar samt rondering för kontroll av kontorsutrymmen hos Bosch och våra hyresgäster.
Vem är du?
Som person är du positiv, driven, ser vad som behöver göras och tar egna initiativ. Vi ser gärna att du tidigare har
haft personansvar. Du är serviceinriktad och har lätt för att lära och anpassa dig till nya människor samt till nya
arbetsuppgifter. Dina engelskakunskaper är goda i både tal och skrift. Du är datavan och har lätt för att lära dig nya
system.
Vi erbjuder en spännande tjänst på ett stort internationnellt företag med utvecklingsmöjligheter.
För mer information om arbetsuppgifterna vänligen kontakta Caroline Åhsberg, +46(8)750 17 09,
caroline.aahsberg@se.bosch.com.
Ansökan skickas snarast till tove.larsson@se.bosch.com
Robert Bosch GmbH
The Robert Bosch GmbH is represented in 50 countries on all five continents. We therefore rely onthe development
of advanced technologies and the further penetration of international markets for global collaboration.
"Made by Bosch" is the mark of excellence of a global player – not just in products and services but also in careers
The Bosch Group manufactures and markets automotive OE and aftermarket products, industrial automation and
mobile products, power tools and accessories, security technology, and packaging equipment.