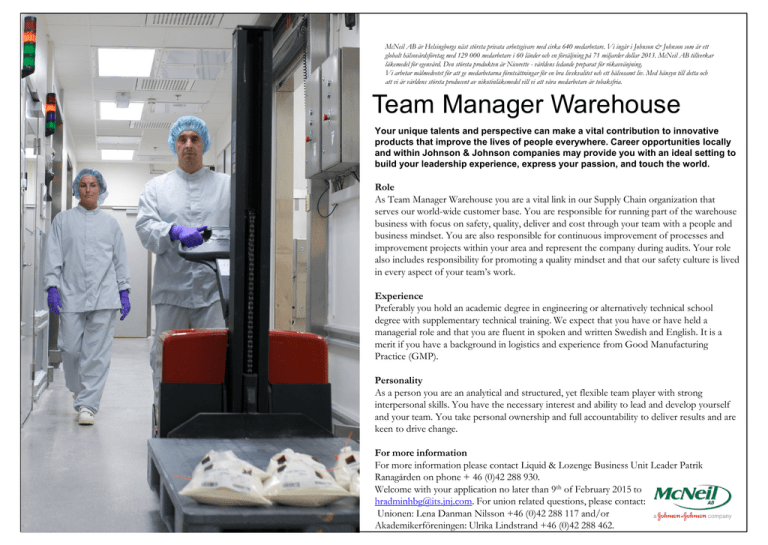 McNeil AB är Helsingborgs näst största privata arbetsgivare med cirka 640 medarbetare. Vi ingår i Johnson & Johnson som är ett
globalt hälsovårdsföretag med 129 000 medarbetare i 60 länder och en försäljning på 71 miljarder dollar 2013. McNeil AB tillverkar
läkemedel för egenvård. Den största produkten är Nicorette - världens ledande preparat för rökavvänjning.
Vi arbetar målmedvetet för att ge medarbetarna förutsättningar för en bra livskvalitet och ett hälsosamt liv. Med hänsyn till detta och
att vi är världens största producent av nikotinläkemedel vill vi att våra medarbetare är tobaksfria.
Team Manager Warehouse
Your unique talents and perspective can make a vital contribution to innovative
products that improve the lives of people everywhere. Career opportunities locally
and within Johnson & Johnson companies may provide you with an ideal setting to
build your leadership experience, express your passion, and touch the world.
Role
As Team Manager Warehouse you are a vital link in our Supply Chain organization that
serves our world-wide customer base. You are responsible for running part of the warehouse
business with focus on safety, quality, deliver and cost through your team with a people and
business mindset. You are also responsible for continuous improvement of processes and
improvement projects within your area and represent the company during audits. Your role
also includes responsibility for promoting a quality mindset and that our safety culture is lived
in every aspect of your team's work.
Experience
Preferably you hold an academic degree in engineering or alternatively technical school
degree with supplementary technical training. We expect that you have or have held a
managerial role and that you are fluent in spoken and written Swedish and English. It is a
merit if you have a background in logistics and experience from Good Manufacturing
Practice (GMP).
Personality
As a person you are an analytical and structured, yet flexible team player with strong
interpersonal skills. You have the necessary interest and ability to lead and develop yourself
and your team. You take personal ownership and full accountability to deliver results and are
keen to drive change.
For more information
For more information please contact Liquid & Lozenge Business Unit Leader Patrik
Ranagården on phone + 46 (0)42 288 930.
Welcome with your application no later than 9th of February 2015 to
hradminhbg@its.jnj.com. For union related questions, please contact:
Unionen: Lena Danman Nilsson +46 (0)42 288 117 and/or
Akademikerföreningen: Ulrika Lindstrand +46 (0)42 288 462.