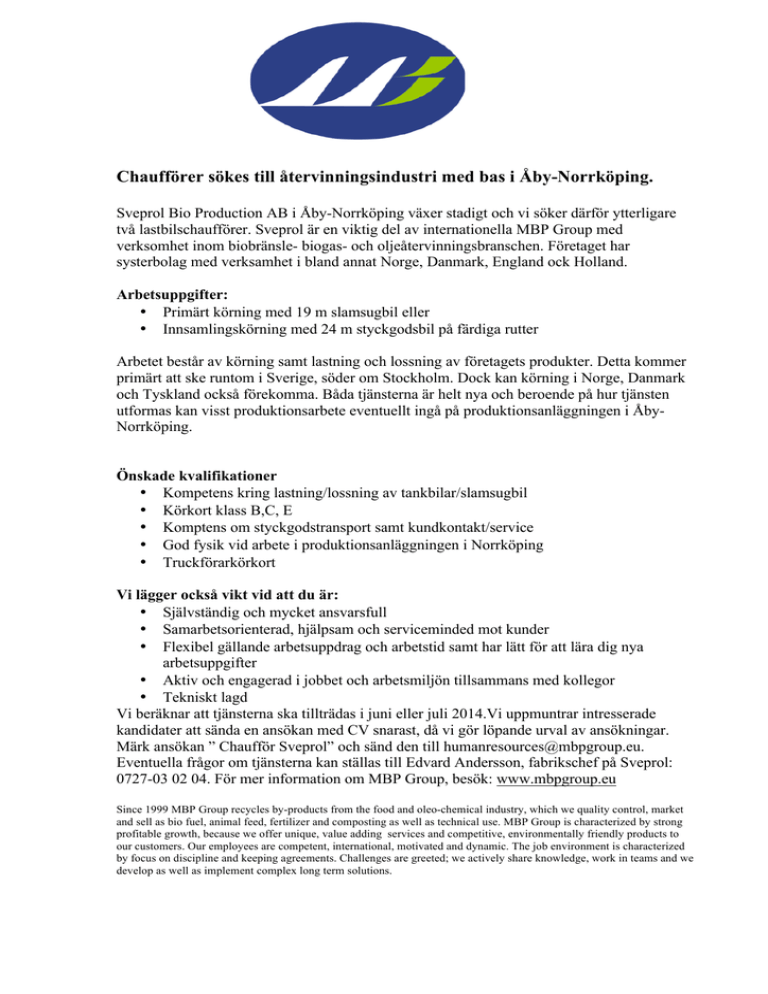 Chaufförer sökes till återvinningsindustri med bas i Åby-Norrköping.
Sveprol Bio Production AB i Åby-Norrköping växer stadigt och vi söker därför ytterligare
två lastbilschaufförer. Sveprol är en viktig del av internationella MBP Group med
verksomhet inom biobränsle- biogas- och oljeåtervinningsbranschen. Företaget har
systerbolag med verksamhet i bland annat Norge, Danmark, England ock Holland.
Arbetsuppgifter:
• Primärt körning med 19 m slamsugbil eller
• Innsamlingskörning med 24 m styckgodsbil på färdiga rutter
Arbetet består av körning samt lastning och lossning av företagets produkter. Detta kommer
primärt att ske runtom i Sverige, söder om Stockholm. Dock kan körning i Norge, Danmark
och Tyskland också förekomma. Båda tjänsterna är helt nya och beroende på hur tjänsten
utformas kan visst produktionsarbete eventuellt ingå på produktionsanläggningen i ÅbyNorrköping.
Önskade kvalifikationer
• Kompetens kring lastning/lossning av tankbilar/slamsugbil
• Körkort klass B,C, E
• Komptens om styckgodstransport samt kundkontakt/service
• God fysik vid arbete i produktionsanläggningen i Norrköping
• Truckförarkörkort
Vi lägger också vikt vid att du är:
• Självständig och mycket ansvarsfull
• Samarbetsorienterad, hjälpsam och serviceminded mot kunder
• Flexibel gällande arbetsuppdrag och arbetstid samt har lätt för att lära dig nya
arbetsuppgifter
• Aktiv och engagerad i jobbet och arbetsmiljön tillsammans med kollegor
• Tekniskt lagd
Vi beräknar att tjänsterna ska tillträdas i juni eller juli 2014.Vi uppmuntrar intresserade
kandidater att sända en ansökan med CV snarast, då vi gör löpande urval av ansökningar.
Märk ansökan " Chaufför Sveprol" och sänd den till humanresources@mbpgroup.eu.
Eventuella frågor om tjänsterna kan ställas till Edvard Andersson, fabrikschef på Sveprol:
0727-03 02 04. För mer information om MBP Group, besök: www.mbpgroup.eu
Since 1999 MBP Group recycles by-products from the food and oleo-chemical industry, which we quality control, market
and sell as bio fuel, animal feed, fertilizer and composting as well as technical use. MBP Group is characterized by strong
profitable growth, because we offer unique, value adding services and competitive, environmentally friendly products to
our customers. Our employees are competent, international, motivated and dynamic. The job environment is characterized
by focus on discipline and keeping agreements. Challenges are greeted; we actively share knowledge, work in teams and we
develop as well as implement complex long term solutions.