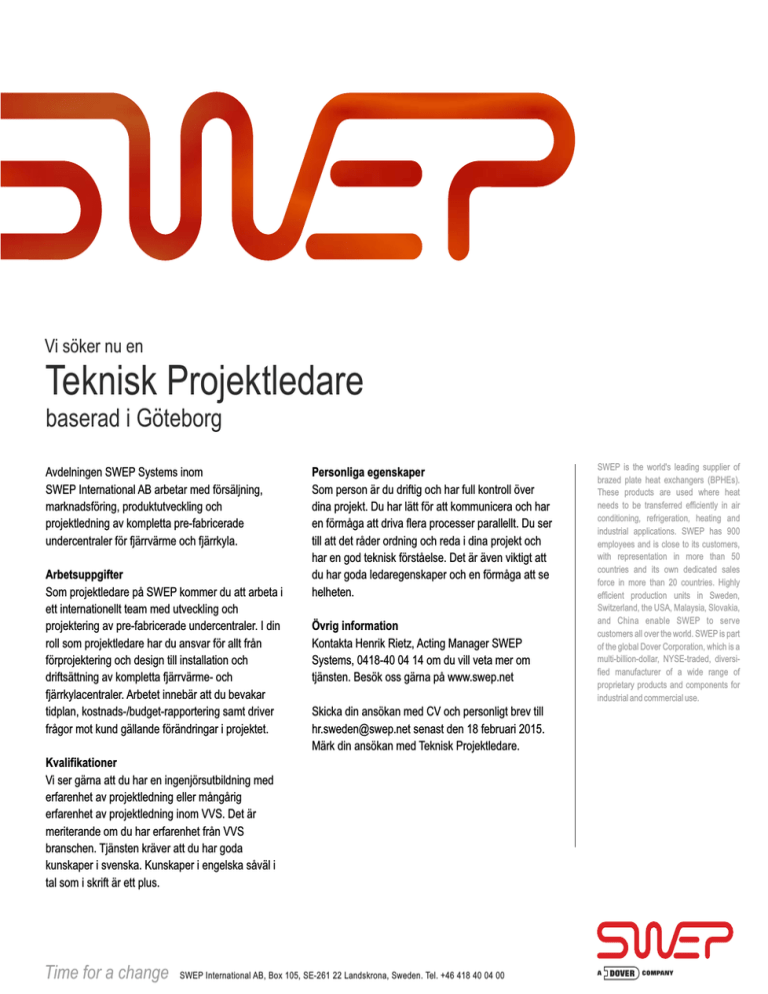 Vi söker nu en
Teknisk Projektledare
baserad i Göteborg
Avdelningen SWEP Systems inom
SWEP International AB arbetar med försäljning,
marknadsföring, produktutveckling och
projektledning av kompletta pre-fabricerade
undercentraler för fjärrvärme och fjärrkyla.
Arbetsuppgifter
Som projektledare på SWEP kommer du att arbeta i
ett internationellt team med utveckling och
projektering av pre-fabricerade undercentraler. I din
roll som projektledare har du ansvar för allt från
förprojektering och design till installation och
driftsättning av kompletta fjärrvärme- och
fjärrkylacentraler. Arbetet innebär att du bevakar
tidplan, kostnads-/budget-rapportering samt driver
frågor mot kund gällande förändringar i projektet.
Personliga egenskaper
Som person är du driftig och har full kontroll över
dina projekt. Du har lätt för att kommunicera och har
en förmåga att driva flera processer parallellt. Du ser
till att det råder ordning och reda i dina projekt och
har en god teknisk förståelse. Det är även viktigt att
du har goda ledaregenskaper och en förmåga att se
helheten.
Övrig information
Kontakta Henrik Rietz, Acting Manager SWEP
Systems, 0418-40 04 14 om du vill veta mer om
tjänsten. Besök oss gärna på www.swep.net
Skicka din ansökan med CV och personligt brev till
hr.sweden@swep.net senast den 18 februari 2015.
Märk din ansökan med Teknisk Projektledare.
Kvalifikationer
Vi ser gärna att du har en ingenjörsutbildning med
erfarenhet av projektledning eller mångårig
erfarenhet av projektledning inom VVS. Det är
meriterande om du har erfarenhet från VVS
branschen. Tjänsten kräver att du har goda
kunskaper i svenska. Kunskaper i engelska såväl i
tal som i skrift är ett plus.
Time for a change
SWEP International AB, Box 105, SE-261 22 Landskrona, Sweden. Tel. +46 418 40 04 00
SWEP is the world's leading supplier of
brazed plate heat exchangers (BPHEs).
These products are used where heat
needs to be transferred efficiently in air
conditioning, refrigeration, heating and
industrial applications. SWEP has 900
employees and is close to its customers,
with representation in more than 50
countries and its own dedicated sales
force in more than 20 countries. Highly
efficient production units in Sweden,
Switzerland, the USA, Malaysia, Slovakia,
and China enable SWEP to serve
customers all over the world. SWEP is part
of the global Dover Corporation, which is a
multi-billion-dollar, NYSE-traded, diversified manufacturer of a wide range of
proprietary products and components for
industrial and commercial use.