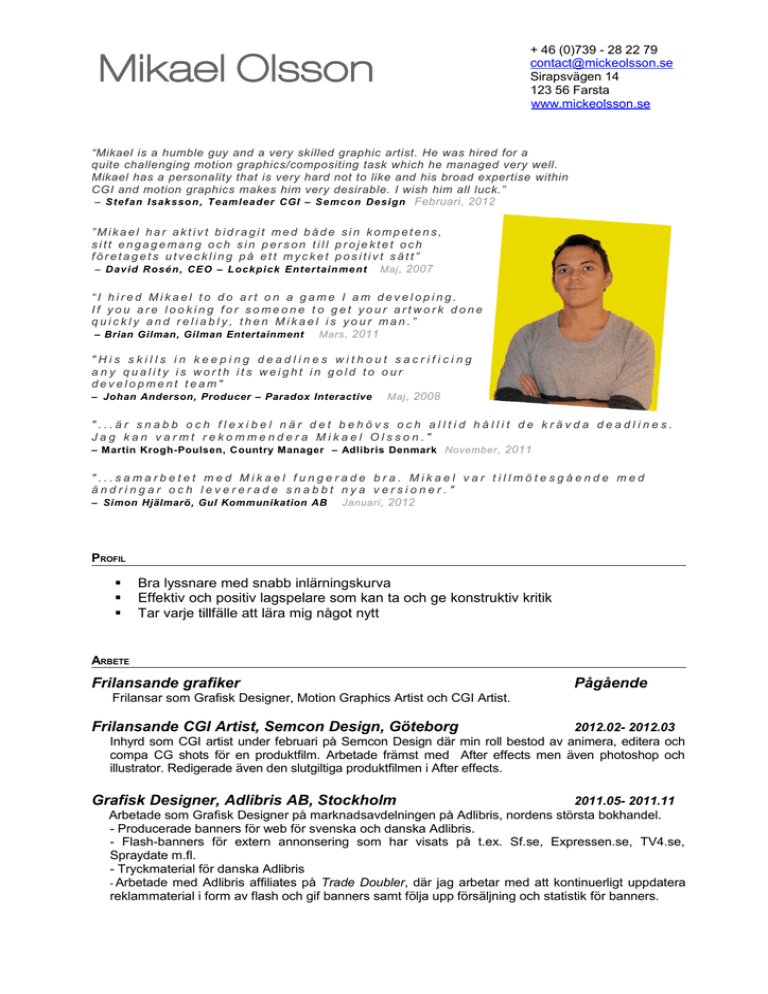 Mikael Olsson
+ 46 (0)739 - 28 22 79
contact@mickeolsson.se
Sirapsvägen 14
123 56 Farsta
www.mickeolsson.se
"Mikael is a humble guy and a very skilled graphic artist. He was hired for a
quite challenging motion graphics/compositing task which he managed very well.
Mikael has a personality that is very hard not to like and his broad expertise within
CGI and motion graphics makes him very desirable. I wish him all luck."
– St ef an Isaksso n , T eamlea d er C GI – Se mc o n D esig n Februari, 2012
"Mikael har aktivt bidragit med både sin kompetens,
sitt engagemang och sin person till projektet och
företagets utveckling på ett mycket positivt sätt"
– D avid R o sén , C EO – L o ckp i ck En t ert ain me n t Maj , 2007
"I hired Mikael to do art on a game I am developing.
If you are looking for someone to get your artwork done
quickly and reliably, then Mikael is your man."
– Brian Gilman, Gilman Entertainment Mars , 2011
"His skills in keeping deadlines without sacrificing
any quality is worth its weight in gold to our
development team"
– Johan Anderson, Producer – Paradox Interactive
Maj , 2008
"...är snabb och flexibel när det behövs och alltid hållit de krävda deadlines.
Jag kan varmt rekommendera Mikael Olsson."
– Martin Krogh-Poulsen, Country Manager – Adlibris Denmark November , 2011
"...samarbetet med Mikael fungerade bra. Mikael var tillmötesgående med
ändringar och levererade snabbt nya versioner."
– Simon Hjälmarö, Gul Kommunikation AB Januari , 2012
PROFIL



Bra lyssnare med snabb inlärningskurva
Effektiv och positiv lagspelare som kan ta och ge konstruktiv kritik
Tar varje tillfälle att lära mig något nytt
ARBETE
Frilansande grafiker
Pågående
Frilansar som Grafisk Designer, Motion Graphics Artist och CGI Artist.
Frilansande CGI Artist, Semcon Design, Göteborg
2012.02- 2012.03
Inhyrd som CGI artist under februari på Semcon Design där min roll bestod av animera, editera och
compa CG shots för en produktfilm. Arbetade främst med After effects men även photoshop och
illustrator. Redigerade även den slutgiltiga produktfilmen i After effects.
Grafisk Designer, Adlibris AB, Stockholm
2011.05- 2011.11
Arbetade som Grafisk Designer på marknadsavdelningen på Adlibris, nordens största bokhandel.
- Producerade banners för web för svenska och danska Adlibris.
- Flash-banners för extern annonsering som har visats på t.ex. Sf.se, Expressen.se, TV4.se,
Spraydate m.fl.
- Tryckmaterial för danska Adlibris
- Arbetade med Adlibris affiliates på Trade Doubler, där jag arbetar med att kontinuerligt uppdatera
reklammaterial i form av flash och gif banners samt följa upp försäljning och statistik för banners.
3D Grafiker, Blom ASA, Spanien/England
2011.01- 2011.05
Arbetade som 3D grafiker för GPS företaget Blom på distans.
- Arbetade i ett första skede med att ta fram prototyper till en ny kartteknik inom GPS och 3D för det
spanska kontoret.
- Vidare producerade jag 3D byggnader när tekniken bakom väl var bestämd för det engelska
kontoret.
Frilansande grafiker, ett urval av arbeten;
2009.01- 2010.12
 Saftig – Modellering, texturering och animering av intro/outro till TV3's Efterlyst
 Musikvideo: - "Verious - Don't aim too high" – 3D grafiker och animatör i Maya och After
effects
 KingofPiano.com – Grafisk designer för en interaktiv pianoskola. Arbetade med webbdesign,
reklam och produktutformning.
 Dagens Medicin – Grafisk designer för Dagensmedicin. Tog fram en ny design och layout för en
kommande heltäckande uppdatering för Dagensmedicin samt systersidor.
 Ipad – Frilansande 3D grafiker för ett kommande spel till Ipad.
 Saftig – Frilansarbete, arbetade med allt från lowpoly byggnader för GPS till realistiska


visualiseringar av lägenheter.
Corazon Entertainment, Stockholm – Arbetade fram flera logotyper efter kundens önskemål.
Tampered Evidence Software, California, USA – Skapade lowpoly 3d karaktärer för ett indie
pc-spel.
Grafiker, Paradox Interactive AB, Stockholm
2007.06- 2009.01
Min roll på Paradox bestod av helhetsansvar för företagets interna 3D grafik, samt grafik för webb och
tryck.
- Ansvarade för all 3D grafik, främst med historiskt korrekta karaktärer och fordon.
- Grafisk design av interface och redigering av trailers för Pc-spel.
- Banners för webb, ikoner samt tryckt reklam.
Grafiker, Lockpick Entertainment AB, Skövde
2004.09 - 2007.05
Arbetade som grafiker på företaget Lockpick Entertainment AB som jag även var med och grundade
och drev under tiden jag arbetade där. Företaget hade som mest 22 anställda.
- 3D grafik för realtid och spelgrafik för webb.
−
Grafisk design av interface, ikoner, webbdesign och reklam för tryck.
UTBILDNING
2003 – 2006
Fil Kand. - Dataspelsutveckling
Inriktning Grafik och Design
Högskolan i Skövde
Skövde
2009
Kurser i Z-brush och Concept Art
Högskolan på Gotland
2002 – 2003
Pedagogisk Mjukvaruutv. (en termin)
Kurser inom bl.a. Flash och Pedagogik
Högskolan i Halmstad
Halmstad
2000 – 2002
Samhällsvetenskapligt Gymnasium
Inriktning Samhäll
Eksjö Gymnasium
Eksjö
IT-KOMPETENS
•
•
•
Adobe After Effects
Autodesk Maya
Adobe Photoshop
•
•
•
Adobe Flash
Adobe Illustrator
Autodesk Mudbox
•
•
•
Adobe Encore
Z-brush
HTML/CSS
ÖVRIGT:

Innehar B-körkort
 Första plats i KTH Game Awards 2004. Rikstäckande demo-tävling för PC-spel, där jag
arbetade som grafisk designer.