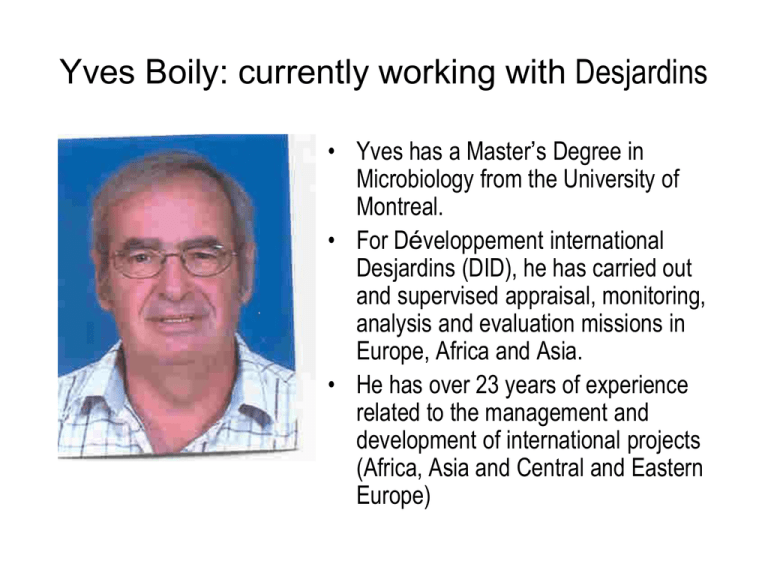 Yves Boily: currently working with Desjardins
• Yves has a Master's Degree in
Microbiology from the University of
Montreal.
• For Développement international
Desjardins (DID), he has carried out
and supervised appraisal, monitoring,
analysis and evaluation missions in
Europe, Africa and Asia.
• He has over 23 years of experience
related to the management and
development of international projects
(Africa, Asia and Central and Eastern
Europe)
• Eleven years as university
teacher in medical, science and
agronomy faculty in Africa.
• Program Officer (1988-2000) in
charge of the management and
monitoring of various savings
and credit projects, microfinance
projects as well as microenterprise financing projects.
• In 2000, he was appointed as
Market Development Director at
DID's head office and was in
charge of the bidding process in
the organisation.
Roles of SACCOS Network
in Value Chain Finance
Yves Boily
Paul Julien
DID
• Part of Desjardins group.
• Canadian largest financial
cooperative.
– 5.7 million members
– 40,000 employees
– 125 billion USD in asset
• Corporation specializing in
providing technical support for
the community finance sector
in developing and emerging
countries since 1970.
Desjardins office in Montréal
• 23 DID's partner networks in 20 developing or
emerging countries.
• 7,5 million members or clients
• Goal: fostering communication among institutions
that share the same business model and values,
and in order to further sound community finance
practices.
PROXFIN management committee
Nombre de membres
ou clients
PAYS
Réseaux financiers membres de PROXFIN
BENIN
Fédération des caisses d'épargne et de crédit agricole mutuel du Bénin (FECECAM)
AFRIQUE RÉGIONALE
Centre d'innovation financière (CIFsa)
BURKINA FASO
Fédération des caisses populaires du Burkina Faso (FCPB)
CAMEROUN
Cameroon Co-operative Credit Union League (CAMCCUL)
97 647
GUINÉE
Réseau des caisses populaires d'épargne et de crédit Yètè Mali
35 678
HAÏTI
Association des coopératives d'épargne et de crédit haïtiennes (ACOOPECH)
210 457
INDE
BASIX
265 600
LITUANIE
Lithuanian Central Credit Union (LCCU)
MALI
Réseau des caisses d'épargne et de crédit Nyèsigiso
162 117
MALI
Kafo Jiginew (Fédération des caisses mutuelles d'épargne et de crédit de la zone Mali Sud)
205 694
MAURITANIE
Agence de promotion des caisses populaires d'épargne et de crédit (PROCAPEC)
MEXIQUE
Confederación de las cooperativas de ahorro y crédito de México (COFIREM)
MEXIQUE
SERFIR, S.C. de R.L. de C.V. (Chiapas-Tabasco)
19 896
NICARAGUA
FINDESA
39 984
NIGER
Mutuelle d'épargne et de crédit des femmes (MECREF)
20 939
PARAGUAY
Central de Cooperativas del Área Nacional Limitada (CENCOPAN)
PHILIPPINES
National Confederation of Co-operatives (NATCCO)
RUSSIE
National Union of Non-Commercial Organizations of Mutual Financial Assistance
RWANDA
Centre financier aux entrepreneurs (CFE) – AGASEKE
SÉNÉGAL
Union des mutuelles du partenariat pour la mobilisation de l'épargne et du crédit au Sénégal (UMPAMECAS)
288 876
SRI LANKA
SANASA
858 125
TANZANIE
Dunduliza
TOGO
Faîtière des unités coopératives d'épargne et de crédit du Togo (FUCEC)
196 935
Total
Nombre total de familles jointes par les membres de Proxfin :
7 555 264
Nombre total d'individus touchés par les membres de Proxfin :
506 415
*
901 236
61 032
47 316
2 103 884
197 746
1 046 298
222 000
24 245
43 144
35 000 000
Roles of SACCOS in Value Chain Finance
• Proximity services to small scale farmers;
• Financial support to local farmers
organisations;
• Adapted loan products to all value chain
links within the community;
– From the field to final customer
• Promotion of good credit and saving
habits;
• Development of entrepreneurship and local
autonomy.
From the Field to the Customer
Inputs and working capital loans
Equipment loans
SACCOS
Processing and business loans
Storage loans
Impact of SACCOS in Value Chain
SACCOS contribution:
• Increase productivity
– Access to capital give access to inputs and equipment
• Add value to agricultural products
– Loans for processing, packaging, etc.
• Bring product to consumer
– Loan to distributors or retailers
• Provide food security in the community
– Financing storage
Warehouse Receipt Model
OTIV - Madagascar
Dunduliza - Tanzania
Storage
Warehouse
Receipt
Farmers
SACCOS
Storage
loan
Destocking
Warehouse
SACCOS
Farmers
Withdrawals as needed
SACCOS - AMCOS Synergy Model
Nyèsigiso – Faso Jigi
(Mali)
Crop sale
SACCOS UNION
Repayment
AMCOS
(Agricultural Marketing Cooperative Society)
MOU
(Memorandum of understanding)
Repayment
transfer
Crop
delivery
Refinancing SACCOS
if needed
Cash advance # 2
SACCOS
Harvest
(40%)
Inputs
Cash advance # 1
(60%)
Factoring Model
Kafo Jiginew – Mali
RCPB - Burkina Faso
Factoring model
Cotton company
7
$
$
5
2
3
3
6
4
1
SACCOS
8
Cotton growers'
groups
$
1 Inputs request & credit appraisal
5 Invoice payment
2 Inputs delivery
6 Cotton delivery
3 Invoice transfer
7 Cotton payment
4 Loan recording
8 Loan repayment + deposit in
farmers' savings account
Some Results
Loan products
&
SACCOS Networks
Volume of Credit
Number of
Farmers
Factoring loans
(cotton)
Kafo Jiginew – RCPB
+/- 36 millions USD
75,000
Storage loans
(Paddy)
OTIV-Madagascar
+/- 1 millions USD
850
99%
Inputs loans - AMCOS
(Paddy)
Nyèsigiso - Mali
+/- 1 millions USD
1,200
99%
Average
Repayment
Rate
98%
(2006/2007 N/A)
Conclusion
SACCOS proximity to small farmers can give a
better access to financial services and contribute
to improve value chain finance performance
– SACCOS can sometime do it alone when conditions
are met:
• Regular rain or irrigation, good access to market, stable prices,
diversified sources of income, know how, etc.
– SACCOS can also be a part of an integrated value
chain finance model
• Contract farming, synergy with AMCOS, factoring, etc.
– SACCOS need to share risk when agriculture lending is
too hazardous and could endanger members' savings:
• Guaranty funds, crop insurance, special credit line, etc.