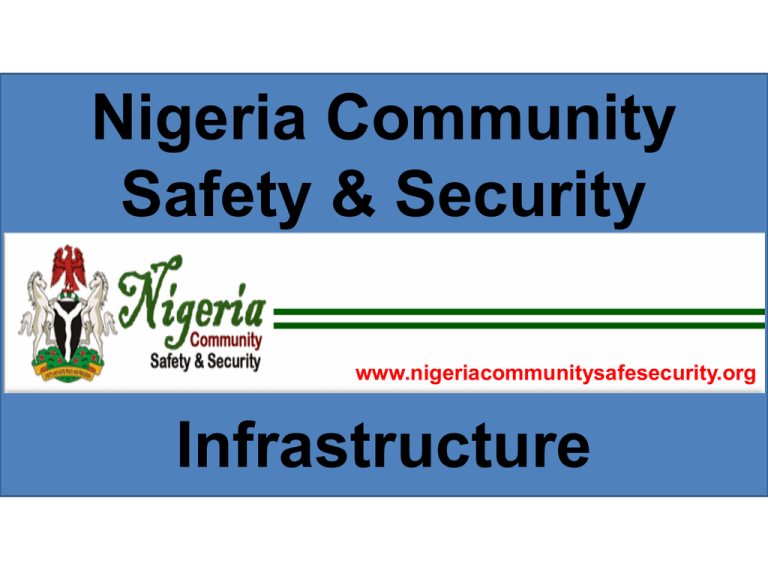 Nigeria Community
Safety & Security
www.nigeriacommunitysafesecurity.org
Infrastructure
www.nigeriacommunitysafesecurity.org
Infrastructural Overview
 Globally, strategic planning of safety and security
is dependent on availability of information
 Most time, such information does not come easily,
but must be extracted through technical means
 In Nigeria, obtaining information in safety and
security for planning could be cumbersome
 In view of the present safety and security issues,
ranging from infiltration of arms, bomb blasts, to
pipeline vandalisation, etc, the time has come to
deploy all available technologies to combat
terrorism, as well as oil theft which are ravaging
the nation's economy
 The question is: what is the best technology to
adopt that fits local content?
 The challenge in safety and security information
gathering in Nigeria arises from skepticism:
 "how will I pass information to the appropriate quarters
without endangering or facing insecurity myself?"
 "when information passed, will it be acted upon?"
 "how can such information get to the authorities without
being hoarded by an individual security operative?"
 Our effort to find solutions to the foregoing
skepticism is what gave birth to the idea of the
Nigeria Community Safety and Security
Infrastructure, which gives the citizen the platform
for participation in crime prevention and control
 The infrastructure serves as human resource
software offering online functionality just as the
traditional security agencies do:
Report crime
Report suspicious activities
Facilitate discussion forum & live charts
Facilitate dissemination of public enlightenment articles
Provide platform for public opinion
Serve as help desk
 During the design of the application, we anticipated
that criminals could also gain access, and may
want to report falsely to detract security
operatives. Consequently, a mechanism of tracking
each reporter's device (information) and their geolocation has been put in place which stores such
information in the application log file for security
analyses to show the authenticity and true location
of the reporter.
OPERATIONAL FRAMEWORK
Stakeholder
Far-Reaching
Technologies
FEDERAL
GOVERNMENT
Security Agency
Funding
Policy support /
Legislation
NITDA
NSA
Implementation
Nigeria Community Safety
& Security
Consumer-to-National Safety & Security
AIR FORCE
NAVY
POLICE
ARMY
SSS
NSCDC
Nigeria Community Safety
& Security
CUSTOMS
NEMA
NIMASA
IMMIGRATION
ROAD SAFETY
TRANSLATING SCEPTICISM TO TRUST
 In closing, I wish to re-emphasise that in fighting crime,
there is no weapon greater than the power of
information.
 And in our country, buffeted by waves of insurgency
attacks, kidnappings, ritual killings, inter-communal
crises, etc, the best solution to this meanness is to
ensure effective citizen participation in crime
prevention and control.
 The only means for citizen participation is to Think
Technology, Talk Technology and to Try Technology.
THANK YOU FOR YOUR
ATTENTION!