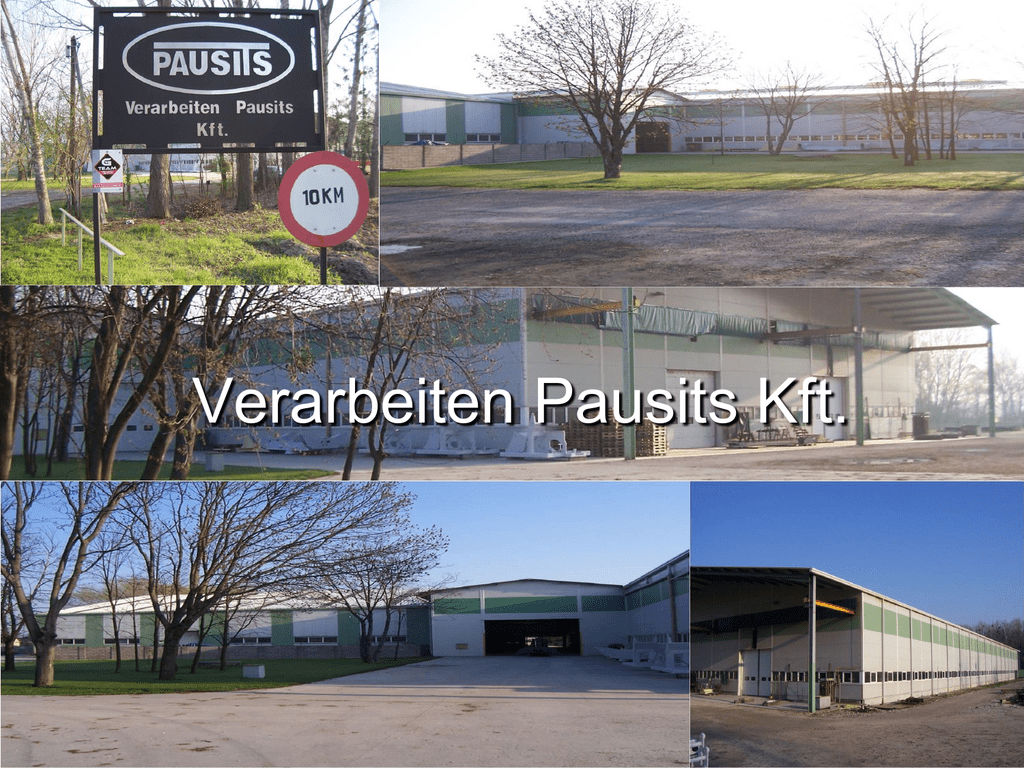 Verarbeiten Pausits Kft.
About the company
Mr. Imre Pausits is the Managing director and
the only owner of the company.
In 1986 he started to deal with the production of
steel structures as an entrepreneur together with
a few collegues in Mosonmagyaróvár.
The company has operated since 1996 as the
successor of Pausits Ipari Vállalkozás which was
formed in 1989.
Verarbeiten Pausits
Kft. is located in a
small town with 3000
inhabitants in
Western Hungary, 15
km from the Austrian
and Slovakian
borders.
Certificates of our company
(ISO 9001, 14001)
Certificates of our company
(EN 1090-2 EXC3)
Our welding engineers
Our welding engineers
Production capabilities
Production area
Total 8460 m2 covered area
further 7000m2 is provided outside
Production capabilities
- Main machines
Shielding welder machine
Bending machine
Milling machine
Drill machine
Straw press (hidraulic)
Shot-blasting machine
Cutting machine
Laser-cutting machine
Bridge crane
Trolley
Machining centre
SHW 20 m
SHW 10 m
Soraluce FP 8000
WHN 13 TOS
Kuraki
Secmu
Favretto MD200CNC
Currently our main profile is machine
production, we are supplier of Terex
Fuchs, Sennebogen among others…
Production of individual steel
structures
Facts and data
Annual income in
2008:13.095.000 €
Annual income in
2009: 3.450.000 €
Annual incomce in
2010: 3.480.000 €
Annual income in
2011: 7.470.000 €
• Annual income
planned in 2012:
9.000.000 €
Number of employees
in 2008: 198
Number of employees
in 2009: 55
Number of employees
in 2010: 70
Number of employees
in 2011: 130
Number of employees
in 2012: 85
Contacts:
Verarbeiten Pausits Kft.
9228 Halászi, Püski u. 1., Hungary
Telephone : 0036-96-210-191
Fax : 0036-96-210-570
E-mail: [email protected]
Web: www.pausits.hu (modification in
process)
Thank you for your
attention!
We would be glad to welcome
You in our factory!