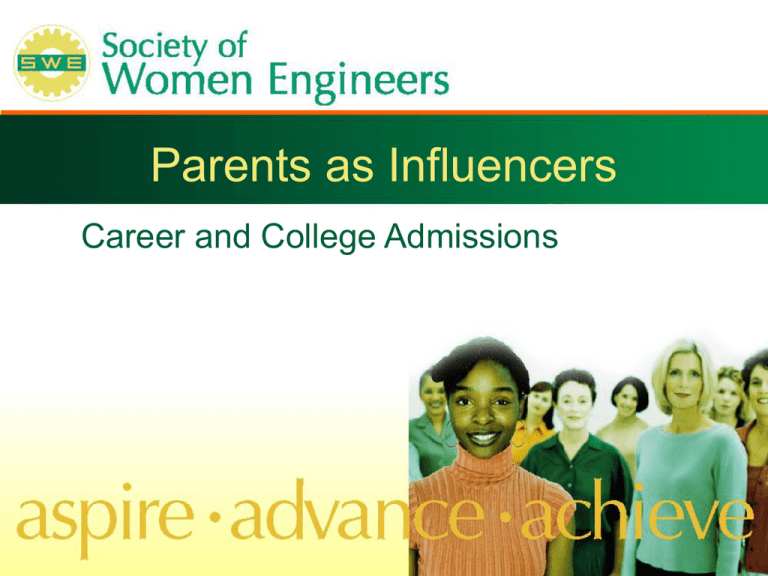 Parents as Influencers
Career and College Admissions
Agenda
•
•
•
•
•
Introductions
Parents as Influencers
School Guidance
Engineering Careers
How SWE can help
Introductions
Eileen Gibbons
- Member of SWE since 1978
- Engineering degree (BS) from
Northwestern University
- Engineering management (MS) from
Santa Clara University
- Mom of 2, Girl Scout leader
Society of Women Engineers
• The Society of Women Engineers (SWE),
founded in 1950, is a not-for-profit educational
and service organization. SWE is the driving
force that establishes engineering as a highly
desirable career aspiration for women. SWE
empowers women to succeed and advance in
those aspirations and be recognized for their
life-changing contributions and achievements as
engineers and leaders.
Parents as Influencers
• Several nation-wide studies conducted by
NSF, Sloan Foundation, & National
Student Engagement Study say:
– Mom or Dad are consistently rated as the top two
• Family influences are the dominant
explanation behind college choices and
degree plans
Encouraging Girls
• Build your daughter's technological mastery and competence by
finding a way for her to use a computer regularly; and by sending
her to computer camp in the summer, especially after fourth grade.
IDTech camp, Camp Galileo, Tech Museum, EPGY,
Tech Trek, NASA, COSMOS, Exploratorium
• If she shows an interest in technical things, buy her a subscription to
Popular Mechanics or a computer magazine.
• Go to the Maker Faire May 22, 23 at San Mateo fair grounds
• Don't assume that she is not interested in technical things.Don't
assume she can't handle a knife or a power tool!
Encouraging Girls
• Encourage your daughter to take advantage of volunteer
opportunities, internships, and work-study programs,
especially in her areas of interest.
• Extracurricular activities add dimension. Support your
daughter's interests and participation in extracurricular
activities. Sports, clubs, field trips, etc. allow students to
find new interests, take on new responsibilities, learn
leadership, be part of a team effort, and build a resume.
Encouraging Girls
• Start looking at colleges sooner rather than later.
• Collegeboard.com
• Several books - Fiske guide to colleges (library, used),
Princeton Review. USNews Report
• Collegeconfidential.com
Don't Stress About High School Courses
• Basic 4 years of Math and Science
• AP courses and Honors courses should
not be pushed
• Don't over-emphasize grades
• Better to be in band, play softball, &
volunteer than graduate with credit in 4
AP courses and a blank resume
Western Schools for the 3.0 Kid
•
•
•
•
•
•
•
•
•
•
•
•
•
•
•
•
•
•
Western Washington University
Washington State University
Pacific Lutheran University
The Evergreen State College
Washington University Central Washington
Saint Martin's University
Pacific University
Portland State University
Linfield College
Southern Oregon University
Forest Grove Pacific University
George Fox University
Oregon Institute of Technology,
Chapman University University of California San Francisco
Saint Mary's College of CA:
Belmont Notre Dame de Namur University
California Lutheran University:
Western Schools for the 3.0 Kid
•
•
•
•
•
•
•
•
•
•
•
•
•
•
•
•
•
Sonoma State U
Humbolt State U
Cal State Monterey Bay CSUMB
Cal State Channel Islands California
University of Redlands
University of the Pacific
Whittier College
University of California Merced UC Merced
University of Nevada: Reno
University of Nevada: Las Vegas
Sierra Nevada College: Incline Village, Nevada
University of Arizona, Tucson, Arizona
Northern Arizona University: Flagstaff
Arizona State: Tempe
Prescott College: Prescott AZ
University of New Mexico
New Mexico State: Las Cruces
Western Schools for the 3.0 Kid
•
•
•
•
•
•
•
•
•
•
•
•
•
•
•
•
•
University of Montana: Missoula
Carroll College: Helena Montana
Montana State: Bozeman
College of Idaho
University of Idaho
Western State College of Colorado
Colorado State University
Colorado State University - Fort Collins
University of Denver
Mesa State University
University of Wyoming
University of Hawaii
University of Utah
Westminster College: Salt Lake City
Southern Utah University - Cedar City, Utah
Utah State
University of Victoria: British Colombia
Consider 3-2 Colleges
• 3-2 colleges give your student a chance to taste college life
without the stress of finding THE career before they even
start college.
• Students in the 3-2 program normally spend three years at
a college and two years attending an engineering school.
The five-year program often leads to a bachelor of arts
degree from the college and a bachelor of engineering
degree from the second university.
• Examples: Whittier -> USC or UMinn; Grinnell -> Columbia,
Caltech, WashU; Scripps -> Harvey Mudd
Do Stress About High School Courses
• Make CERTAIN you fulfill UC requirements in
course loads. (Don't get tripped by "Performing
ART" gotcha'.
• Make CERTAIN you fulfill testing requirements
(2 or 3 SAT II levels, SAT or ACT by certain
dates)
• I don't think much of SAT prep classes. I think it
is better to spend that time on essay practice.
Do Stress About High School Courses
• Advanced 4 years of Math and Science, English,
Foreign Language
• AP courses and Honors courses should be pushed.
• Don't over-emphasize grades . GPA matters, but not
every single grade; a B is not a death knell.
• Better to be in band, play softball, & volunteer AND
graduate with credit in 14 AP courses
• Debate and/or Math Competitions
Your Role:
Supporting Collegiate Admissions Process
• Reasonable Course Load
• Progress that is steady
• Worry about testing dates (do SAT II
freshman year)
• Have THE MONEY talk
• Encourage work on the essay
Your Role:
Supporting Collegiate Admissions Process
•
•
•
•
Encourage love of trying new things
Visit College web sites
Listen when your child talks about dream
schools
Select appropriate test SAT vs ACT
PSAT -> National Merit Scholarship
Your Role:
Supporting Collegiate Admissions Process
•
•
•
•
Don't forget PAYING
Pay attention to showing skills (get out
the mixer or drill)
Pay attention to defining success as
trying and learning
Pay attention to finding summer camps
Pay for testing and camps and …
Why are girls not considering Engineering as a
career choice?
• We know the issue is not one of ability or preparation.
Researchers Huang, Taddese, and Walter found that
girls are taking high school science and math courses at
approximately the same rate as boys:
• 94% of girls and 91% of boys take biology,
• 64% of girls and 57% of boys take chemistry,
• 26% of girls and 32% of boys take physics,
• 64% of girls and 60% of boys take algebra II.
Engineering Statistics
• 5% of US college students are studying
engineering…
• Compared to:
– 10-12% of college students in Europe
– 43% of college students in China
• Statistics from Dr. William A. Wulf
President, National Academy of Engineering
Why are girls not considering Engineering as a
career choice?
• We believe that the problem is one of perception. Girls
and the people who influence them—teachers, school
counselors, parents, peers, and the media—do not
understand what a career in engineering looks like and
therefore don't consider it as a career option.
Fix why girls not considering Engineering as a
career choice!
•
•
•
•
Change the perception!
Robotics competition (FIRST league) (Girl Scouts team!)
Math Olympiads
Intel Science competition
Career Choice and Life Style
• Women in non-traditional careers have
lifetime earnings that are 150% of women
who choose traditional careers
• Women are nine times as likely as men to
be single parents
An Engineering Degree Opens Doors
• There are plenty of jobs, options galore (if you don't like
your job, you can find another)
• Engineers make huge contributions to society (roads,
airplanes, medical devices, TVs, food)
• An engineering degree gives the competitive edge: MBA,
medicine, law, anything!
• Women Engineers move quickly into management
positions
• The engineering work environment wants and welcomes
women
How SWE can Help
• Teach students that math and science is fun
through hands on activities
• Role models
• Information on engineering and colleges
• Scholarships
• SWE website – www.swe.org
How SWE can Help:
Collegiate Sections
• Mentoring and connection with professional
engineers
• Engineering Deans value SWE college women
• Access to tutoring, study teams
• Leadership experiences
• Networking for internships
• Social Activities and friendships
Questions?
• Where is you daughter in her career search?
• Where does your child want to end up?
Summary Parents Participation
• Know your child - use different paths to a goal
• Give 'tastes' of different careers, broaden your
views
• Focus on colleges that FIT: degree choice,
population choice, cost choice
• Watch deadlines, testing dates, course
requirements
• Join in events such as today's to see that
Women Engineers Rock!