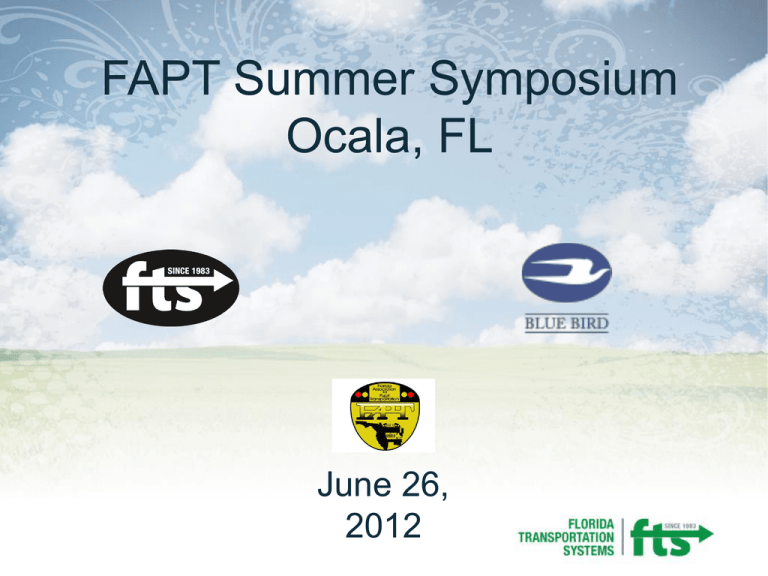 FAPT Summer Symposium
Ocala, FL
June 26,
2012
★
★
★
Florida Transportation
Systems, Inc.
&Type
Blue
Bird
Only Type A,
C and
Type D school
bus provider awarded on the Department
of Education contract
Most economical Type C offering on last
three Department of Education contracts
Longest, most comprehensive base
warranty
FTS
★
★
★
★
Buses since 1983
Two locations - Tampa and Ft.
Lauderdale
Mobile service technicians
Simple, efficient in-house
warranty support
Blue Bird
★
★
★
Leading school bus manufacturer
since 1927
Based in Ft. Valley, GA
Purpose built Type C & D chassis
in Ft. Valley
School Bus Product Lineup
Type A, C and D Purpose Built School Buses
All
American
FE
All
American
RE
Blue Bird All American
Forward Engine Chassis
Blue Bird All American Rear
Engine Chassis
Cummins ISB10, ISC10 and
ISL Gas (CNG)
Microbird
Vision
Ford & Chevrolet chassis
Blue Bird Vision Chassis
Gas, diesel or propane
Cummins ISB10 or Ford
6.8L Propane Engine
Cummins ISB10
29 to 77 Passengers
71 to 83 Passengers
29 passengers or
18 + 1 W/C passenger
72 to 84 Passengers
5
Environmentally Responsible
Clean diesel, propane and CNG engines
Cummins
ISB10
Ford Roush
6.8L LPI
Cummins ISL
Gas (CNG)
Meets 2010 EPA Standards
without emissions credits
Propane powered Ford 6.8L
engine achieves near zero
emissions without sacrificing
power and dependability
Compressed natural gas
engine delivers near zero
emissions and performance
Fuel efficient and
dependable in a variety of
horsepowers
7
Proven Alt Fuel Options
Clearing the air on liquified propane injection (LPI)
engines and compressed natural gas (CNG) engines
Ford Roush Propane Powered
Microbird and Vision
All American Rear Engine CNG
18-29 Passenger Type A
47 to 77 passenger Type C Bus
72 to 84 passenger Type D Bus
Ford 6.8L 362HP, LPI Roush
engine
Cummins ISL Gas 250-280HP
Fuel Supply
Domestically produced and stable
supply
Domestically produced and stable
supply
Fleet
Introduction
Free on-site fueling available; no
facility modifications
On-site and shared facilities
available with some modifications
Capacity/Type
Engine
73
9
Roush 6.8L LPI Autogas Simple,
dependable and economical
10
What they used
to say:
★
★
★
★
★
★
Unsafe
Unproven technology
Expensive to operate
Expensive to buy
Expensive infrastructure
Doesn't work without federal
assistance
Product
Development:
★Utilize the highest
volume Type-C school
bus and successfully have it operate on
propane instead of diesel
★Must remain designed and engineered to
the same exacting standards and meet
FMVSS
★Become the lowest incremental cost
alternative fuel powered school bus
★The result: The only fully integrated and
school purpose built chassis OEM propanepowered school bus
Safe
The LPI Fuel Tank
★67-Gallon
Capacity
★Carbon Steel
★2x the required thickness for
ASME Certification
★312 PSI Working Pressure
★Burst Pressure = 5x Working
Pressure
★16 Mounting Points, not 4
★Located inside crash cage
Lower Operating and Maintenance Costs:
Lower Operating and Maintenance Costs:
Lower Operating and Maintenance Costs:
"We're saving a total of 32
cents per mile with propane
autogas."
"We needed these buses to
perform without issue from
the moment we got them, and
they did. They've been reliable
and inexpensive to operate."
Ron Latko, Director of
Transportation, Mesa Unified
School District No. 4 in
Phoenix, Arizona.
"We choose propane autogas because not
only does it represent significant reduced
fuel costs and clean-burning properties,
but also because the source is in abundant
supply right here in America."
"With today's tight school budgets, using a
transportation fuel that saves taxpayers
money, keeps the environment clean, and
keeps jobs within our national borders is a
win-win for everyone. Plus, our drivers love
how quiet the propane buses perform."
William Schofield, Superintendent, Hall
County Schools, Hall County, Georgia
Lower Operating and Maintenance Costs:
Propane Myths
- Debunked
Affordable Infrastructure
Established Infrastructure
Established Infrastructure
Proven Return on Investment
Simple to Introduce
What they're saying now
★
★
★
★
★
★
Safe
Proven technology
Inexpensive to operate
Inexpensive to buy
Inexpensive infrastructure
Federal assistance makes it a
compelling alternative
Blue Bird North American
Alternative Fuel Markets
Alberta
DC
Maine
Nevada
Texas
Alaska
Florida
Michigan
New York
Utah
Alabama
Georgia
Minnesota
Ohio
Virginia
Arkansas
Iowa
Missouri
Oklahoma
Vermont
Arizona
Idaho
Montana
Ontario
Washington
British Columbia
Illinois
North Carolina
Oregon
Wisconsin
California
Kansas
New Hampshire
Pennsylvania
West Virginia
Colorado
Mass.
New Jersey
S. Carolina
Connecticut
Maryland
New Mexico
Tennessee
3 Provinces, 39 States and D.C.
Special Thanks to our Florida propane districts:
★
★
★
★
Indian River District Schools
Alachua District Schools
Broward Districts Schools
....
★
★
What we're saying now
Are your transportation efforts
driving us toward a cleaner
environment, establishing
domestic energy independence
AND saving your organization
money?
Future generations thank you for
your time.