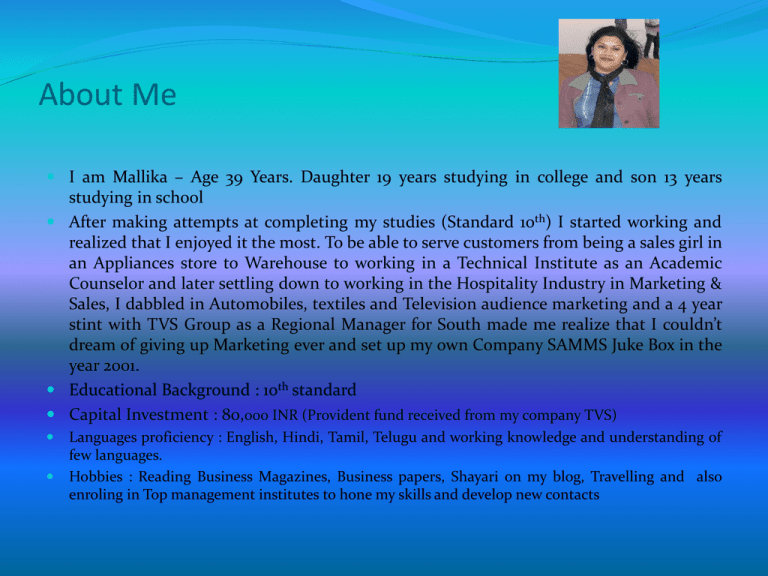 About Me
 I am Mallika – Age 39 Years. Daughter 19 years studying in college and son 13 years
studying in school
 After making attempts at completing my studies (Standard 10th) I started working and
realized that I enjoyed it the most. To be able to serve customers from being a sales girl in
an Appliances store to Warehouse to working in a Technical Institute as an Academic
Counselor and later settling down to working in the Hospitality Industry in Marketing &
Sales, I dabbled in Automobiles, textiles and Television audience marketing and a 4 year
stint with TVS Group as a Regional Manager for South made me realize that I couldn't
dream of giving up Marketing ever and set up my own Company SAMMS Juke Box in the
year 2001.
 Educational Background : 10th standard
 Capital Investment : 80,000 INR (Provident fund received from my company TVS)


Languages proficiency : English, Hindi, Tamil, Telugu and working knowledge and understanding of
few languages.
Hobbies : Reading Business Magazines, Business papers, Shayari on my blog, Travelling and also
enroling in Top management institutes to hone my skills and develop new contacts
My Business partner
 P.M.Shankar – Age 40 years. Married. Son aged 6 years. Studying in school.
 Educational Background : Mechanical Engineer
 Work experience : Worked with TVS Group (QC testing) for 4 years
 Founding partner of SAMMS Juke Box :
 Capital Investment : 50,000 INR (PF received from TVS)
 Languages : English, Hindi, Telugu, Tamil, Gujarati
 Hobbies : Reading, Cricket, Movies
 Handles execution of all projects and campaign coordiation
My colleagues
Mr.Venkatnarayanan :
venkat@samms.in been with SAMMS Since its Inception. Retired from IIT
Chennai. Worked in Chemical and Electronic department under Professor
Venkateswarulu. Age : 63 years
Sailaja :
Working in SAMMS since 2007 in the accounts and admin department.
Handles all communication, correspondence and banking transactions.
sailaja@samms.in
Amritha :
Working for the past one year. Coordination with customers and follow up on
proposals. Amritha.samms@gmail.com
Ravi :
ravis@samms.in. Been with SAMMS since its inception. Works in
following up with clients for payment follow up, banking transactions, closing
of accounts, sales and service tax filing of returns etc
Rajnesh Singh (Arun) :
arun@samms.in & rajnesh.samms@gmail.com.
Been with SAMMS since 2005. Works as a Campaign manager. Visits the
petrol outlets frequently to check customer response to our campaigns and
submits us consolidated reports
Milan Vaghela :
milan@samms.in : Been with SAMMS since 2008 and works as a campaign
Coordinator with SAMMS since 2005. Works as a Campaign manager.
Visits the petrol outlets frequently to check customer response to our
campaigns and submits us consolidated reports
My Colleagues
Vicky :
Handles our technical aspects of SAMMS and Email campaigns and web responses
Gaurav Sarkar :
gaurav@samms.in
Based in Guwahati and with SAMMS since 2010, he handles all our northeast
operations with IOCL
About SAMMS Juke Box (SAMMS)
 We were undertaking any and all 3rd party orders and coordinating for bundling of
corporate gifts when we chanced upon an ad for supply of branded, stitched and quality
uniforms to OMCs
 As luck would have it, the L-1 contractor could not honour the tender and our beautiful,
long, painstaking and successful journey with OMC's began
 Having started off by stitching and supplying uniforms to the Oil Marketing Companies
forecourt supervisors and driveway sales men, we realised there is an untapped potential
of conducting campaigns at the petrol retail outlets.
 We studied the consumer behavior, their fueling patterns, their needs and decided to
approach the oil marketing companies to let us lease their retail outlets and use them as a
platform to conduct campaigns
 Our proposal was cemented when our campaigns were lapped up by customers, fuel sales
increased and it helped omcs reduce carbon foot prints and helped them in earning CER
ie carbon earned revenues
The Journey to our first campaign
 Started in Mangalore with Hindustan Petroleum Corporation Limited. Trust from large
MNCs and Corporate giants in a start up like SAMMS by offering us free products for
sampling at the retail outlets and also getting excellent branding in return for their
products helped us gain a small foot hold in the Industry.
 The campaign titled "Scratch n win" guaranteed a prize on every scratch card. Over
27,00,000 cards meant 27 lac gifts at 175 petrol outlets covering Mangalore and union
territories of Mahe gave us an insight into customer needs
How we became Vendors
 Our first order was a one off case. We had to go through the grind and through strong
willpower, corporate ethics, transparent policy in all transactions and our principles
and work culture went a long way in being registered with all the Oil Marketing
Companies giving us excellent edge and paving way by working for all competetors at
the same time.
 No oil marketing company complained about our working with a competetor. It in fact
provided us with more scope to work with others at the same time as we had better
understanding of the retail outlets
OMC structure in India
Between BPCL, HPCL, IOCL, Essar, Reliance and Shell we have
approx 35,000 petrol stations in India
Among these :
 India has approx 35000 Petrol stations. Almost 17000 Petrol Stations belongs to IOCL,
8000 of BPCL and 7000 of HPCL.
 IOCL has more numbers of Petrol Stations than whole of Canada or UK. The Punjab state
of India has approx 1000 nos of Petrol Stations or Retail Outlets apart from an equal
number in North East states
 A lot of Auto LPG Stations and CNG stations have been planned due to high crude prices
which are also coming up
 M/s Reliance Industries Ltd, M/s Essar Oil /Essar Retail, M/s Shell India[1] and
M/s ONGC have also opened Petrol Stations in India.
 The Oil stations opened by M/s Reliance and M/s Essar Oil have been closed on date
because of wide Price differential between the fuelcost at state run companies stations
and the privately owned stations. Shell currently has 74 petrol stations in India and are
adding more
Potential
 Essar has 1278 petrol stations in India which are supplied with petrol and diesel from its
280,000 barrels per day (45,000 m3/d) refinery in Vadinar, Gujarat.[3]
 M/s Indraprastha Gas Limited has started exclusive CNG fuel stations in India
particularly in Delhi, capital city of India. In recent years, state oil marketing companies
have started rural petrol stations which are established in the interior villages,are meant
to help the agriculturists and are constructed with minimum of investments. These
stations sell Pesticides, seeds, Lanterns etc. which are the specific requirements of the
Farmers besides Petrol and Diesel.
OMC network in India & World Over
 India has 5 Oil Marketing companies and we work with 4 of them.
 World over there are 4300 oil marketing companies
 UAE has over 600 gas stations betwene EPPCO, ENOC, EMARAT and ADNOC
 Likewsie all over the World
Airport Promotions (Cashless)
Helps in up selling through retail sales inside the
airport by offering instant gratification
on higher purchases
OMC as a Platform
Fill gas, Fill air, buy groceries, relax, refresh and drive on!
Hoardings for publicity
Ready base of customers for sampling, market surveys etc
Great platform to advertise, market products
Excellent goodwill through repeat customers and high retention value
Clients with us















Condenast India (Vogue,GQ,Traveller)
Godrej Consumer Products Limited
Godrej Electronics and Appliances Limited
Cavinkare
Hindustan Unilever Limited
SuperMax
Top Resorts of the World
Top SPAs
Automobile companies (Tata motors, Renault etc)
Top radio channels
Top News media, printing and publishing industry
Star TV group
Turner Group
Van Melle
Pharma Companies and much more
Recent campaigns
Concept
Cross promotion at HPCL petrol stations
 To source products free / highly discounted cost towards the Sales Campaign by avoiding
huge cash transactions in purchasing the products
Lucky Draw
Why we need funds?
 Expansion through inclusion of additional manpower
 Participation in oil and gas exhibitions across the world for establishing SAMMS
 Conversion of new enquiries into business
 Monopolised business so far so expansion will help grow multifold
 Additional manpower will translate to more business
FUNDING REQUIRED
100 lacs over the next two years in a phased manner
Guaranteed returns every month starting from 4th month of investment
Anytime withdrawal of support clause in case of non performance
Inclusion as a partner or angel investor
SAMMS Anthem
Take up one concept and make that concept work. The concept surrounds only our client
and sharing of our idea. The idea becomes our life, our team thinks of it, dreams of it and
we live on the concept. With all honesty, sincerety, transparency and dedication we
conceptualise, execute and successfully complete it. We let our brain, muscles, nerves,
every part of our body, be full of that idea. The next day, we replicate the same.
This is our way to Success!!!