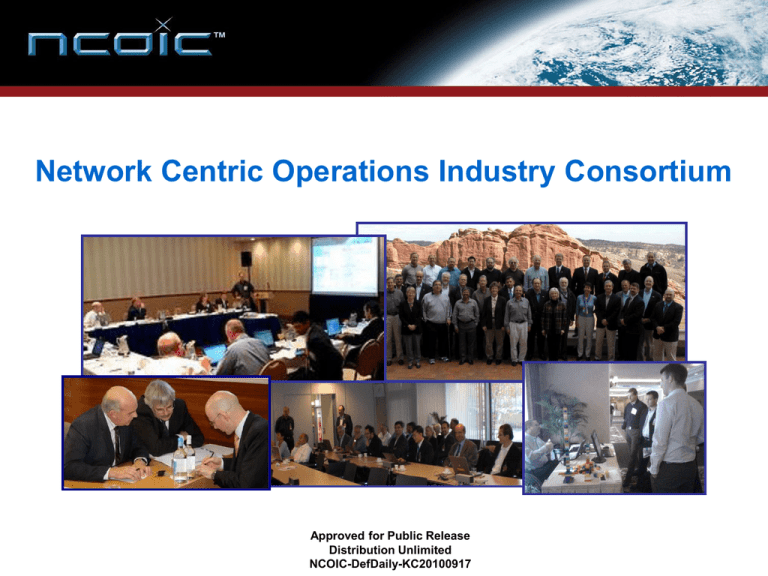 Network Centric Operations Industry Consortium
Approved for Public Release
Distribution Unlimited
NCOIC-DefDaily-KC20100917
NCOIC is a Unique Organization
NCOIC exists to facilitate the global realization of Network Centric Operations &
Net Enabled Capability. We seek to enable interoperability across joint, interagency,
intergovernmental, and multinational industrial & commercial operations.
 Global Organization
 Voice of industry & governments
 Cadre of technical experts
 Dedicated to interoperability
 Advisory Council of senior advisors who help prioritize our work in
a non-competitive environment
In the photo: BrigGen Dieter Dammjacob (DEU AF)-J3 NATO Supreme Headquarters, Allied Powers Europe; Lt.Col. Danut Tiganus-CIS
Directorate, EU Military Staff; Dr. Tom Buckman-NC3A Chief Architect; Gen Harald Kujat,-German AF (Ret.) former Chief of Staff of German
Armed Forces & head of NATO Military Committee, Marcel Staicu-European Defense Agency NEC Project Officer .
NCOIC Members
 80+ Member Organizations
including leading IT and Aerospace
& Defense companies, government
organizations, non-governmental
organizations and academic
institutions
 Members from 18 Countries
 Advisors from 26 key stakeholders
from Australia, EDA, France,
Germany, Italy, NATO, The
Netherlands, Sweden, UK & US
Working Group collaboration
Executive and Advisory Council joint meeting
Technical Council
Terry Morgan honors outgoing Advisory Council Chair, Keith Hall
Sustained Effort to Make NCOIC Products
Part of Procurement Process
Overarching Goal: NCOIC deliverables are adopted, used and
required by customer agencies
Adopt
Use
Participate
Advise
2004/2005
 All Advisory
Council Members
 US Defense
Science Board
2006
2008
 NATO
– C3 IPT
– NCA FT
 DISA (US)
– CRADA
– OSWG
– NCAT
 OSD-NII (US)
– NCAT
– OSWG
– Cybersecurity
 FAA/JPDO (US)
– Aviation IPT
(NextGen/NEO)
 MOD (UK)
2009
2010
 NATO C2COE NRF
– NCAT
 USAF SPACECOM
– NCAT
 FAA/Eurocontrol
– SCOPE/NCAT/Patterns
– FAA OTA
 US DoD
– Net-Centric
Attributes
• US DOD/DAU
• Aus DoD/RPDE
 Australian DoD
– SCOPE/NCAT
– Patterns/BBs
 EDA
– NCAT
NCOIC is Pursuing Plans to Further Increase Influence
in Future Procurements
NCOIC Key Deliverables
Addressing Inter-Agency, Cross-Industry Gaps



Systems, Capabilities, Operations, Programs, & Enterprises (SCOPE) Model
–
NCOIC Interoperability Framework™ (NIF) and Net-Centric Patterns
–

Catalog of COTS & GOTS open standards based products compliant with NIF recommendations
Network Centric Analysis Tool™ (NCAT)
–
Netcentric analysis of system architectures, including System-of-Systems and Federation of
Systems architectures
NCOIC Lexicon
–

Recommendations for open standards and their patterns of use to obtain interoperable systems
Building Blocks
–

Characterization of commercial, civil, and government requirements for interoperable systems
A glossary of terms and definitions that lay the foundation for meaningful discussions. Provides
a common language for the disparity of ideas concerning key terms, including "NCO."
Systems Engineering best practices and processes
–
These best practices and processes include tools, process and maturity models, modeling
techniques, test & evaluation techniques, and collaborative environments for NCOIC integration.
These products, combined with NCOIC member expertise in NCO/NEC,
measure Netcentric capabilities, requirements, gaps
and provide recommendations for interoperability
Unity of Effort
Different Domains, Similar Needs
Aviation IPT
C3 Interoperability
IPT
NetCentric
Attributes
NCOIC
Interoperability
Framework
SCOPE
NIF & Concepts,
Principles,
Processes,
PATTERNS
NCAT
Net Enabled Emergency
Response IPT
Specialized Frameworks
•
•
•
•
•
•
Building
Blocks
Information Assurance
• Conformance
Cloud Computing
Certification
Mobile Networking
System Management
Semantic Interoperability
Information, Services, etc.
Maritime
IPT
Modeling and
Simulation
• Test &
Evaluation
Cyber Security
IPT
Systems
Engineering
and Integration
• Lexicon
• Education
& Outreach
Functional Teams provide the technical expertise to serve customer domains.
The Integrated Project Teams provide operational information from customer domain perspectives.
NCOIC and Interoperability
Considerations in Architecture



NCOIC considers Interaction of People, Processes,
and Technology in a Net-Centric Environment
Technical considerations are important, but…
Processes
People
 PEOPLE have to be culturally prepared to use it
 PROCESSES have to be consistent with the
technology used
Technology
 Embodied in NCOIC's Interoperability Model
One typical limiting factor! Cyber Security needs in a
Cyberspace Ecosystem
 Classic Information Assurance factors (for Systems, Services,
Networks, Information, etc. "Assured" at some Level of Trust)
 Multiple National Policies and Legal Constraints (many conflict!)
 Many Domain-Specific needs and difference in priorities/emphasis!
 Growing concern regarding dependence on Cyberspace with
corresponding vulnerability to attack, catastrophe, etc.
Interoperability of GLOBAL system implementations across joint, interagency,
intergovernmental, and multinational industrial & commercial operations is key!
Traditional Architecture Approaches
Not Sufficient for Cyberspace Ecosystem
 Some Traditional Security Mechanisms vs. Cyber Security Needs:
 "Need to Know" vs. "Need to Share"
 Point-to-Point Networks vs. Global Internet
 Risk Adverse vs. Managed Risk
 Some Traditional Defense vs. Cyberspace Ecosystem Architectures:
 Tightly-coupled Systems/Networks vs. SOA / Cloud Computing
Public and/or Private Clouds providing
Infrastructure-as-a-Service,
Platform-as-a-Service,
Software-as-a-Service
 Systems vs. System-of-Systems vs. Federation-of-Systems
Controlled vs. ad hoc composition and interaction
 Organizational Policy Enforcement vs. Enterprise Governance
Architectural Considerations for
U.S. FAA Next Generation
Air Traffic Management System
https://nasea.faa.gov/
TODAY
• General Benefits of an
Enterprise Architecture
and SOA approach
• Business Benefits to an
Individual Program
• Engineering Benefits
to the FAA Enterprise







Utilization of common standards, both national and global
Global harmonization across Agencies
Common Operating Picture across domains
Sensor Grid for tracking, weather, etc.
Interoperability between ground and airborne, ocean,
enroute,terminal, air systems
Support for disparate development environments through
use of a common foundation across the enterprise
Modeling of interactions, dependencies and connectivity
throughout the enterprise
Architectural Considerations for
Australia Defense Organization
Single Information Environment (SIE)
http://www.defence.gov.au/cio/_lib/doc/Single_Information_Environment.pdf
Application
Data
Application
Data
Application
Data
Manual Orchestration
Separate Interfaces
Application
Data
Application
Application
Services
Data
Manual Orchestration
Converged Interface
Services
Data
Logic
Logic
Logic
Data
Automated Orchestration
Converged Interface
Technology Change
Business Change
Challenge: Can NCOIC SCOPE Tool help in optimizing the SIE Architecture?
SCOPE for SIE:
Characterize Architecture Tradeoffs
PROJECT
A
PROJECT
PROJECT
B
A
C
COMMON
PROJECT
B
?
COMMON
Grow Common Services?
?
?
PROJECT
A
PROJECT
PROJECT
B
PROJECT
A
B
D
COMMON
COMMON
Modify Project A or B?
Custom Bridge
between A and B?
PROJECT
A
WARFIGHTER
CORPORATE
PROJECT
B
INTELLIGENCE
Net-Enabled
Future
Stovepiped
Systems,
Point-to-Point
Networks
BACK UP
Why NCOIC is Good for Business

Provides direct access to broad global customer base at the highest level,
and entrée to others through NCOIC relationships

Provides access to potential partners, suppliers and competitors for NCO
business

Illustrates global thought leadership & consensus with international
stakeholders on NCO/NEC
– No compromise of national or alliance interests

Industry consensus on NCO standards beneath the application layer
reduces cost, provides for more efficient design and effective partnering

Certification program will validate interoperability of systems within defined
parameters
"Like organizations that pioneered the Internet, NCOIC sponsors innovative thought,
conducts critical analyses, and demonstrates how a net-centric environment can
bring interoperability to a broad range of sectors. In this way, NCOIC helps member
companies to find new markets, evaluate their unique needs and explore ways to drive
interoperability into those markets." Terry Morgan, Cisco.
Global Stakeholders
CDR Fred van Ettinger, (NLD N)
C2 Centre of Excellence, signs
Letter of Agreement with NCOIC
Members develop a SCOPE workshop for
Australian Department of Defence with Rapid
Prototyping Development & Evaluation organization



Members speak with Carlo Magrassi,
European Defence Agency
Armaments Director
"The Australian Department of Defence is a keen supporter of NCOIC, its principles and tools.
We aim to apply NCOIC's products to our acquisition process to better define interoperability
requirements and improve through-life systems integration prospects." John McGarry,
Australian Air Commodore.
"We have used NCOIC's NCAT tool to assess levels of interoperability during NATO
Response Force exercises. Our Centre of Excellence found the tool to be very useful in
establishing the level of interoperability." Commander Fred van Ettinger, Section Head of
the Multi National Command and Control Centre of Excellence.
"NCOIC has four characteristics which make it unique. The organization is solely dedicated to
network-centric operations and interoperability; its membership stimulates discussions about
global interoperability; it serves as a 'vendor neutral' forum, and it has a cadre of industry's top
technical experts who are available to do its work." Jack Zavin, U.S. Office of the Assistant
Secretary of Defense, Networks and Information Integration.
Benefits of Membership





"From NCOIC members and senior government advisors, we continue to learn how to improve
the world we know today. And we are overwhelmed with opportunities to see the way networkcentric operations can shape the future." USAF Lt.Gen. (Ret.) Harry Raduege, Chairman of the
Deloitte Center for Cyber Innovation.
"Consortium leaders gain insight about the direction of a customer's vision and the potential
network-centric business opportunity," he says. "They're in a better position to see the future, take
a hand in shaping it and place their company's bets on new solutions, more precisely." Terry
Morgan, Cisco.
"People who operate in one market segment adopt a model about how the world works--that can
lead to a mental rut. But NCOIC members come from many sectors and have opinions that don't
always agree with your own. Within the context of such a collaborative environment, diverse
thinking can be a catalyst for innovation." Hans Polzer, Senior Fellow, Lockheed Martin.
"Achieving interoperability among systems is huge work and there are national political barriers.
When NCOIC members work together as transnational companies these obstacles diminish—
even though the companies can only discuss non-sensitive issues— but they can focus on real
technical difficulties. NCOIC is then by far the best forum for ongoing conversations about
interoperability. Outside this forum, when national customers have more influence, such
collaboration would be much more difficult." Dr. Claude Roche, EADS Defence & Security and
NCOIC Executive Council member.
"We are a global society and the next series of potential problems—civil wars, scarce water, food
shortages, pandemics, cyber warfare—cannot be resolved by one nation. To avoid catastrophic
outcomes our only chance is to cooperate. We have incredible motivation to work together and
NCOIC is making significant contributions to the technological foundation that will help nations
collaborate." Brett Biddington, Cisco Systems'Global Government Solutions Group.
NCOIC Members
Tier 1 Members
 Boeing
 Cisco Systems
 Deloitte & Touche
 EADS
 Finmeccanica
 IBM
 ITT Corporation
 Lockheed Martin
 Northrop Grumman
 Raytheon
 Thales
Tier 2 Members
Harris Corporation
L-3 Communications
17
NCOIC Members
Tier 3 Members
 ABG SPIN
 ADIESA
 The Aerospace Corporation
 American Red Cross
 ASELSAN
 Association for Enterprise Integration
 Australian Department of Defence
 BAE Systems
 CACI
 Carillo Business Technologies
 Carnegie Mellon University SEI
 Center For Netcentric Product Research
 Ciena Government Solutions
 COMCARE
 Computer Sciences Corporation
 Dataline, LLC
 DCNS
 EDISOFT
 Emergency Interoperability Consortium


















Federal Aviation Administration
FOKUS
HAVELSAN
GBL Systems
Innovative Concepts, Inc.
Intelligent Integration
Institute for Defense Analysis
Interoperability Clearning House
International Data Links Society
Israel Aerospace Industries
LFV
LinQuest Corporation
Maritime Technology Centre R&D
Institute
MBDA
Microsoft Corporation
Military Communication Institute
MilSOFT ICT
MIT Lincoln Laboratory
 MITRE
 NetCentOps, LLC
 NJVC
 OASD (NII)/DoD CIO
 Object Management Group
 Objective Interface Systems
 Open Geospatial Consortium
 Real-Time Innovations
 Rheinmetall Defence Electronics
 Rockwell Collins
 RUAG Electronics
 Saab
 The SDR Forum
 Solera Networks
 Technopôle Defence & Security
 TerreStar Networks
 TUBITAK UEKAE
 University of Maryland HyNet
 Wakelight Technologies
18
NCOIC Goal: Facilitate Implementation
of Network Centric Operations /
Net Enabled Capability
Members are
Global Leaders:

Increase interoperability within and among systems involved in
Interagency and Multinational operations

Lower development costs and increase commonality of design in
Academic institutions
Aviation Service
providers
future systems – tailored standards and best practices
Defense suppliers
All military services
Multinational

Improve application readiness through more rapid fielding of network
centric systems – leverage technical "lessons learned"

Reduce systems cost and sustainability through re-use and
commonality – facilitate ease of integration, upgrade, and support

Reduce Development Risk by identifying the common components
needed for the network centric environment – Develop them where
none exist

Improve Application Effectiveness through new, more focused
development on domain specific capabilities
Government agencies
Human service agencies
Integrators
Commercial systems
Defense systems
IT firms
Communications
Data management
Human-Machine interface
Information assurance
Service providers
Consulting
Engineering
Logistics
Standards bodies
NCOIC Tools & Processes Allow for
Evaluation & Measurement Over
the Lifecycle of systems
"Although the applications domain is very diverse, integration problems across applications are similar. It's
interesting that we see a larger field of applications in NCOIC than we do, for instance, within the eGovernment sector. If we can learn from the experience of developers in diverse sectors and apply it to the
net-centric environment, that can open doors to new markets such as defense, homeland security and
emergency response." Linda Strick, Fraunhofer Institute for Open Communication Systems.
"NCOIC's delicate alchemy fosters true collaboration among global companies that are often fierce business
competitors. Their efforts to resolve customers' interoperability issues recently resulted in the publication of
NCOIC's Interoperability Framework, a set of guiding principles for developers of network-centric systems,
products and services." Nicholas Berthet, Thales Battlespace Transformation Centre.
Technical Council/Team Structure
August 26, 2010
Chair
Ken Cureton (Boeing)
Executive Sponsor:
Dan Starcevich (Raytheon)
TC Recommendation Committee
Vice Chair: Jim Burke (Lockheed Martin)
At-Large (membership) Sheryl Sizelove (Boeing)
Chair Emeritus: Nicolas Berthet (Thales)
NIF Architecture
Concepts FT
Specialized
Frameworks FT
Mark Bowler
(Boeing)
William Ison
(Lockheed Martin)
Martin Schmidt
(EADS)
Building
Blocks FT
Network
Centric
Attributes FT
Hans Polzer,
(Lockheed Martin)
Jack Zavin (US
DoD)
Modeling and
Simulation FT
Dan Gregory
(Thales)
Marco Picollo
(Finmeccanica)
Systems Engineering and Integration FT Al Nauda (Raytheon), John Reeves (Lockheed Martin)
NEER IPT: Ian McGraw, (PlantCML, an EADS North American comp), Hal St Clair (EADS)
C3 Interoperability IPT: Pascal Libert (EADS) Martin Hill (Thales)
Aviation IPT : Anton Walsdorf (EADS), Mary Ellen Miller (Mosaic ATM, Inc)
Maritime IPT : Aymeric Bonnaud (DCNS), Will Kramer
Cyber Security IPT : Jessica Ascough (Harris), Chet Ratcliffe
Key Messages

NCOIC participation provides your business leaders direct personal contact with
the key global leaders of your customer base in an information sharing
environmen

NCOIC is analyzing mission threads and requirements to identify the
standards and patterns required for mission execution. Members create
opportunities to drive these standards and obtain early implementation insights.

NCOIC is engaging key government and civilian customers in identifying
standards. Members interact with customers in a non-procurement setting,
shaping requirements.

NCOIC is providing an architectural framework which allows COTS standards
to be used in NCO. This influence will guide how standards will be used in future
operations. Those who understand and help guide this framework will be better
equipped to consult on NCO utilization.

NCOIC assessment & analysis tools -- NCAT™ and SCOPE -- allow
customers to make accurate decisions on how to employ NCO capabilities.