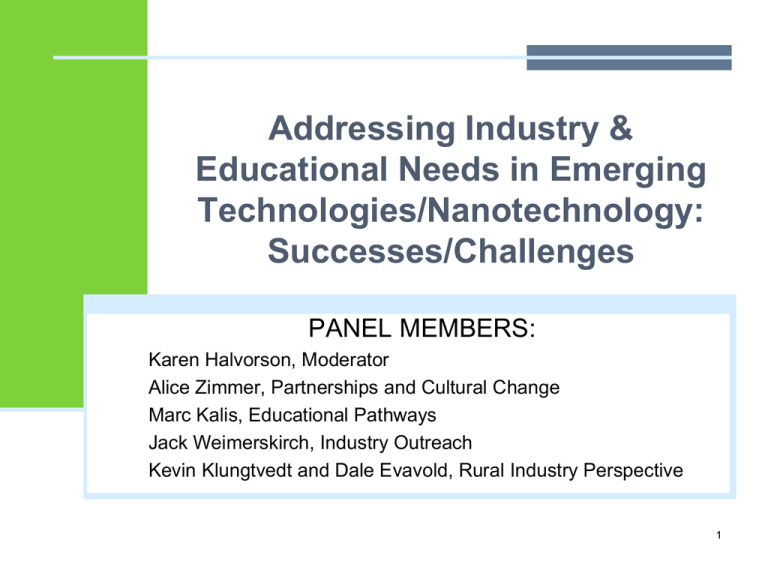 Addressing Industry &
Educational Needs in Emerging
Technologies/Nanotechnology:
Successes/Challenges
PANEL MEMBERS:
Karen Halvorson, Moderator
Alice Zimmer, Partnerships and Cultural Change
Marc Kalis, Educational Pathways
Jack Weimerskirch, Industry Outreach
Kevin Klungtvedt and Dale Evavold, Rural Industry Perspective
1
Location: Winona and Red Wing Minnesota
College Vision: Shaping the workforce by providing quality education for today
and tomorrow.
Average number students served yearly: 3,327
Average full-year equivalent enrollment: 1,985
Degrees offered: Associate in Science, Associate in Applied Science, diplomas,
and certificates with more than 90 diverse programs in six major career fields:
business and office, health and human services, sales and management, musical
instrument repair, technical, and trade and industrial.
Largest programs: Nursing, Administrative Support Careers, Accounting, Guitar
Repair & Building, and Network Administration & Technology.
Unique programs: Musical String Instrument Repair, Band Instrument Repair,
Massage Therapy, Mobile Electronics Installation
2
Nanotechnology Partnerships for Rural
Education Pathways (NANOprep)
Creating a New Cultural Model for Recruitment and
Retention to:
 Provide nano education opportunities in rural areas
 Improve public awareness of nanotechnology
 Increase industry awareness of nanotechnology
 Infuse emerging technology into high schools and our college to
create pathways
 Increase enrollment and retention of students in nanoscience
programs
 Apply these same strategies to other programs in emerging
technologies that have similar recruitment difficulties,
broadening the impact.
3
NANOprep Partnerships
4
Transforming Rural Communities
into a Nano-Savvy Environment
COLLEGE
INFUSION
CAREER
PATHWAYS
HIGH SCHOOL
INFUSION
COMMUNITY
AWARENESS
INDUSTRY
AWARENESS
A NEW
CULTURAL
MODEL
INDUSTRY
EMPLOYMENT
NEEDS
5
Developing Community
Partnerships
 Partnership Advisory Board
 Educational Leaders
 Community Advocates
 Industry Pioneers
 Creating a cultural change towards a
nano-literate, nano-savvy community
6
NANOprep Partnerships
7
College Magazine to
40,000 Subscribers
8
Two Examples of Partnerships
and Cultural Change
 Rushford Days



Nano Conference
Nano Camp for Youth
Nanotek BikeTrek
 Regional Website
 www.particlesmatter.com
9
Creating Educational Pathways
 Dual Credit in Rural High School Courses
 Transcripted Model
 New Survey Course
 What worked and what did not work
 Nano to Emerging Technologies Change
 Nano Certificate
 Transfer Agreement to Associate Degree
programs
10
Nanoscience Technician Assistant
22 credit Certificate
 GENERAL EDUCATION REQUIREMENTS
 COMP2515
 MATH2520
Computers: Issues and Applications
College Algebra
3cr
3cr
 Total…..6cr
 TECHNICAL REQUIREMENTS
 Technical electives (see advisor for approved electives)
 NANO1000
 NANO1100
 NANO1200
 NANO1210
Introduction to Emerging Technologies
Fundamentals of Nanoscience I
Fundamentals of Nanoscience II
Computer Simulation
6cr
3cr
3cr
3cr
1cr
 Total…..16cr
 Total Credit Requirements - 22
11
New Survey Course
Introduction to Emerging Technologies 3 credits
 Survey Course Content
 Marketing Approach
 Description of Students Enrolled
 New Registration Process
 Partnerships for Curriculum and Labs



Dakota County Technical College
Chippewa Valley Technical College
University of Minnesota
12
Results of Exit Survey
 Enrollment


75% college students
25% high school teachers, college faculty, industry
representatives, community
 Financial Concerns
 Key reasons for taking the course
To explore career options
 To fulfill an elective
 To learn more about new technologies
 "The survey course results show that the course is doing what it
is supposed to do." Len Sterry, Evaluator

13
Infusion of Survey Course
at the College
 Elective for Individualized Study Associate in
Applied Science Degree
 Elective for Technical Programs
 Modules Infused into College STEM courses:
Biology, Chemistry, Physics, Math,
Technology
14
Infusion of Nano with
High Schools
 Infusion of Nano into High School STEM Courses


Rushford High School – Tom Vix
Houston High School – Ann Markegard
"The student response was very positive. Usually the students are very
talkative during the labs. This time they were so involved that it was very
quiet. The nano material generated a lot of interest." Ann Markegard
 Dual Credit to Tran scripted Course Plan

Rushford High School – Tom Vix
"If our small school districts don't offer these kinds of options, students will
leave our rural communities and enroll at larger schools This model
works for rural schools." Chuck Ehlers, Superintendent of Rushford-Peterson
Schools in southeast Minnesota
15
22 Regional High Schools
Caledonia
Cannon Falls
Chatfield
Dover-Iota
Fillmore Central
Goodhue
Hiawatha Valley Education District
Houston
Kenyon-Wanamingo
Kingsland
La Crescent
Lake City-Lincoln
Lanesboro
Lewiston-Alturas
Mabel Canton
Plainview-Elgin-Millville
Red Wing
Rushford-Peterson
Saint Charles
Spring Grove
Wabasha-Kellogg
Winona
Zumbrota/Mazeppa
16
GUESS DAY
Girls Understanding and Exploring STEM Science
17
Industry Outreach
 Personal Visits to Industry
 Industry Survey(s)
 What
did NOT work
 What DID work
 Findings (next slide)
18
Industry Survey Results
 70% somewhat aware of nanotechnology
 70% not familiar with use of nano in their business
 90% did not intend to use nano in their business
 Why?


Most said they simply did not understand nano
and its applicability.
Typical comment: "I am not sure what nano
means. I need to become more educated."
19
Next Steps

New Emerging Technologies Advisory Board

Industry Workshops on Emerging
Technologies

Personal visits to nano-related companies

Follow-up Survey to identify employment and
training needs
20
Emerging Technologies
Advisory Board
Southeast Technical College is very pleased to announce the
establishment of an Emerging Technologies Advisory Board
formed in support of our National Science Foundation Grant
focusing on developing an emerging technology/nano-science
curriculum in a rural technical college setting.
Board Mission
To provide business, industry, government and the
community an opportunity to cooperate and collaborate with
education in an effort to identify meaningful instruction and
experience for students in emerging technologies, including
nano-science, which will be beneficial to both them and their
potential employers.
21
Emerging Technology Advisory Board
Membership
























Bageshaw, Peter
Breza, Barb
Bryant, Ned
Fox, Dan
Haney, Mike
Johnson, Jim
Kalis, Marc
Klungtvedt, Kevin
Laken, Keith
Markegard, Michael
Matejka, Dan
Mathur, Raj N.
Meyer, Dennis
Mikrut, Rich
Miller, Jeremy
Olson, Jennifer
Papenfuss, Jerry
Pelissero, Paul
Peterson, Brad
Pelowski, Gene
Porter, Craig
Vix, Tom
Weimerskirch, Jack
Zimmer, Alice
Human Resources Director, TRW
VP Human Resources, Peerless Chain Co.
Senior Product Development Engineer, RTP
CEO Rushford Hypersonic
Minnesota Work Force Area Director
College President, MSC-ST
Electronics Technology/Nanotechnology Instructor, MSC-ST
Chairman RINTEK, CEO Rushford Electro Chemical
President, Mugby Junction
Mathematics Professor, Winona State University
City Administrator, Goodview, MN
VP Technology & Business Development, Plasticomp
Chair Winona Chamber of Commerce, VP Knitcraft
President, Mikrut Properties
State Senator, Minnesota
Director, Business Relations, MSC-ST
President, Winona Radio
Purchasing Manager, Ashley Furniture
President, Mississippi Welders Supply
State Representative , Minnesota
President, Plasticert
Math & Science Teacher, Basketball Coach, R/P HS
Chair, Rushford Hypersonic LLC
Mathematics Instructor, MSC –ST
22
A Rural Industry Perspective
 Emerging Technology in Rural Communities
 Examples of Nano Companies



Rushford Institute for Nanotechnology
(RINTek)
Rushford Hypersonic
Rushford NanoElectroChemistry Company
23
Examples of Nano Companies
 RINTek is a 501(c)3 nonprofit corporation headquartered in Rushford,
Minnesota and started in 2001. The Board of Directors of RINTek is
made up of several business, education and technology professionals
living in and around the Southeast Minnesota area.
 The Rushford Institute for Nanotechnology (RINTek) is playing a
significant role in bringing nanotechnology to rural America.
 RINTek strives to develop relationships in order to foster the growth of
nanotechnology in the area. We do this by lectures, incubating
businesses, establishing contacts at national, state, and local levels,
and working with researchers in the industry. We also operate a public
nanotech laboratory.
24
Sharing of Equipment
 The procurement of an Atomic
Force Microscope (AFM) by
the Rushford Institute of
Nanotechnology supported
the expansion of production
in rural companies like
Rushford Hypersonic and
Rushford
NanoElectroChemistry in
Southeast Minnesota
25
26
Rushford NanoElectroChemistry
Rushford NanoElectroChemistry Company
Rushford NanoElectroChemistry is the
second rural nanotechnology company
in Minnesota, the first was also started
here. A good part of our success can
be traced back to then cooperation
Minnesota State College-Southeast
Technical had with RINTek in support
of the rural nanotechnology initiatives.
We believe very strongly in a strong
partnership with education and
research. Dr. James Holte, Professor
Emeritus of Electrical Engineering from
the University of Minnesota, is a
partner in our company. He is devoted
to rural nanotechnology and is very
concerned and involved with education
of rural nanotechnology workers.
Kevin Klungtvedt, CEO
Rushford, MN
507-459-9032
27
RINTek
July 24, 2013
Why rural
nanotechnology?
Significantly less expensive

Keep this technology from leaving the
country

Low cost for entrepreneurs

Good place to raise families, alternative life
style, mid-west rural work ethic

Why rural
nanotechnology?
One thing not well known, significantly
trained workforce, underemployed

More appreciation of environmental factors

Many nanotechnology companies can work
together, since they do not compete

Why rural
nanotechnology?
"Generally, 90% of all U.S.
nanotechnology manufacturers have < 100
employees and 65 to 70% have less than 20
employees"
-Evan
Michelson, Woodrow Wilson Center,
Project on Emerging Nanotechnologies,
September 15, 2005
RINTek
Formed in 2001 to promote
rural nanotechnology

www.RINTek.org
RINTek
Modeled after the national
nanotechnology initiative,
www.nano.gov

RINTek Structure

501 c 3 nonprofit corporation
Located in the basement of the
Rushford Public Library


Regional initiative
RINTek Structure
Minnesota State
College SE Tech
Challenges
•Funding of business by angel and
venture capitalists
•Accredited investor issue
Hi Tec Presentation
Questions?