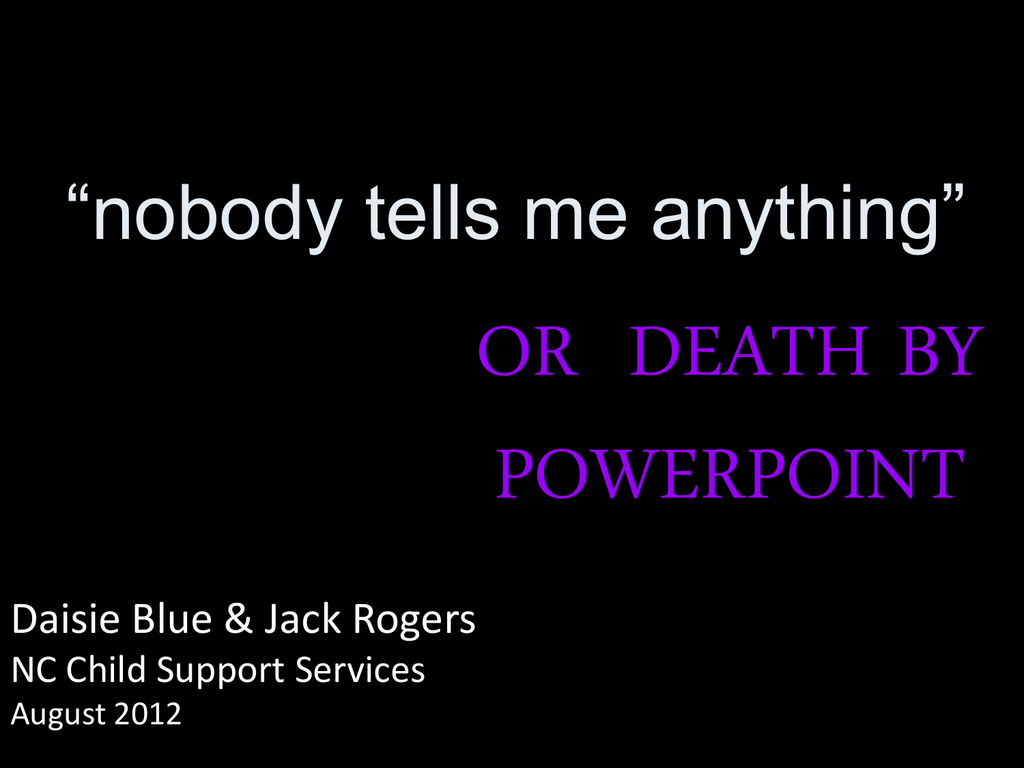 "nobody tells me anything"
OR DEATH BY
POWERPOINT
Daisie Blue & Jack Rogers
NC Child Support Services
August 2012
The
Problem with
Communication
Is the
illusion that it has occurred
Big News:
The Lost Colony
is no longer lost
Hiding Place in Bertie County
State Budget 2012
Education
Medicaid
$ 20.2
Billion
Budget
Adds $212.5 Million for growth in Medicaid
Legislative
Updates
SB 433 – Local Human Services Administration
County commissions authority
HB 589 - Domestic Violence Protective Orders &
Child Support Changes
Termination of child support when a child is enrolled in
an early college program
Supreme Court
Patient Protection
&
Affordable Care Act
Mandated to obtain health insurance or pay penalty
Children can stay on parents insurance until age 26
In North Carolina:
1.57 million state residents
are uninsured, or about 17 percent
ACA Impact on Child Support
• Expand healthcare coverage for
children – Increase in Medical Support
Orders
• Need to coordinate data with Health
Insurance Exchanges
Do you Know ?
rd
Child Support is the 3 largest
public program that serves
children
after
Public Education
and
Medicaid
What's the BUZZ in NC Child
Support Services?
$ Collections ⇑
Data Reliability
Tri-Metro Workforce
Development Grant
New CS Committee
Interoperability
Planning Grant
IVD Net Allocated Collections SFY 2009 - 2012
$720,000,000.00
$715,000,000.00
$714,330,366
$710,117,944
$706,862,567
$710,000,000.00
$702,639,063
$705,000,000.00
$700,000,000.00
$695,000,000.00
$690,000,000.00
2009
2010
2011
2012
$ $ $ IMPORTANT $ $ $
Data
Reliability
Here's the deal
Information in
case record has to
match how
ACTS is coded
and reported on
the OCSE-1571
ERRORS
can
mean
big
$$$
Just 12 case errors
could have cost NC
$3.2M in
TANF Funding
2011: Data Reliability
Audit - PASSED
Not out
of the
woods yet
for 2012
TRI-METRO
GRANT
Planning Grant: Employment Models for NCP's
NCACDSS CS Service Committee
ALL
SERVICE
MODELS
Develop and implement systemic
state-county communication process
ACF State Systems
Interoperability /
Integration Project Grant
Planning Grant
Redesign NC Child Support Web Page - Interactive
Data Bridge w/ Vital Records & Dept of Corrections
BIG Picture Initiatives
• NC FAST
• Work Support Strategies
NC FAST
Replaces 19
Legacy Systems
NC FAST Project I:
Case Management
Food & Nutrition Services (FNS)
• Screening, intake and assessment
• Detailed rules to determine FNS eligibility
• Displays work list tasks and notifications
• Replaces: Food Stamp Information
System (FSIS) – Legacy System
NC FAST
Roll Out
May 27, 2012:
June 18, 2012:
4 Pilot Counties (Carteret, Catawba, Guilford, & Johnston)
Buncombe County
• New FNS Applications - No Problem
• FNS Recertification: Conversion of Data (Time-Consuming)
• Conduct County Readiness Assessment
• Staff Training Revamped - On Site Support Crucial
NC FAST Growing Pains
• NC FAST software tool works well but
it is a
CHANGE.
• PRE-NC FAST: Inconsistent FNS
policy implementation
• Work around & short-cuts (FSIS)
NEW
STRATEGY
Drop
Regional
Implementation
"Soft"
Implementation
New Applications
Statewide
.
NC FAST Project Schedule
Project 2 & 6
Eligibility Information System
Work First (TANF)
Medicaid
Special Assistance
Refugee Assistance
Project 3
Low Income Energy
Assistance Program (LIEAP)
Crisis Intervention Program
(CIP)
Child Care
Project 4
Child Welfare Services
Project 5
Aging and Adult Services
How will Work Support
Strategies and NC FAST impact
Child Support Services?
• County DSS Offices will work differently
• At some point, Interface with ACTS
Bundling
Work Support Strategies
Project Lead / Evaluation
Technical
Assistance
Primary
Funder
WSS
On the
Cutting
Edge
Streamlining Access & Strengthening Families
Work Support Strategies
• 6 States: Colorado, Idaho, Illinois, North
Carolina, Rhode Island, and South Carolina
• 3-year Implementation Grants – Avg. $460,000
per state each year
• Policy Alignment
• Streamlining application process
• Packaging services to meet needs of low-income
working families
A
New Way
To Do
Business
47%
of all DSS clients
receive services from
two or more economic
benefit programs
Child Care
Food Assistance
Health Care
Access to these 3 programs =
long-lasting improvements for
families:
• Better employment outcomes
• Better health & development for
children.
48% of the children on NC Child
Support caseload also receive
Medicaid and Food Assistance
72% of the children on NC Child
Support caseload either receive
Medicaid or Food Assistance
It's about … Connectivity
Linking Child Support Families to Services
What will drive the new service
delivery system?
Customer Service
New Outcomes
Data will Drive Decisions
Streamline Polices / Procedures
Technology Efficiency
A strong focus on change
will be needed
management
WSS
Tenets
Value Added Interactions
Families will tell their story ONCE and
receive the services they need
No Wrong Door
M
U
L
T
I
P
L
E
access
Same
Day
Service
Service Delivery should not
interfere with…
Employment
Where does
Child Support
Services
fit in?
Shared Goals:
• Increase stability in families
• Strengthen healthy parenting
• Enhance parental engagement
Projects on the Fast
Track
Economic Benefits Policy
Governance Board
(Economic Benefit Programs)
Reaching for Excellence &
Accountability in Practice
(Child Welfare)
DHHS Priorities
• Transition Planning for New Administration
• DHHS Infrastructure (automation)
• Mental Health
 Community Placement from Adult Rest
Homes (4,000)
 LME transition to Managed Care
C
H
A
N
G
E
Is everywhere
A strength of a NC's large
county-administered system
101 Innovation laboratories
QUESTIONS ?