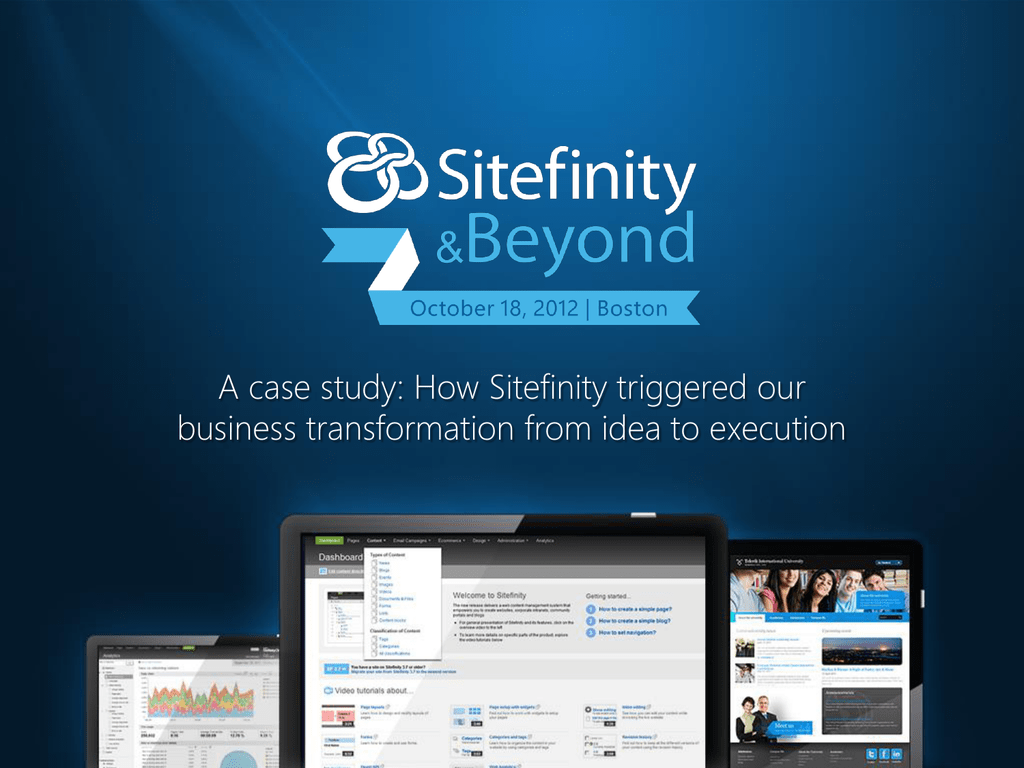 A case study: How Sitefinity triggered our
business transformation from idea to execution
AGENDA
Background
Challenges
The Project
Where We Are Today
Background
Helping brands connect with
consumers in relevant ways since
1989
IC Group is founded by Todd Pluchinske who creates
niche insurance offerings: golf hole-in-one and scratch
card contests.
Today
IC Group has launched over 5,000 projects in more than
20 countries with over $100 million dollars in cash and
prizes awarded. We employ over 100 dedicated people
who deliver promotional solutions, services, technology
and expertise to the world's biggest brands and
agencies.
Challenges
Our Environment
Broad Offering
Projects vs. Products
Changing Digital World
Our Vision
Creative Design
Technical Delivery
• Freedom
• Security & integrity
• Speed
• Technical quality
The Project
Project Objectives
Reduce costs
Increase speed to market
Maintain creative freedom
Project Scope
Server infrastructure
Software architecture
Business process
Project Organization
Stakeholders
Large stakeholder group including:
The owners
Delivery Leads
Development Team
Account Services and Sales
Vendors
Telerik & Sitefinity
Professional Services
Solution Architecture
Development
Oversight
Professional Licenses
Timelines
Where We Are Today
The Results: Infrastructure
The Results: Workflow
The Results: Summary
Business Reinvention
vs.
Business Improvement
The Results: Summary
Innovation
vs.
Regurgitation
The Results: Summary
Leaders
vs.
Vendors
Questions?