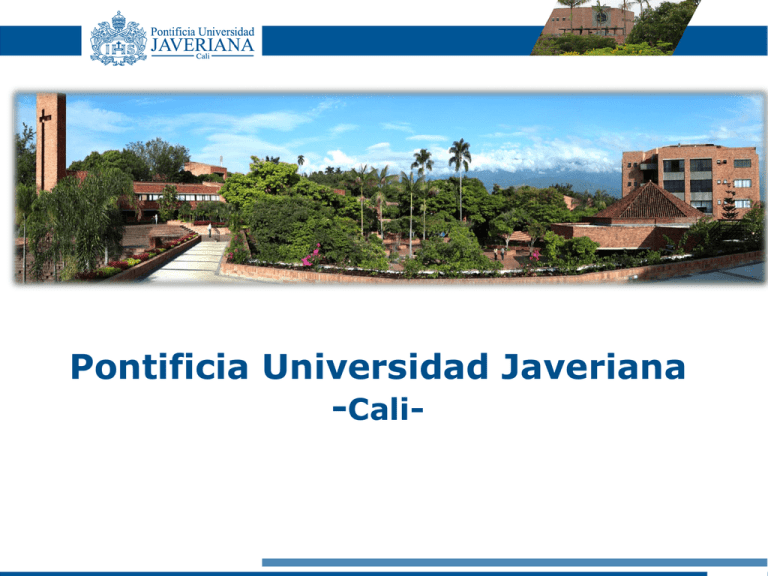 Pontificia Universidad Javeriana
-Cali-
• Colombia, Valle del
Cauca, Cali: General
Context
• Javeriana - Cali: Key
aspects
• Collaborative Action
research: Our
approach
• Where do we go from
here?: Perspectives
Cali, Colombia
in Latin America
Cali
Colombia
Pacific
Ocean
Puerto
Buenaventura
Cali
Population: 45 millions inhts.
Area: 1.132.000 Km2
Third Largest country in South
America
Assets:
Biodiversity
Water Resources
Strategic Location
Natural Resources (Oil,
coal, ferronickel…)
Coffee culture
Human diversity
ORI – 2013
El Valle del Cauca
The Cauca Valley covers
an area of 22.140 S
Kms2, about 2% of the
national territory.
Has a population of 4.5
million, near 11% of the
population of Colombia.
About 90% live in urban
centers.
ORI – 2013
The Cauca Valley is a cluster of urban
centers, 75% of the population live in
cities of over 150.000 inhabitants. It is
the most urbanized State in Colombia.
ORI – 2013
The Cauca Valley is one of the
most fertile in the world and
reaches one of the highest
sugar cane fields in the world.
It
has
vocation.
an
agro-industry
The industry of Valle del Cauca
contributes 13.81% to the
national added value and its
financial services have 9.75
national participation.
ORI – 2013
•
Santiago de Cali is
one of the oldest
cities of Colombia
and
in
the
American
continent. Founded
in 1536.
La Merced Church, where the first mass was celebrated 1536
Colonial architecture in foreground, modern XX Century architecture in the
background.
ORI – 2013
51% of the population of
Valle del Cauca lives in
Cali and its metropolitan
area.
Cali boasts a population
of about 2,3 million
inhabitants.
Panoramic view of Cali from the Western
Mountains Monument to Christ King
ORI – 2013
Collage of Cali:
Panoramic from the
Western Mountains;
Monument to
Solidarity, Cultural
Center, Ermita
Church.
ORI – 2013
Santiago de Cali the
Capital, is located in
this Valley.
The city is completely
bordered to the West
by mountains, "Los
Farallones" 4000 mts
high are the highest
closest to the city.
The Eastern part of
the city is bordered
by the Cauca river.
Panoramic view of Cali and of Cauca Valley at the background from
the Western Mountains.
ORI – 2013
By 2005, almost 40%
of its inhabitans were
born in other parts of
the country.
Over one third of the
population in Cali is
Afro-Colombian.
ORI – 2013
•NBI (Unmet Basic
14.1%
(Education,
Services, Health…).
Needs)
Public
•Unemployment fluctuates in
recent years between 11% and
13.7%.
•The housing deficit is 17%.
Public utilities access (water and
swages) near 90%; electricity
98%.
Monument to Christ King (Cristo Rey) built by the
Jesuits in 1948
Fuente: DANE
ORI – 2013
•Health Coverage under the
public subsidized system
(SISBEN) for the lower
income population (1 & 2)
76%
•Education:
•Illiteracy 4.5 %
•Elementary ed.: 35%
•Secondary ed.: 22%
•Beyond High School:
19%
Fuente: DANE
Downtown Square, Plaza de Caycedo
ORI – 2013
View of the Cali River and the Hotel District
•Household monthly
average income (2006
- 2007) $1.600.000
(Aprox. USD 800)
•Insufficient
33.5%
•Even 50.1%
•Consider
themselves poor:
42%
•Members per
household: 3.5
•Home ownership:
50%
Fuente: DANE
ORI – 2013
Universidad Javeriana in
Colombia
History:
 Founded in 1623. First University
in Nueva Granada (Bogotá).
 In 1767 Jesuits were expelled
from the country.
 In 1844 Jesuits Returned.
 In 1930 the University was reestablished.
 In 1970 Javeriana Cali was
founded and included within its
academic perspective a regional
focus.
ORI – 2013
Javeriana Cali in numbers
– Number
of regular
students, 2012: 6,705
•
•
•
Undergraduate: 5,728
Graduate: 977
Others: 6,705
– About 30% of our
students belong
to
the
lowest
income
families
of
the
southwestern
Colombia (Valle del
Cauca,
Cauca
y
Nariño).
– Alumni: 17.800.
• Area of campus: 150.000 mts2.
• Area built: 96.000 mts2.
• Sports area: 20.800 mts2.
• 152 Multimedia rooms, laboratories and classrooms.
• Auditoriums with capacity for 800, 200 and 120 people.
• TV Studio and Radio Station.
• Building housing specialized laboratories for all academic disciplines.
• Information Networks: Internet II, RENATA (Advanced National
•
•
Academic Technological Network ), Javevirtual.
Center for Entrepreneurship (Campus Nova).
CAP – Center for Technological Development and Innovation of
process.
ORI – 2013
19 Undergraduate Programs
• School of Engineering:
– Industrial
– Electronics
– Applied Mathematics
- Civil
- Computer Sciences
- Biology
• School of Management and Economic Sciences:
– Business Administration
- Economics
– Accounting
- International Business and
Trade
• School of Humanities and Social Sciences:
– Psychology
- Law
– Political Science - Media and Communications
– Arts
- Visual Communication Design
– Philosophy
- Architecture
• School of Health:
– Medicine
ORI – 2013
Graduate Programs :
9 Masters and 17 graduate programs
• School of Engineering:
– Masters Degree in Engineering
(Tracks in Electronics, Industrial
Engineering and Systems
Engineering).
– Graduate Programs: Engineering
Management Systems and
Construction Management; Integral
Logistics; Quality Engineering.
• School of Humanities and Social
Sciences:
–
–
–
–
–
• School of Management and
Economic Sciences:
– Executive MBA, Double Degree:
Pontificia Universidad Javeriana CaliTemple University: Fox School of
Business.
– Master in Economics.
– MBA.
– Graduate Programs: Marketing;
Finance; Health Administration;
Taxation Systems Management;
Social Management; International
Business
•
Masters in Family
Masters in Culture of Peace and IHR
Masters in Corporate Law
Masters in Psychology of Health
Graduate Programs: Family; Peace Culture and
Human Rights; Commercial Law; Child
Neuropsychology; Psychology and Organizational
Development; Social Security.
School of Health
– Masters in Public Health
ORI – 2013
University Student and Community Welfare
Activities: MU- "Medio Universitario"
Universidad Javeriana Cali has established the Vice-Presidency
of MU with its four Centers:
– Welfare – Sports – Cultural Expression
– St. Francis Xavier –Pastoral and Social Service Volunteers
activitiesThere are other Complementary Programs, and Deanships and
Committees in each of the Schools to promote this endeavor.
International activities:
• Copa Loyola: International sports event
• International Corus Festival
ORI – 2013
EFE PROGRAM – Spanish for Foreigners
Since
1994,
Pontificia
Universidad
Javeriana Cali offers through its Language
Academic Section this program that caters
to the improvement of the linguistic skills
of foreign students and perfecting their oral
communication in Spanish.
The courses are designed for all those
students, concurrently in an academic
program or in a Spanish immersion seeking
program, and for foreigners permanently or
temporarily living in Colombia.
ORI – 2013
JAVERIANA CALI CAMPUS
ORI – 2013
ORI – 2013
Natural
Resources,
Infrastructure
and Environment
Political power,
Justice and
Normativity
Competitivity and
Development
Strategic
Areas of
Research
Equity and Social
Inclusion
Culture and
Communications
Education
Human and Social developmennt within
dignified and just communities
Information and Communication Technologies
Health
Research
Groups
Mass /
communitary
Media
Govern/civil
organizations
Under/graduate
Programmes
Communitybased
organizations
Some of our collaborative(action)research experiences
http://www.projectspuj.blogspot.com/
Where do we go from here?
• Joint specific research interests: ongoing /
potential projects
• Student/Faculty mobility
• Peer networking (Tutoring, evaluation, peer
reviewing)
• Do visit!!