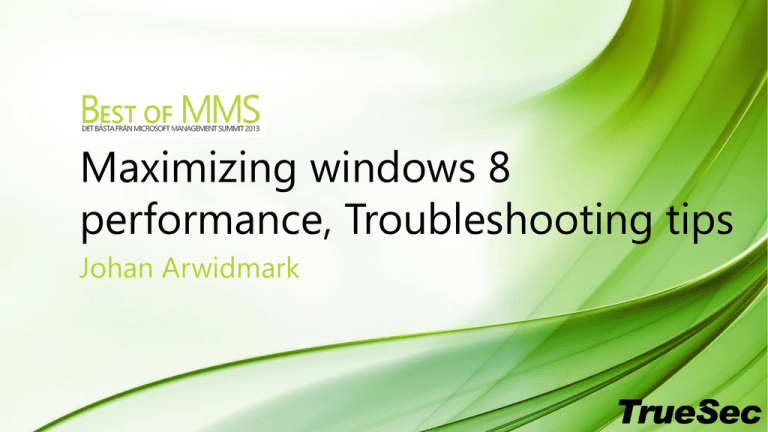 Maximizing windows 8
performance, Troubleshooting tips
Johan Arwidmark
Hyper-V, 32 GB RAM, 1.2 TB SSD
MDT01
WDS
MDT 2012 Update 1
DC01
DC, DNS and DHCP
PC0002
Windows 8
CM01
WDS
MDT 2012 Update 1
ConfigMgr 2012 SP1
SQL Server 2012 CU3
Objectives And Takeaways
 Performance is critical
 Live production system analysis
 Tools of the trade
 Inbox tools
 Sysinternals tools
 Windows Performance Toolkit
 Windows Assessment Console
Defining Performance
 Responsiveness
 Unresponsive system 
Defining Performance, continued
 Resource utilization
 CPU, disk, memory, network, battery
 Resources are limited and shared
 Good Citizenship
 It takes one component to impact system performance
Performance Enhancements
 Started with Windows Vista
 I/O Models – Caching – Network Protocols
 Startup / Shutdown / Resume
Performance Enhancements
 Continued to improve in Windows 7 / 8
 Superfetch and Readyboost
 Device Drivers (Industry / Parallelization)
 CPU / Memory Management
 Logon time (Redirected folders etc.)
 Trigger based Services
Demo
Performance and operations enhancements
Slow systems? User will let you
know…
Performance Tools
 Windows Inbox Tools
 Task Manager
 Resource Monitor
 Perfmon
 Reliability History
Demo
Windows Inbox Tools
Performance Tools, continued
 Sysinternals tools
 Process Explorer
 Process Monitor
Demo
Sysinternals Tools
Windows Assessment Toolkit
 Helps you to assess overall experience
 Provide data for troubleshooting
 Compare systems
Demo
Windows Assessment Toolkit
Windows Performance Toolkit
 Built and used by the Windows organization
 Contains
 Performance Analyzer (WPA)
 Performance Recorder (WPR)
Command Line Tools
 xperf
 Trace capture, processing, and command-line analysis
 xperfview
 Visual trace analysis
 Xbootmgr (and xbootmgrSleep)
 On/Off transition trace capture
Demo
Using the Windows Performance Toolkit
Reading ....
UTVÄRDERING
KVÄLLSMINGEL
 Fyll i utvärderingen så att vi kan bli ännu
bättre till nästa gång!
 Antigen via länken du fick med din
biljett eller vid någon av datorerna i
TrueSec:s monter
 Best of MMS avslutas med ett gigantiskt
mingel på närliggande Dubliner direkt
efter dagens sista session!
 Tävla samtidigt om en HP Elitepad 900
(Vinnaren presenteras i Utställarfoajén
direkt efter sista sessionen).
 Microsoft och LabCenter bjuder på god öl
och ett unikt tillfälle för experter,
branschkollegor och eventdeltagare att
mingla tillsammans.
 Vi ses väl där?