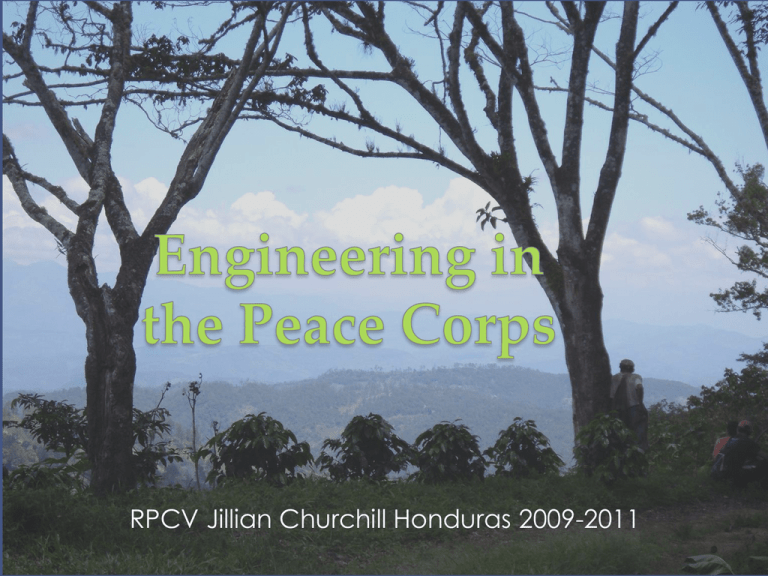 RPCV Jillian Churchill Honduras 2009-2011
About Me
• BS Chemistry
• MS Environmental
Engineering
• No Spanish
• No Design Experience
• Water and Sanitation
Engineer
• Honduras
Peace Corps Background
• Six to 12 months from
application to arrival in
country
• 11 weeks of training
o Cultural/ Language
o Technical
• Live and work in one
site for 2 years
Where I Lived
• El Paraiso
• Town of ~25,000
• On the border
with Nicaragua
• 72 villages that
were served
Overview of Projects
• Primary Projects
o
o
o
o
o
o
o
o
Potable water systems
Rainwater collection
Improved Stoves
Trainings
Troubleshooting Systems
Latrines
Environmental Conservation
Sanitation Improvement
• Secondary Projects
o
o
o
o
o
o
Coaching
Science Day
Clubs
English Classes
HIV/AIDS awareness
Treatment of Animals
Potable Water Systems
• Surveyed for 6 systems
o Average of 50 household
o Get dropped off for unknown
amount of time
• Designed 5 systems
o Used massive Excel
spreadsheet
• Troubleshooting for
existing systems
o Pressure problems
o Water shortage problems
o Additions to systems
Improved Sanitation
• 100 Hours of Training for
each system
o One person from each
household must attend
• Building Latrines
o Give each step at a time
• Building Improved
Stoves
o Improves Lung and Eye Health
o Uses 20% of firewood
o Becomes Women's project
Water Board Training
• Each community has
it's own Water Board
• In charge of:
o Setting/ Collecting Fees
o Maintaining System
o Community Sanitation
• Made of community
members
• Normally Receive Little
Training
• Book Developed by
PCVs
Important Aspects of
Community Training
• Cultural Differences
• Education Level
Differences
• Continuing Monitoring
• Logistics
Other Training
• Technical Training La JAM
• Basic Surveying
• Design Principle Basics
• Trainees
• Everything they will
need to know
Secondary Projects
TRIPS!!!!!!!
TRIPS !!!!
What's Happening in
Honduras
2012:
Peace Corps pulls out
of Honduras
Agricultural/
Environmental
Damage
Trash
Honduras named
most dangerous
country
2009 Coup
Drug/ Gang
Violence
Questions?