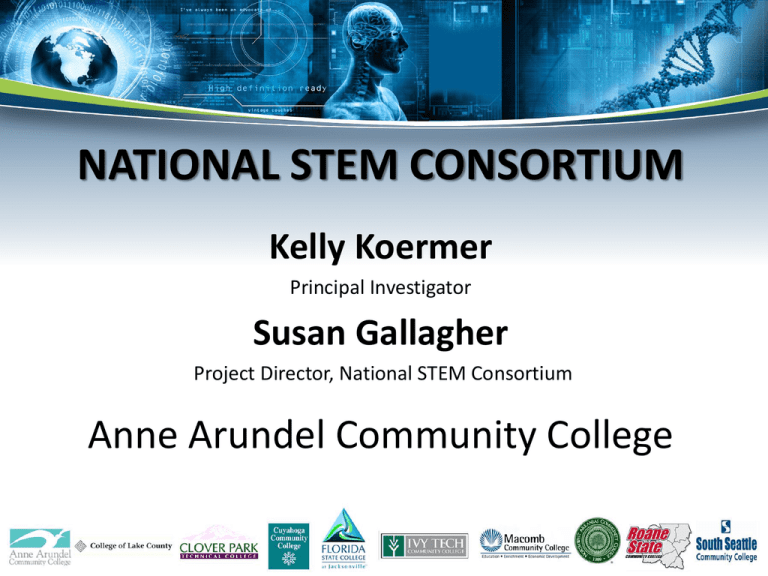 NATIONAL STEM CONSORTIUM
Kelly Koermer
Principal Investigator
Susan Gallagher
Project Director, National STEM Consortium
Anne Arundel Community College
What is the National STEM Consortium?
Anne Arundel Community College in Maryland
College of Lake County in Illinois
Clover Park Technical College in Washington State
Cuyahoga Community College in Ohio
Florida State College at Jacksonville
Ivy Tech Community College in Indiana
Macomb Community College in Michigan
Northwest Arkansas Community College
Roane State Community College in Tennessee
South Seattle Community College in Washington State
What is the Role of the NSC?
Design and deliver
Science, Technology, Engineering, and Mathematics
(STEM) programs:
•
Nationally portable
•
High-quality certificate-level
•
Responsive to labor market needs
•
Embed contextualized remediation – "STEM Bridge"
•
Build a national model for multi-college cooperation
NSC Technical Curricula
Composite Materials
Cyber Technology
Electric Vehicle Development and Repair
Environmental Technology
Mechatronics
Curriculum Development Partners
•
Public workforce agencies
•
•
•
Identify industry trends
Employers
•
Identify industry needs –
learning outcomes
•
Provide input on curricula
Community colleges
•
Prepare curricula
•
Identify "bridge" components
Composite Materials Technology
Colleges
•
South Seattle Community College *
Dr. Ellen Gordon, South Seattle Community College
Ellen.Gordon@seattlecolleges.edu
206-934-6653
Clover Park Technical College
• Cuyahoga Community College
• Roane State Community College
•
Composite Materials Technology
Two Tracks
Composites Fabrication, Assembly and Repair
CNC Machining and Composite Manufacturing
Composite Materials Technology
•
Courses
•
•
•
•
•
•
•
•
•
•
•
•
•
•
•
•
•
Drawings
Applied Math
Applied Physics
Chemistry
Materials & Processes
Hand Tools
Pneumatic Tools
Power tools and Machines
Safety
Introduction to Composites
Composite Fabrication
Composite Assembly
Composite Repair
Capstone
Manufacturing Skills II
Machine Tool Theory
Machine Operations II
•
Jobs > Careers
•
•
•
•
•
•
•
•
•
•
Manufacturing Production Technicians
Fiberglass Laminators & Fabricators
Assemblers and Fabricators
Industrial Production Managers
Team Assemblers
Machinists
Computer-Controlled Machine Tool
Operators, Metal and Plastic
Computer Numerically Controlled
Machine Tool Programmers, Metal and
Plastic
Tool and Die Makers
Molding, Coremaking & Casting Machine
Setters, Operators and Tenders, Metal &
Plastic
Cyber Security Technology
Colleges
•
Anne Arundel Community College*
•
•
•
Kim Law, Anne Arundel Community College
kplaw@aacc.edu
410-777-2387
Cuyahoga Community College
• Florida State College at Jacksonville
• Ivy Tech Community College
• Northwest Arkansas Community College
•
Cyber Security Technology
•
Courses
•
•
•
•
•
•
•
•
•
•
Theory and Troubleshooting
Microcomputers 1 (A+ Hardware)
Theory and Troubleshooting
Microcomputers 2 (A+ Software)
Network Essentials (Network+)
Security Fundamentals (Security+)
Cisco 1: Network Fundamentals (Cisco
CCNA)
Cisco 2: Routing Protocols and Concepts
(Cisco CCNA)
Cisco 3: LAN Switching and Wireless (Cisco
CCNA)
Cisco 4: WAN Implementation and Support
(Cisco CCNA)
Cyber Capstone
Core Skills for Computing Professionals 1-3
•
Jobs > Careers
•
Customer Service and Technical Support:
•
•
•
•
•
•
Information Technology Specialist
Computer Technician
Help Desk Analyst
Technical Support Specialist
Network Support Specialist
Network Technician
Cyber Security Technology
Capstone Instructor Resources
Cyber Security Technology
LESSON PLAN
PC Hardware: The
Basics (Lesson 1)
Course Name: A+ Hardware
Topics: The computer, hardware vs. software vs. firmware, interfaces and
cables
Learning Outcomes: Following this lesson, the student will be able to:
1. Describe a computer and basic components.
2. Differentiate between hardware, software, and firmware.
3. Compare and contrast various connection interfaces, cables and explain
their purposes.
4. Connect common peripherals to standard ports.
Recommended Textbooks:
I.
A+ 220-801 220-802 Authorized Cert Guide, Third Edition,
ISBN 978-0-7897-4980-2, 2013 Pearson Education
Additional Materials and Resources:


TestOut PC Pro 220-801 and 220-802, ISBN 978-1-935080-42-8
(http://www.testout.com/home/it-certification-training/labsim-certification-training/pc-pro)
CompTIA 220-801 A+ Study Guide
( http://www.professormesser.com/wiki/CompTIA_220-801_A%2B_Study_Guide)
PC Technician toolkit
Foundational Skills: Describe core skills needed to understand this lesson,
describing use of and/or alignment with STEM Bridge curriculum.
OUTCOME 1
Learning Outcome: Describe a computer and basic components.
Provide links to documents such as lecture notes, slide decks, handouts,
discussion questions, answer keys, etc.
Delivery Time: 15 minutes
Teaching Tips:
Electric Vehicle Technology
Colleges
•
Macomb Community College *
Joanne Burns, Macomb Community College
burnsjt@macomb.edu
586-445-7171
•
Ivy Tech Community College
Electric Vehicle Technology
Two Tracks
Electric Vehicle Development
Electric Vehicle Repair
Electric Vehicle Technology
•
Courses
•
•
•
•
•
•
•
•
•
•
•
Introduction to Electric Vehicle
Propulsion Systems
Electronic Technology I and II
Motors and Controls for Electric
Vehicles and Industrial Applications
Electric Vehicle Data Acquisition,
Sensors and Control Systems
Advanced Energy Storage
RCL Analysis
Principles of Alternative/Renewable
Energies
Introduction to Automotive Engine
Fundamentals
Engine Performance I
Electrical and Hybrid Vehicle
Technologies
Advanced Hybrid Vehicle and Electric
Technologies
•
Jobs > Careers
•
•
•
•
•
•
Development Technician
Electrical Test Technician
Mechanical Testing Technician
Manufacturing Technician
Electric and Hybrid Vehicle Service
Technician
Battery Service Technician
Environmental Technology
Colleges
•
Florida State College at Jacksonville*
Dr. Mike Reynolds
M.d.Reynolds@fscj.edu
904.381.3665
College of Lake County
• Ivy Tech Community College
• NorthWest Arkansas Community College
•
Environmental Technology
Two Tracks
Hazardous Materials
Water Quality
Environmental Technology
•
Courses
•
•
•
•
•
•
•
•
•
•
•
•
•
•
•
•
Fundamentals for Environmental Professionals
Introduction to Environmental Science
Environmental Sampling Procedures
Environmental Compliance
Introduction to OSHA
Hazardous Materials
Industrial Hygiene
Regulatory
Hazardous Materials Risk Analysis
Hazardous Materials Technician
Hazardous Materials Lab
Industrial Hygiene Lab
OSHA Safety
Introduction to Water Resources
Chemistry and Biology of Natural Waters
Field Work
•
Jobs > Careers
•
•
•
•
•
•
•
•
•
•
Emergency Planning Technician
Emergency Response Technician
Hazardous Materials Technician
Health and Safety Technician
Environmental Compliance Officer
Safety Specialist
Drinking Water/Field Service Technician
Water and Wastewater Treatment Technician
Soil and Water Conservationist
Water Resource Specialist
Mechatronics
Colleges
•
College of Lake County*
Gary Morgan, College of Lake County
Gmorgan@clcillinois.edu
847-445-9260
Anne Arundel Community College
• Cuyahoga Community College
• Florida State College at Jacksonville
• Ivy Tech Community College
• Roane State Community Colleges
•
Mechatronics
•
Courses
•
•
•
•
•
•
•
Electrical Systems
Mechanical Systems
Hydraulics & Pneumatics
Programmable Logic Controllers
(PLCs)
Robotics
Mechatronics Capstone
Regional Electives
•
Jobs > Careers
•
•
•
•
•
•
•
Electrical & Electronics Repairers,
Commercial & Industrial
Equipment
Maintenance and Repair Workers
Maintenance Workers, Machinery
Electro-mechanical Technicians
Robotics Technicians
Electrical and Electronic
Equipment Assemblers
Automation Technicians
NSC Technical Curricula
•
•
•
•
•
30+ Credits per pathway
Traditional classroom delivery
All course materials available as an Open Educational
Resource on Platform+ > OPEN EdX*
Additional interactive "sticking points" –
short interactive lessons on more difficult content
Comprehensive Program Guides providing
information on all aspects of program adoption
*Conversion to OER in progress: to be completed by 9/30/14
Second Deliverable: STEM Bridge
National STEM Consortium Technical Proposal:
"Each of the STEM pathways will include a STEM
Bridge. The STEM Bridge will be programmatically
consistent across the five fields and transferable to
other colleges, and will integrate basic skills,
workforce skills, computer skills, and job readiness
training, contextualized within the pathway."
What is the STEM Bridge?
STEM Bridge is a two-part strategy
to provide support to learners in the STEM certificate programs.
Part 1: "STEM Readiness" Course*
Embedded contextualized online course built in OLI's Platform+ system that
quickly refreshes key skills for learners entering the credit certificates directly
Part 2: "STEM Foundations" Course*
Modularized set of curriculum "bundles" that can be adapted and inserted by
colleges wherever needed to provide support for lower level learners who need to
build foundational skills in Math and Workplace Communication before entering
the credit certificates
*STEM Readiness and Workplace Communication modules of STEM
Foundations Course complete . Available at http://oli.cmu.edu
Co-Development Partners
National STEM Consortium – STEM Bridge Team
• Carnegie Mellon's Open Learning Initiative (OLI)
• CAST – addresses learner variability through
Universal Design for Learning and accessibility.
• Industry partners
•
Offered assistance in developing realistic scenarios and
provided company name and images – ARINC
• Industry experts offered experience in developing realistic
scenarios but company names are fictitious.
•
STEM Readiness Course
Learning Outcomes Based Curriculum
•
Surveyed all five technical teams to determine what key skills
were needed in each of the five pathways
•
Developed a master set of learning outcomes that were
common to most of the technical pathways:
ESSENTIAL SKILLS
Math
Critical Thinking and Workplace Communication
Professional Skills (Customer Service, Teamwork etc.)
STEM Readiness Course
Industry Partners Helped Develop Scenario-Based Learning
• Tell a story of a workplace that can be visualized
• Richly model a context for learning
• Help learners problem-solve issues
• Encourage reflection on work practices
Realistic Scenarios
Realistic Activities
Explaining a Concept: Photo and Diagram
•
•
Targets multiple
learning styles
Text description of
diagrams available
Explaining a Concept: Embedded Videos
•
•
OLI or external
hosting
Captioned for
accessibility
Explaining a Concept: Visual Representations
Student Practice: Learn By Doing Activities
•
•
•
Hints available to
help struggling
students
Immediate feedback
for answers
Multiple problems
per learning objective
to promote concept
mastery
Assessment: End of Module Quizzes
•
•
•
•
Summary provided for
all modules
Extra Practice
Problems available
Assessment questions
tied to objectives
Assessments feed
grade book and
Instructor's
Dashboard
STEM Readiness: Flexible Delivery
STEM Readiness Component is FLEXIBLE and
can be delivered in a variety of ways:
Hybrid format with face to face instruction to support
• Online only in class or in attached lab
• Delivered up front in first term or spread across multiple terms
as needed by each team
• Inserted into key points in the technical curriculum
• Delivered as credit or (0 credit) credit equivalent modules
•
STEM Readiness: Adaptable for Other Programs
•
Modularized units can be inserted as needed to support
credit, non-credit or technical curriculum.
•
•
Embed modules into the credit courses where they are
needed: Teamwork module might help students learn how
to collaborate more effectively in labs.
Adapt and contextualize for other career pathways
using the same learning outcomes:
•
•
Analyze information from multiple sources and determine appropriate
actions for a given situation.
Listen to a conversation and compose an effective summary of the
information.
•
•
•
ARINC Air Operations Center
Hospital Emergency Room
Police Emergency Dispatch
STEM Readiness: Learner Analytics
•
Students - instant feedback from the Learn By Doing and
Did I Get This? activities and end of module quizzes
•
Instructors - view student mastery of learning outcomes
in the instructor dashboard and tailor face to face
instruction to help students who are having challenges
with specific parts of the course
•
Colleges/Administrators – track usage
STEM Readiness: Learner Analytics - Usage
•
January 2014: Over 3,700 users across the nation
•
Over 2,600 on OLI site
•
All 10 NSC Community colleges
•
At least one High school
•
At least one Middle School
•
Industry - professional development
STEM Readiness: Partner Experience
AACC:
•
•
CLC:
•
•
•
Difference in terms of the students' readiness for the technical courses
Sequencing and contextualization makes a big difference
CPTC:
•
•
•
•
•
WIA Youth Program GED Prep: STEM Readiness course used as
foundation, augmented with science and history lessons. 14 of 14
students passed the GED – Historic success!
STEM Readiness = employment readiness course
Will be offered campus-wide
Technical colleges/remedial students
Connection between the STEM Readiness course and better overall
grades in the college experience?
Macomb CC:
•
Incorporating STEM Readiness course into Round 3 TAACCCT Grant
STEM Foundations
Twenty-two short modules focusing on the development
of key skills that are lacking in lower level learners will be
built in the Platform+ system.
Examples:
Identify main idea and supporting ideas and summarize.
• Build a paragraph and write a short essay.
• Prepare and deliver an effective presentation.
• Apply Order of Operations in math.
• Explain concept of a variable.
•
Industry Relevance
Industry Subject Matter Experts
•
Contribute to technical and readiness curricula
•
Review completed courses and materials
Industry Relevance
Industry-Recognized Credentials
•
•
•
•
•
Composites: considering
• Certified Production Technician (Manufacturing Skills
Standards Council)
• Certified Composites Technician (American Composites
Manufacturers Assn.)
Cyber: A+, Network+, and Security+ from CompTIA and
CCNA from Cisco
Electric Vehicle: SAE International's Vehicle Electrification
Fundamentals and Safety Certificate of Competency
Environmental: OSHA – including HAZWOPER
Mechatronics: SIEMENS Certification, SolidWorks
Industry Relevance
Advisory Boards
National NSC Advisory Board
• Local Industry Advisory Boards
• National Industry Groups
• Local Industry Groups
•
Challenges
Curriculum templates
• National team
• Online conversion
•
Volume
• Copyright issues
• Accessibility issues
•
•
Faculty resistance
•
Professional development
Beyond the Grant
•
National repository of materials available at no cost to
all community colleges
•
Creative Commons Attribution License
•
Open Learning Initiative
Beyond the Grant
•
Wadhwani Foundation – Race to a Job
•
OLI/Stanford – Mindset research
•
Translation to other languages
Impact
New nationally-portable programs
Contextualized remediation
Open education resources
Changing the Culture of Higher Education
To Learn More
NSC Website: www.NationalSTEM.org
• Facebook:
•
•
•
•
https://www.facebook.com/AACCMechatronics
https://www.facebook.com/MCCEVCert
PBS Feature http://www.pbs.org/wnet/need-to-know/economy/certifiablyemployable/16901/
•
Pathway videos::
http://www.youtube.com/watch?v=tBqkQ_pRm54&feature=youtu.be
• http://www.nwacc.edu/web/stem/cyber-technician-certificate
•
•
Open Learning Initiative (OLI) website: http://oli.cmu.edu
Sign Up on main page
• STEM Readiness use Course Key: ALL-STEM
• STEM Foundations use Course Key: STEMBASIC
•
National STEM Consortium
Susan Gallagher
Project Director, National STEM Consortium
410-777-2124
sgallagher5@aacc.edu
Kelly Koermer
Anne Arundel Community College
kkoermer@aacc.edu
Disclaimer
This workforce solution was funded by a grant awarded by the U.S.
Department of Labor's Employment and Training Administration. The solution
was created by the grantee and does not necessarily reflect the official
position of the U.S. Department of Labor. The Department of Labor makes no
guarantees, warranties, or assurances of any kind, express or implied, with
respect to such information, including any information on linked sites and
including, but not limited to, accuracy of the information or its completeness,
timeliness, usefulness, adequacy, continued availability, or ownership.