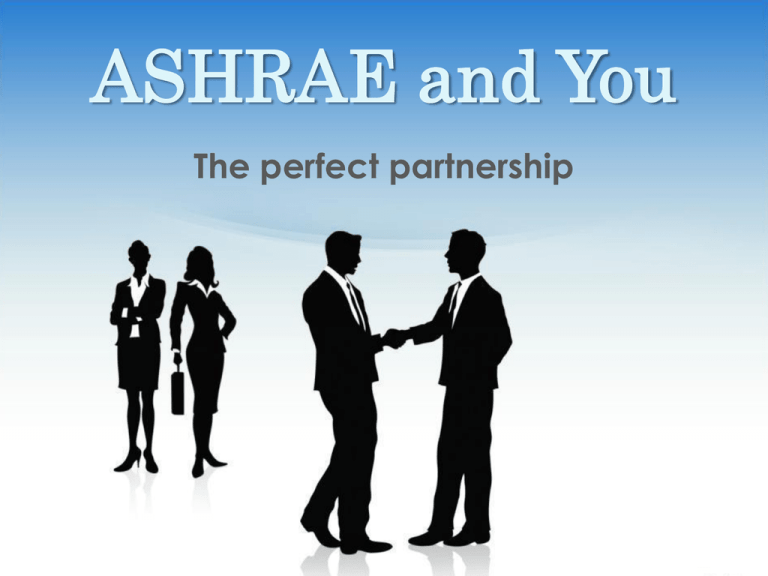 ASHRAE and You
The perfect partnership
Who is ASHRAE?
• ≈54,000 members in more than 130
countries
• 176 chapters in 14 regions
• 31 member board
– One director and regional chair from each
region
– Nine directors-at-Large
– Executive Committee
• Seven officers
• Executive Vice President (EVP)(staff)
– Staff of ≈110 led by EVP
ASHRAE and
Your Employees
• Employees improve their technical
skills and personal development
• Networking and customer contact
• Opportunity to strengthen
employees' leadership skills
• Access to resources such as
standards, Handbook, design
guides, etc.
What Other Company
Leaders are Saying…
• "I promote ASHRAE to my staff; I continue
to pay my staff's dues, meals and training
to attend ASHRAE events"
• "I have always believed in ASHRAE's
mission and in giving back to an
organization that gives so much to the
HVAC&R industry"
• "[My mentor] made it clear to me that
'giving back' to the industry through
active participation in ASHRAE was just
something that you did."
An Active ASHRAE Member…
"The leadership at USF
have supported my
involvement in ASHRAE
as it bridges links among
ASHRAE standards (62,
180, 189, 55, 52, etc.),
new ASHRAE supported
technology and research
and what it means for our
facilities, both new and
existing."
Jennifer Isenbeck
Mechanical Engineer,
University of South Florida
Professional Growth
ASHRAE provides unique opportunities to
develop communication, management
and leadership skills
Involvement on
the Chapter Level
• Opportunities to hold leadership positions
within the chapter
• Monthly meetings offer:
– Chances to network
– Guest speakers on technical topics
– A link to the Society on a wider, international
level
• Chapters Regional Conferences, held
once a year, bring together professionals
from all over the region
Involvement with
Technical Committees
Committee work allows members
to determine future of the industry
– Originating, coordinating and
supervising research projects
– Opportunities to present at ASHRAE
conferences
– Members evaluate needs of
standards
– Advising Society on new technology
Involvement with
ASHRAE Research
• ASHRAE has under contract
at university, government
and private laboratories
some 300 active research
projects
• Process
– Research Administration Committee oversees
– Volunteer experts prepare work statements,
select projects, select contractors and monitor
– All projects encourage graduate student
participation
• ASHRAE funded Research achieves significant
value beyond the specific project
Continuing Education
• Online, instructor-led
short courses and
seminars
• Self-directed texts and
eLearning
• HVAC Design Workshop
• Free yearly webcast
• Chance to earn state
continuing education
credits; Learning Units;
Continuing Education
Hours; Professional
Development Hours
Certification
• Six certifications demonstrate knowledge
and experience in building industry
–
–
–
–
–
–
Building Energy Assessment
Building Energy Modeling
Commissioning Process Management
Healthcare Facility Design
High-Performance Building Design
Operations and Performance Management
• Developed in collaboration with other
cognizant organizations
Technical Resources
ASHRAE is the industry's complete
resource for information about new
built environment technology
Key Resources
• Standards
• Handbook
• Advanced
Energy Design
Guides, other
special
publications
• Government
advocacy
• Building Energy
Quotient
ASHRAE Standards
• Developed under ANSI process
• Mainly U.S. use, but supporting
adoption/adaptation wherever desired
• Key standards
– 90.1, Energy Standard for Buildings, Except Low-Rise
Residential Buildings (90.2 for residential)
– 189.1, Standard for the Design of High-Performance
Green Buildings Except Low-Rise Residential Buildings
– 55, Thermal Environmental Conditions for Human
Occupancy
– 62.1, Ventilation for Acceptable Indoor Air Quality
(62.2 for residential)
– 170, Ventilation of Health Care Facilities
Standard 90.1
• Sets design
requirements for the
efficient use of
energy in buildings
• 2007 version
referenced in the
federal Energy
Conservation and
Production Act
• 39 states have
adopted some
version of 90.1 as their
energy code
Standard 90.1 and
Model Code Adoption
• National Fire Protection Association by
reference
• International Code Council's International
Energy Conservation Code
– 2009: Chapter 5: Commercial Energy Code
• Comply with 90.1-2007 or
• Comply with the rest of Chapter 5
– 2012: Section 401.2 Application
• Comply with 90.1-2010 or
• Three paths (high equipment efficiency, high
efficiency lighting or renewable energy) in
Chapter 4 of IECC
Standard 90.1
and USGBC, LEED
• 2009 (v3)
– EAp2: Minimum
energy performance
• Mandatory provisions
and 10% improvement
over 90.1-2007
– EAc1: Optimize energy
performance
• 1 point for each 2%
savings above 10%
• Up to 19 points (of 100)
• 2012 (Draft)
– EAp2: Minimum
energy performance
• Mandatory provisions
and 10% improvement
over 90.1-2010
• Source energy 10% less
– EAc1: Optimize energy
performance
• Average of site and
source
• 1 point for each 2%
savings above 10%
Standard 189.1
• The "total building
sustainability package"
• Adopted by the U.S.
Army as part of new
sustainability policy
• A compliance option of
the International Code
Council's International
Green Construction
Code
• Provide an optional
project compliance
path for International
Green Construction
Code high performance
buildings
189.1 Adopted by DoD
• Unified Facilities Criteria (UFC) High Performance
and Sustainable Building Requirements
• "Standard 189.1 is an industry standard created to
consolidate and address sustainability and energy
requirements. This UFC incorporates the sections of
189.1 mentioned herein when appropriate and
determined to be life cycle cost effective. Where
the provisions of 189.1 meet the intent of the
Guiding Principles, the provisions of 189.1 are
referenced as a means of compliance or provided
as an alternative requirement. When other
standards are referenced in 189.1, use the
publication date of the standard referenced in
Appendix A of this document."
Standard 55
• Design
parameters to
determine
comfort
• Indoor conditions
for 80% or more
of a building's
occupants
– Settles the "too
hot/too cold"
debate at offices
across the nation
Standard 62.1
• Specifies minimum
ventilation rates and
other measures intended
to provide indoor air
quality that is acceptable
to human occupants and
minimizes adverse health
effects
• Applies to all indoor or
enclosed spaces that
people may occupy,
except where other
applicable standards and
requirements dictate
larger amounts of
ventilation
Standard 62.2
• Defines the roles of and
minimum requirements
for mechanical and
natural ventilation
systems and the building
envelope intended to
provide acceptable
indoor air quality in lowrise residential buildings
• Limits sources of
pollutants and requiring
enough mechanical
ventilation to provide
dilution for unavoidable
contaminants
Standard 170
• Provides control for
comfort, infection
and odor in health
care facilities,
including:
– Hospitals
– Nursing homes
– Outpatient facilities
• Protects patients
and healthcare
workers from
chemical, physical
and biological
airborne
contaminants
ASHRAE Handbook
• Published in four
volumes
• Builds on technology,
making it an
– Systems and Equipment evolutionary
– 2012
document
– Applications – 2011
• Puts the entire
– Refrigeration – 2010
industry on the same
– Fundamentals – 2009
page
• Knowledge base of
thousands of
individuals
Advanced Energy Design Guides
• Developed by volunteers
in collaboration with
partnering organizations
ASHRAE, AIA, IES, USGBC
• Co-funded by DOE
• Prescriptive, easy to use
• Based on building type,
level of stringency
• Series provides energy
efficiency 50% beyond
90.1-2004
• Free downloads – widely
distributed
Government Affairs
Advocacy – Washington Office
– Currently four staff
– Track and communicate ASHRAE's positions on
advocacy priorities
– Provide support for development of technically
sound legislation
– Established and Support High-Performance
Buildings Caucus of the U.S. Congress
Building Energy
Quotient (bEQ)
•
•
•
•
Provides guidance on
reducing energy use
Supports energy
disclosure programs
As Designed (pending):
Based on simulation,
requires Building Energy
Modeling Professional
certification
In Operation (available
since March 2012)
– Based on actual energy
use, requires BEAP
– Level "1+" energy audit
•
Next step beyond ratings
like ENERGY STAR
ASHRAE Thanks You for Contributing
to the Industry and the Society
"When I think of ASHRAE, I think of the best
and brightest in our industry working
together to advance the arts and sciences
of HVAC&R. The greatest value of
membership for me is the synergistic energy
of ASHRAE members working together,
sharing ideas and advancing the standards
of practice in the built environment."
― A vice president and chief engineer
Questions?