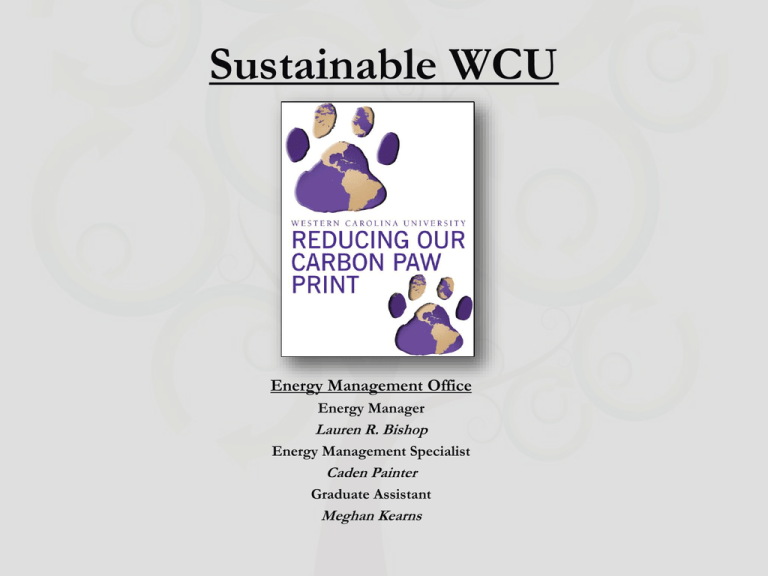 Sustainable WCU
Energy Management Office
Energy Manager
Lauren R. Bishop
Energy Management Specialist
Caden Painter
Graduate Assistant
Meghan Kearns
"Paw Print" Overview
Introduction
• Job Responsibilities
• Energy Issues and Opportunities
Educational Outreach & Programs
• Carbon Paw Print Programs
Technical Components/Competencies
• Building Automation Systems (BAS)
• High Performance Building & Audits
Strategic Planning
• Strategic Energy Plan (SEP)
• Petroleum Displacement Plan (PDP)
Green Capital Projects
• Capital Projects
The Future of EM
Job Responsibilities & Description
We Wear MANY Exciting HATS!
Manage energy needs
• Supply & price fluctuations – past, present & future
• Overall system performance
Technical Competencies/Components
•
•
•
•
•
Engineering/Construction background
High Performance Buildings – design, planning, project management
Sustainability & Renewable Technology
EMS/BAS Technology/Software
Researching New Technology
Communication & Involvement
•
•
•
•
Managerial - motivation, leadership, support
Develop Policy
Create & Implement Sustainability Programs
Monitor & Reporting
Job Responsibilities & Description
Strategist +Project Manager + Change Manager =
Energy Management @ WCU
Holistic Approach
Human Behavior
Programs
Technical
Planning &
Operations
Projects
Systematic Concept Method
Bodies act as systems of a whole
Buildings act as systems a whole
Holistic approach
Principles of Sustainability
Effective & Successful EM must understand these systems and how they interact.
"We shape our buildings, then our buildings shape us."
-- Winston Churchill
Typical Energy Consumption
How much did we spend?
University Building end Usage (U.S. Average)
17%
37%
HVAC
Water Heating
Lighting
22%
Other
24%
Projected Energy Use in North Carolina
(Trillion Btu)
3,500
3,000
2,500
Transportation
Industrial
2,732 trillion in 2006
28% total
increase from
2005 to 2020
1.7 % per year
Commercial
Residential
2,000
1,500
1,000
500
0
1990
1995
2000
2005
2010
2015
2020
Energy Issues, Challenges and Opportunities
Fuel sources for Energy needs in North Carolina
Petroleum
Coal
Nuclear
Nat. Gas
Renew.
39%
31%
16%
9%
5%
Coal
706 TBtu
Nuclear
408 TBtu
10
TBtu
10
TBtu
6 TBtu
408
TBtu
696
TBtu
969 TBtu
226
TBtu
Electricity
409 TBtu
10
TBtu
Wood, Waste,
Biomass
96 TBtu
Solar
Thermal
1 TBtu
ELECTRIC
POWER
GENERATION
23
TBtu
Hydro
33 TBtu
Electrical
Losses
734 TBtu
SO2
47 tons
NOx
312 tons
CO2
69 million
tons
CO2
NOx
57 million
319 tons
tons
SO2 636
tons
$20 billion per year leaves our
economy for energy imports
Cost of Energy Petroleum Natural
Imports
975 TBtu
Gas
$20 Billion
236 TBtu
Programs:
Reducing Our Carbon "Paw Print"
Began as WHEE Recycle & WHEE Save
• Successful sustainability programs. "The Low Hanging Fruit"
• Energy reduction & awareness.
• Waste reduction & awareness.
Sustainability Council
• Faculty, staff & students developing sustainability efforts on campus
http://www.wcu.edu/27314.asp
Programs
• Campus Activities
•
•
•
•
•
•
Eco CATS + more
Focus The Nation 2008 & 2009
Earth Day 2007-2010
Sustainability Day 2010
Recycling drives
Faculty/Staff events
• Eco PEAKS (LEAD 143)
• Western PEAKS FYE - Living Learning Community
• Leadership & Sustainability
"Be the change you wish to see in the world"
--Gandhi
Technical Components
Building Automation System:
•
Monitor & control mechanical systems:
– Heating, Ventilation, Air Conditioning, Hot Water, Electric, Domestic Water,
Chilled Water & Steam.
• Yamas/Tridium
• Automated Logic
Technical Competencies
Energy Audits – survey of energy systems to enhance building performance
• Including Efficient:
–
–
–
–
–
Lighting
Heating, Ventilation & Air Conditioning
Office equipment
Building envelope
Water
Strategic Energy Plan
•
•
•
Mandated by the State (Exec Order 26)
Reduce annual Total Energy Consumption 20% by 2010 & 30% by 2015
Baseline fiscal year 2002-2003
Tracking Measures - Key Performance Indicators (KPI):
•
Water, electricity, natural gas, fuel oil, propane
Components of Performance Plan
•
•
•
Energy Supply Management
Energy Demand Management
Organization Integration
Strategic Energy Plan (SEP)
WCU has reduced usage by 34%
• Accelerated better building practices
• Active energy management practices
• Successful awareness program
For more information please go to www.energy.wcu.edu
Petroleum Displacement Plan
•
•
•
Created in 2005 & mandated by the state.
State agencies shall reduce petroleum usage by 20% by January 1, 2011.
Must utilize conservation, fuel-efficient vehicles, hybrids & alternative fuels.
2009-10 Summary Completed Goals:
•
•
•
•
Purchased 6 Electric Vehicles for Facilities Management
Implemented E-10 - Gasohol
Implemented B20 - Biodiesel
Little expansion of fleet
WCU has reduced usage by 19%.
Green Capital Projects
New Health & Human Performance Building (West Campus)
• 138,000 sqft ($46M)
• 1st Silver LEED Certified
• Recognizing performance in:
-Site development, water savings, energy efficiency, materials selection & IAQ
Performance Contracting
• Agreement with Energy Service Company (ESCO).
• ESCO identifies energy conservation measures.
• ESCO guarantees savings meet or exceed all project costs.
•$5.36M – Coulter, Ramsey Center, McKee Hunter Library, Hoey, Stillwell
HVAC Renovation & Retro-Commissioning
• HF Robinson Administration Building ("White House")
•$717K ARRA Grant
What does this mean?
• Good news or Bad news?
• Climate Change is Real!
– Not about saving the Earth. Its about saving the People.
•
•
•
•
•
Energy is Expensive & Unpredictable!!!!
National Security
Challenge = Opportunity
Extraordinary Economical & Ecological benefits
Clean (or Green) Industry is BOOMING! 6 in 10 jobs
Are you ready for the NEW GREEN ECONOMY?
"The
time is always right to do what is right."
--Martin Luther King, Jr.
Our Future Looks Bright
Create WCU Office of Sustainability
•
•
•
•
•
Director
Energy Manager
Energy Management Specialists
Program Coordinator
Recycling Coordinator
UNC Tomorrow, 20/20 and UNC Sustainability Policy
Continue to develop innovative and successful programs to lead WCU towards a sustainable future.
Thank You for your Time!
Questions?