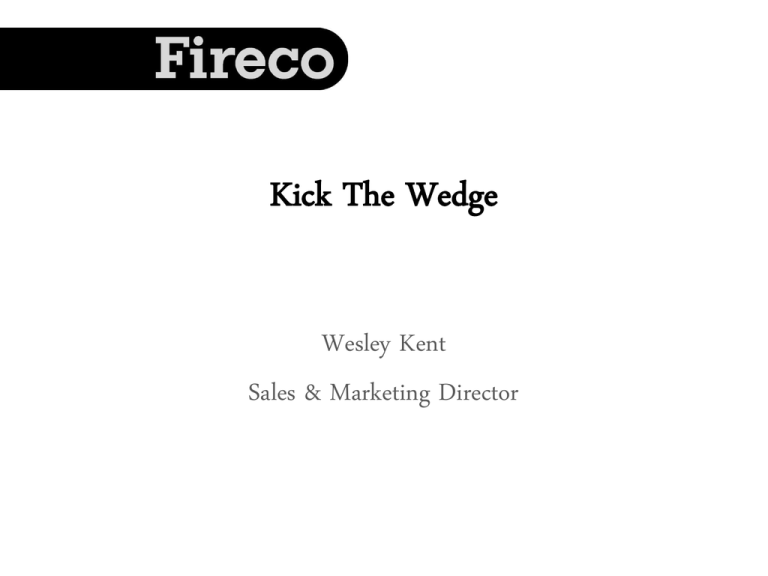 Kick The Wedge
Wesley Kent
Sales & Marketing Director
Agenda
Fireco Ltd
Kick The Wedge
Rosepark Nursing Home
BS 7273-4
Freedor
Dorgard
System X
Fireco Ltd
Established in 1994.
Inventors of Dorgard, Deafgard, System X, DMS & Freedor.
Official Fire Advisors to major associations:
- National Care Association
- VisitEngland
- National Care Forum
- Registered Nursing Homes Association
- Registered Care Homes Association
- English Community Care Association
Wedge Pledge
The 'Kick the Wedge' survey was carried out by independent researchers during 2007 on
behalf of Fireco Ltd.
Over 100 accredited UK Fire Risk Assessors, and individual Fire Safety Officers from the
UK's Fire and Rescue Services answered fire safety specific questions relating to their
observations during fire safety audits.
This survey was designed to evaluate how effective the means of escape were in UK
businesses.
Rosepark Nursing Home
The fire at Rosepark care home in Uddingston, South Lanarkshire, broke out in a cupboard on 31
January 2004 and ripped through the building.
Fatal Accident Inquiry (FAI) determination by Sheriff Principal Brian Lockhart lists a catalogue of precautions
including:
All bedroom doors to have had door closers and smoke seals fitted to them
After years of research and test fires, it is proven how effective fire doors with self closers would have been. It
is also noted that the residents wanted their doors open.
Rosepark Nursing Home
Only two bedroom doors closed
Closed bedroom doors would have starved the fire
Some room doors had self closers but some had been removed or disconnected, or were intact
but the doors had been wedged open.
Recreating the fire
For a closed bedroom on the fire corridor in the recreation, the asphyxiant gas concentrations increased
only slowly; there was no discernable heat hazard and conditions would probably have remained survivable
if any occupant was removed 30 to 50 minutes after the start of the fire.
BS7273-4: Actuation of release mechanisms for doors
BS7273-4 concerns the interface (critical signal path) between fire detection and fire alarm systems with
forms of door hardware, including devices to hold open self-closing fire doors.
The critical signal path is the connection between the CIE and the fire door retainer. If the connection is
compromised, the fire door retainer must fail-to-safe. It is important to note that for acoustically actuated
systems, fire alarm sounder circuits are not deemed to be part of the critical signal path.
A combination of categories can be used throughout a building. There are three categories of actuation:
Category A
Fail-to-safe when 12 specified faults or disablements on the fire system
occurs. Dorgard X when linked to System X Hardwired complies to this
category.
Category B
Fail-to-safe only when critical path wiring faults occur or when there is
power loss to the fire door retainer. Dorgard and Freedor comply with this
category.
Category C
As category B, but interface via another system. Dorgard X, when linked to
System X Acoustic, meet these requirements.
Dorgard X
Dorgard X enables fire doors to be kept open safely and legally. When the fire alarm sounds
Dorgard X receives a signal from System X to release the fire doors, preventing the spread of
fire and smoke.
• Automatic night-time release facility
• Complies with BS EN 1155 and accepted by the Fire and
Rescue Service
• Improves access throughout buildings in line with the
Equality Act 2010
• Available in a variety of colours and finishes
• CE marked
Dorgard
Dorgard enables you to legally and safely keep fire doors open, by
allowing the door to close when the fire alarm sounds, preventing
the spread of fire and smoke. Installed onto the bottom of the fire
door in under 5 minutes, Dorgard is listening for a continuous fire
alarm of 65dBA or higher.
Dorgard
•
•
•
•
•
•
•
Wireless unit with fail-to-safe technology
Improves access throughout buildings
Complies with EN 1155 and accepted by the Fire and Rescue Services
Available in a variety of colours and finishes
Automatic night-time release facility
Adjustable sensitivity
CE marked
•
Freedor
Freedor is a unique wireless solution that allows users to hold fire doors open at any angle and
automatically closes the door when the fire alarm sounds.
Features:
Adjustable closing speed
Wireless technology
Allows a door to free-swing through whole range of movement
Night-time release facility
Fail-to-safe technology, with a minimum battery life of 12-18 months
Designed to comply with BS EN 1154, BS EN 1155, BS 7273-4 category B
Freedor
2011 Fire Excellence Awards
Best passive protection product award
British Engineering Excellence Awards
Mechanical Product of the Year
Young Design Engineer of the Year
Deafgard
Deafgard is a battery operated, wireless unit with a pad attachment that simply goes under the
pillow of the sleeping person. Deafgard is listening for a continuous fire alarm of 75dBA or
higher - when the fire alarm sounds the pillow-pad vibrates, high intensity LED lights flash and
an LCD screen displays 'fire'.
Deaf Message Service (DMS)
Deaf Message Service (DMS) is a fire alarm service for deaf and hard of hearing people. It helps
service providers and employers comply with the Equality Act 2010 and allows deaf and hard of
hearing people freedom to move around buildings without worry of missing an emergency
situation.