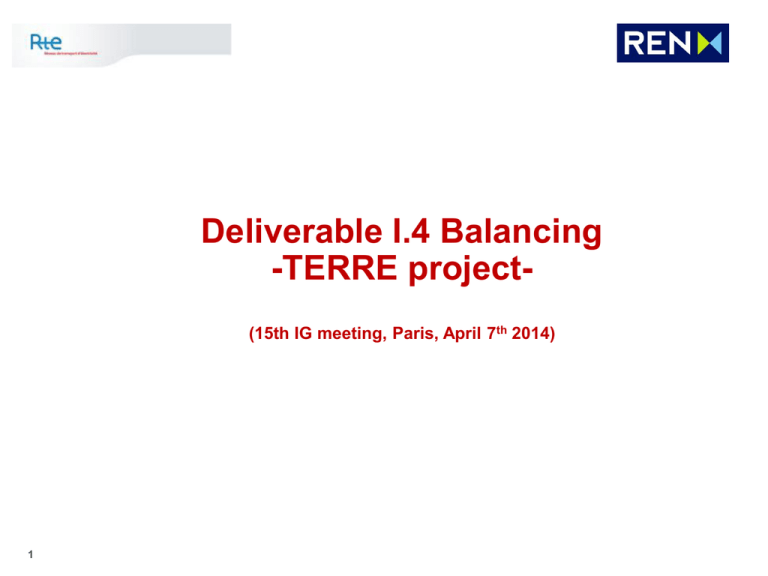 Deliverable I.4 Balancing
-TERRE project(15th IG meeting, Paris, April 7th 2014)
1
Context



2
ACER's recommendations to ENTSO-E

Electricity Balancing Framework Guidelines (FWGL)

Promotion of coordination between TSOs regarding cross-border balancing
mechanism as a necessary interim step towards the harmonization of the
balancing markets in Europe and the implementation of the Electricity
Balancing Network Code (NC)
ENTSO-E call of nomination for balancing pilot projects with the aim to

Gain experience in terms of implementation of inter TSO regional balancing
mechanism

Test the feasibility of the balancing target model identified in the FWGL

Evaluate the associated implementation impact

The experience gained with the pilot projects will be reflected in the future
developments of the NC
TERRE Pilot Project

In this framework, National Grid, REN, RTE and TERNA proposed the TransEuropean Replacement Reserves Exchanges project ("TERRE Project")
Scope of TERRE pilot project




Scope:

Design and test the feasibility of a multi-TSO coordinated exchange of
Replacement Reserve - Cross Border Balancing Energy
Participants

Terna, RTE, National Grid Electricity Transmission Plc, National Grid
Interconnectors Limited, REN

Swissgrid and REE expressed their interest to the project and could join the
project during the design phase
Project phases:

Design phase (started in 2014) – Currently in progress

Implementation phase (will be started between end of 2014 and beginning of
2015 – it depends on the progress of the whole aspects of the project)
TERRE design phase aims to design a solution compliant with the requirements
of:

The ENTSO-E proposal of standard product

The NC (1/centralized and automatic management of XB capacities, 2/in a first step, offers based on
cheapest internal bids, in a second step, all internal bids offered, 3/improved matching process)
3
Working axes






4
Definition of the standard TERRE products (TERNA)

Definition of RR offers and RR needs
Definition of matching process and settlement procedure (RTE)

TSOs' RR needs netting

FCFS or Implicit Auction

Marginal price or pay as bid
Financial issues (NGET)

Definition of financial settlement between TSOs

Study of the potential financial benefit
Timing and scheduling (REN)
ATC management (RTE & NGIC)

Centralized ATC management

Interaction between the ID market and TERRE process
Governance issues (All)
Updated status of the project – main achievements (1/2)


MoU and NDA covering the design phase

Signature process still in progress
Definition of the standard TERRE products

Based on the requirements of the ENTSO-E ancillary services working group
(WG AS) in charge of the definition of Balancing Standard Products

All TSOs expressed their proposals on the values and constraints that each
characteristic of TERRE product should respect

TERNA is merging all the proposals in order to define a common set of
minimum requirements for TERRE products
1- Request time
2- Preparation period
Characteristics
defined by the
WG AS
3- Ramping period
1
4- Min & max bid size
5- Min & max delivery period
6- Deactivation period
5
4
2
3
5
Full
Activation
time
(from LFC-R)
Full Delivery Period
6
Updated status of the project – main achievements (2/2)


6
Definition of matching process and settlement procedure

A qualitative study has been initiated and is now under review by all TSOs:
both FCFS and Implicit Auction methods are compared according to criteria

Data collection has been launched in order to assess the volumes and
characteristics of balancing offers available in each country

The feasibility of a quantitative study is under investigation
Financial issues

Data collection has been launched in order to assess the potential financial
benefit of TERRE

RTE has developed a balancing simulation facility tool. This tool optimizes
(by applying balancing cost minimization) the selection and allocation of
balancing supply quantities to address a balancing demand, taking some
technical constraints into account

RTE proposed to the TERRE project group to use this for processing
financial simulation. This point is under discussion.