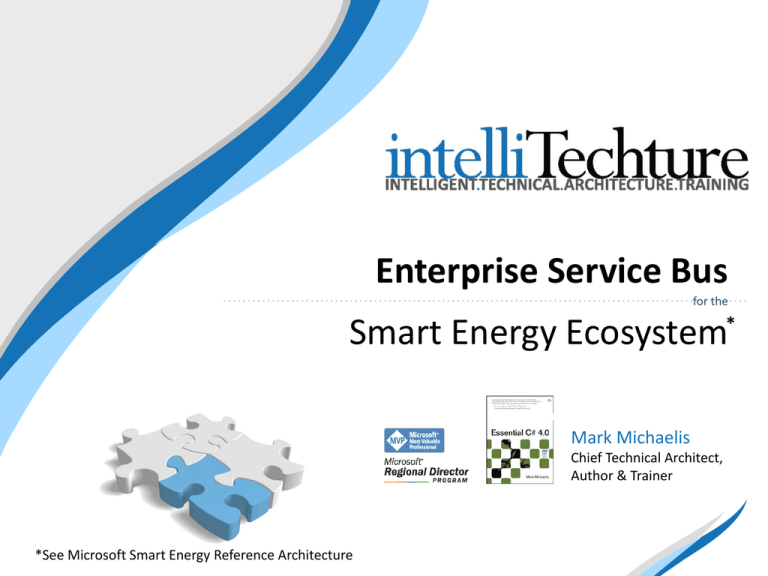 Enterprise Service Bus
for the
Smart Energy Ecosystem*
Mark Michaelis
Chief Technical Architect,
Author & Trainer
*See Microsoft Smart Energy Reference Architecture
Agenda
The Problem
Space
Formulating a
Heat Map
Process
Foundations
THE PROBLEM SPACE
The Variables
Behind and
questionable
Ready to go
The Problem Space…
•
•
•
•
•
•
•
Recession
Politically Green
Progressing from AMR to AMI
Rightsizing the Scope
Smart Grid Funding
Predicting the Future
Accelerating a Sure and Steady Industry
Politically Green
•
•
•
•
Where's the Business Value?
Where's the Regulatory/Legislative Clarity
What's the Rate of return regulation
Pilots sure… what about after that?
From AMR to AMI
•
•
•
•
•
More timely measurement
Automatic detection of outages
Providing a gateway to HAN
Enabling demand response programs
Management of Schedules
Rightsizing the Scope
Home, Distribution, Generation, Monitoring, etc.
In the Home
Distribution
Monitoring
Multidimensional Functionality
•
•
•
•
•
•
•
•
Dashboard
History
Data Warehousing
GIS
Portals
CIS
Sensors
Cloud Computing
ARCHITECTING THE
SOLUTION
Who are the Players?
•
•
•
•
•
•
•
Executives
IS
IT/NetOps
The POC Implementers
Integration Experts
Analysts
Operations
Identify the Systems
Define a Road Map
Reference Architecture
Technologies
•
•
•
•
•
•
•
BizTalk
BizTalk ESB Toolkit 2.0
Dublin
WF/WCF
StreamInsight
SQL Server
Mobile Devices
BizTalk ESB
BizTalk ESB Toolkit 2.0
StreamInsight
Proof of Concept
The Architecture Process
•
•
•
•
•
•
•
•
Identify the stakeholders
Determine the scope
Enumerate the systems
Determine what the questions are
Define a road map
Create the Architecture
Select the Technology
Implement a vertical proof of concept
Is that all it is?