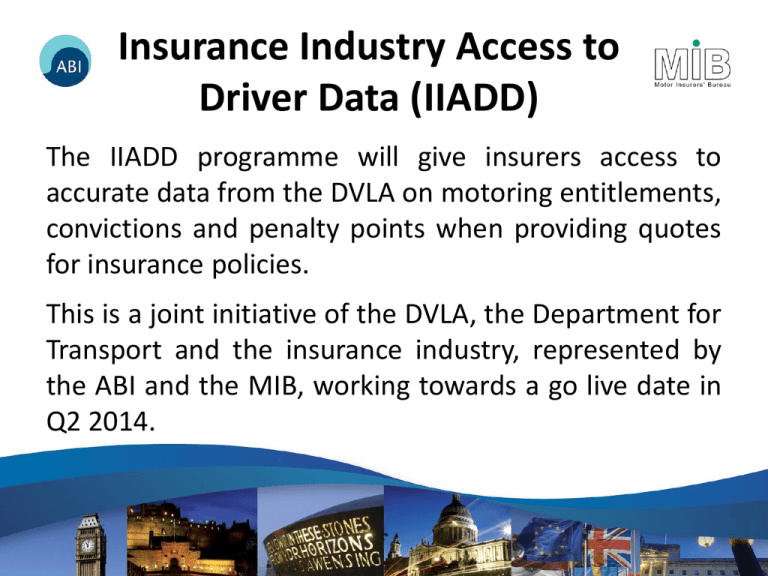 Insurance Industry Access to
Driver Data (IIADD)
The IIADD programme will give insurers access to
accurate data from the DVLA on motoring entitlements,
convictions and penalty points when providing quotes
for insurance policies.
This is a joint initiative of the DVLA, the Department for
Transport and the insurance industry, represented by
the ABI and the MIB, working towards a go live date in
Q2 2014.
How it works
The initiative will work by drivers providing their driving
licence number (DLN) when they apply for insurance.
An automatic check will then be made to the DVLA
database, bringing up accurate information on licences.
Access will by via an MIB industry data hub, which will
provide the potential to link to any third party data
source.
Rationale and Benefits
•
•
•
•
•
•
•
Reduction in application fraud
More accurate risk pricing and renewals
Simpler customer journey – fewer questions required
Fewer third party claims from unlicensed drivers
Fewer declined and adjusted claims
Reduction in FOS challenges
MIB Hub also allows more data at point-of-quote e.g.
No Claims Discount
What information will be
available from the lookup?
•
•
•
•
•
•
•
Conviction codes
points
conviction dates
disqualifications
type of licence held
length of time licence held
entitlement to drive (that is, manual / automatic,
motorbike, HGV, etc.)
Timelines
• July 2013 – Final Agreement of Requirements and
Publication to Industry
• July – November 2013 – MIB and DVLA Systems Built
• December – Feb 2014 – Testing
• March – June 2014 – End to End Testing with Industry
• Q2 2014 – Go Live
Involvement and
information
• For the technical specification, please contact
iiadd@mib.org.uk.
• We are going to be undertaking end to end testing
from January 2014, so please contact the MIB if you
would like to be involved at the earliest opportunity.
• Please contact morgan.slebos@abi.org.uk if you have
any questions about the programme.