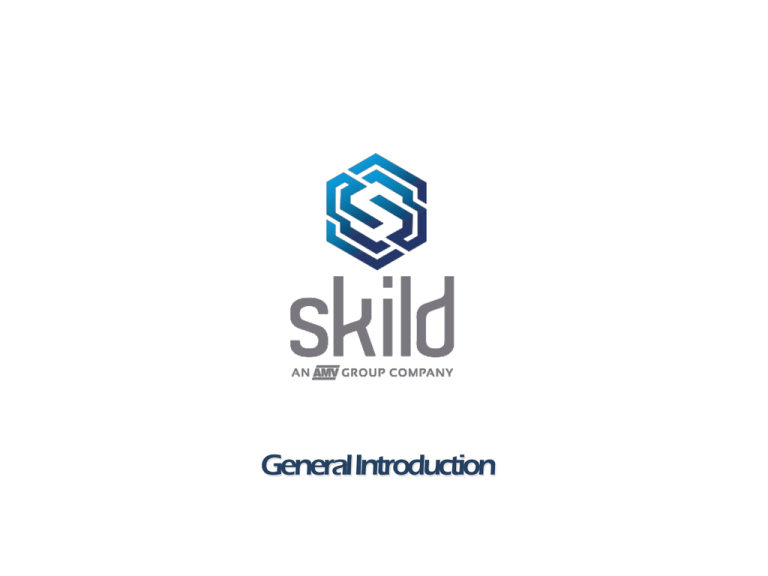 General Introduction
ABOUT US
Company founded September 2014 with the following owners:
AMV AS
JL Offshore AS
RVD AS
Share capital – 2.000.000 NOK
Our strategy is to join common strengths in order to be the preferred and flexible
provider to the oil & gas industry.
We see a strategic fit with our flexibility, competence and business model related to
the ongoing processes within the Oil & Gas industry
ABOUT US
Kjell Rune Heia
Managing Director
Johnny Løland
Tom John Versland
Peter Heinrichs
Marianne Hartveit
Marketing Manager
CFO
Technical Advisor
QA
Kjell Rune Heia
Engineering
Manager
Terje Heia
Cristian Sousa
Technical Supervisor
Board of directors:
Peder Andersen, Chairman
Per Gunnar Andersen
Johnny Løland
Roy Løe
Kjell Rune Heia
Terje Heia
Raquel Rodrigues
Jan Præstholm
HMI /Software
Arnfinn Rysstad
Osmund Faremo
Engineers
Mechatronics
AMV AS
-Privately owned company since 1860
-Main products within tunnel/mining industry and offshore industry
- Yearly turnover 330.000.000 NOK Norway / South America
- No. of employees – 150 in Norway / 40 in South America
-40% of production is export for tunneling / mining
- 13000m² of modern production facilities
- Our capabilities
-Engineering department
-Machining shop
-Welding and fabrication shop
-Assembly shop
-Electrical shop
-Painting and sandblasting facilities
-Warehouse and shipping
AMV A/S Offshore
AMV has been manufacturing, developing and refurbishing advanced
oil and gas industry equipment for 40 years.
Focusing on products like derrick drilling machines, top drives,
hydraulic power packs, drill floor manipulators, racker arms,
roughnecks, injectors and access baskets, AMV has a proven track
record of quality and solid craftsmanship.
Service companies have trusted us for close to
40 years, and keep coming back for more
AMV AS are recognized to be one of Aker Solutions MH top ten suppliers
AMV PORTFOLIO
ROUGHNECK
SPARE PARTS
SLIPS
MUDPUMPS
TOPDRIVES
PROJECTS
AMV REFERENCES
Transocean Searcher
- Cherry Picker Moonpool
Cameron Sense
- Development / production Topdrive
YME Platform – Talisman
- Cherry Picker 14m
- Assembly crane
- Manipulator crane for roughneck
- Skidding system
Stimline
- Development well intervention system
Optipump
- Development / fabrication mudpumps
Aker Solutions MH
- Topdrives
- PTD's
- Hydraulic power packs
- Cherry Pickers
- Roughneck
- Development 1000, 1250 & 1500 Tonne Topdrive
- Various development assignments
Weatherford Rig Systems
- Roughneck
- Slips
JL OFFSHORE AS
-
Company founded in 2000
-
4 Employees
-
Yearly turnover at approx 106 mill NOK (12)
-
All together been involved in the oilfield supply business for almost 70 years
-
JL Offshore is Exclusive representative for WOM (Worldwide Oilfield Machine) in Norway
-
JL Offshore is representative for Forum Energy Technologies in Norway
-
JL Offshore is Exclusive representative for Bronco Mfg in Norway
JL OFFSHORE AS
Services
JL Offshore can provide Service Personnel and Spare Parts for Mud Pumps, Drawworks etc. made by
other manufacturers.
Products
- Mud Pump Parts
- Bearings
- Roller Chain
- Sheaves
- Subs (x-over, saver etc.)
- Kelly Valves
- Inside BOP's & Dart Sub
- Plug Valves
- Ball Valves
- BF Valves
- Handling Tools
- Fishing Tools
- Brake Blocks
- Clutches
- Filters
- Drawwork
- General Supply of Drilling Related Equipment / Spares
JL OFFSHORE REFERENCES
Bredford Dolphin (Service & Parts)
- PZ-11 Mud Pump & E-3000 Drawwork
Songa Delta (5-year classification)
- A1700-PT Mud Pump
Bideford Dolphin (Service & Parts)
- FB-1600 Mud Pump
Songa Trym (5-year classification)
- 12P-160 Mud Pump
Borgland Dolphin (Service & Parts)
- 12P-160 Mud Pump
Veslefrikk (general overhaul)
- 12P-160 Mud Pump
West Epsilon (Service & Parts)
- FC-2200 Mud Pump & C3 Drawwork
Gullfaks A (general overhaul)
- 10P-130
Songa Dee (5-year classification)
- FB-1600 Mud Pump & C3 Drawwork
RVD AS
The company was founded in 2012 and has been delivering consultant services
to different project within rig upgrade (SPS) on several different projects within.
•
•
•
•
•
PLC programming
Engineering of new control system
Citect Scada HMI programming
Installation lead on site
Commissioning management and execution
Prior to founding RVD (Kjell Rune Heia) that is the owner has 13 years'
experience from Aker MH in;
Mechanical repair and overhaul
Hydraulic installation and trouble shooting
PLC control system startup, commissioning and trouble shooting
Holds IADC certificate as subsea engineer
And has in total 20 years' experience from offshore drilling industry.
RVD REFERENCES
Apply Rig & Modules:
Maersk Guardian
Engineering leader and PLC Programming for PRS pipehandling system
Maersk Giant
Engineering leader and HMI Development and PLC Programming for PRS pipe
handling system
Maersk Gallant
Engineering leader, HMI Development and commissioning execution.
These projects have involved change out of control system for the drilling
system including system design.
Tratec Offshore Solutions:
Maersk Resillient/Maersk Resolve
Installation supervision of overhauled drilling package, and commissioning
responsible of installed equipment.
HOW WE WORK
-
-
Survey
Technical specifications –
assistance. Early project
phase
Concept studies
Special products /
modifications
Market know how
-
Engineering
Software development
Engineering assistance to
AMV
-
Fabrication
Engineering
Our added value is the combination of strengths from each partner
-
Offshore installation / Commissioning
Overhaul and modifications
Spare parts and logistics
WHAT WE DO
Overhaul of Drilling equipment
Through the experience within the service range of our companies, we will be able to supply in-house solutions in
all chain of the process.
•
•
•
•
•
•
•
•
Dismantle of equipment and installation after overhaul
Sand blasting, NDT and inspection of equipment
Repair and machining of equipment if needed in overhaul
We have in-house welding engineer that can service welding procedures for repair of cracks or damage
We are certified for certification of lifting equipment
Re-assembly and work shop testing
Commissioning of installed overhauled equipment
Offshore solution for overhaul is part of our strategy and will be set up in each individual case
The personnel at Skild AS holds long experience in both offshore and onshore services within all sides of a SPS
within Hydraulic, mechanical and electrical part of the scope.
Skild will hold in-house competence for the key roles in these kind of project and will use sub-contractors from
local partners lead by Skild supervisors when possible
This will benefit our customer because use of local work force will be saving travel/lodging cost, and will normally
be a cheaper solution where Skild will only charge the cost plus and administrative cost for the local work force.
WHAT WE DO
Tailor made solutions in order to perform more MMO work offshore or on-site
Skild offer solutions to perform overhaul both offshore and on shore
This will give a flexibility for the customer where we will be able to set up different kind
of container or special tool solutions for the job.
•
•
•
•
•
•
•
Service Works shop containers
Hydraulic containers for hoses and piping …
Electrical containers for electrical parts and modification
Test unit containers for hydraulic units for test of equipment
Test containers for VFD, PLC control for full range test in local workshop
Special designed lifting equipment
Or other special request that customer may have
WHAT WE DO
Rig survey
Skild can assist in project planning and rig survey to plan and specify a job that the customer
may request.
•
•
•
•
•
Define scope of work to be performed
Define and plan how to execute a job
Define if any special requirements are needed or should be considered to save time
Find solutions for request from rig in cooperation with rig crew and shore base organization
Plan and design replacement equipment if overhaul or repair is not a preferred solution
WHAT WE DO
Spare part and storage
• Skild can offer spare parts trough JL Offshore product range
• Skild can offer to supply spare part or fabricate replacement where the customer
want this
• We can also offer to store and maintain equipment where the customer has need for
longer Storage of different equipment.
WHAT WE DO
Control system upgrade and E&I services
Trough in-house competence in Skild we can offer to do replacement of control system where the customer need
to upgrade due to different reasons.
We will then deliver system based on agreed functional description with customer regardless of OEM
Prior to building the control software a system need to be specified with:
•
•
•
Functional description
Cause and effect for the different machines
Approval from authority (DNV, Lloyds etc.)
We have long experience in control system development, implementation and commissioning.
Further strengthen of this will be done in sub-service from AMV.
We can deliver tailor solution where the customer are part of the design team and get the best solution for each
case
WHAT WE DO
Tailor solution and special equipment from Skild
We believe that trough our experience and with input from customer we will be able to come
up with good solutions for any challenge that there may be in the operation of a rig.
This will be a challenge that will be solved and planned in cooperation with the customer.
We believe that the best solution is found based on a common effort where modification are
requested.
In Center
Improved tripping efficiency
stab and dope function keep
personnel out of red zone
-
Ensure stabile stabbing of
single and stand in WC
increasing productivity on
the rig
-
Full pipe range for
Roughneck
-
Retrofit for Aker MH /
NOV roughneck
-
Dope / Wash function
keep the RFO out of red
zone
-
Removes personnel from
red zone
-
No integration towards
existing control system
-
Patented technology
In Center
- Dope / Wash
function
Showing dope of pin end in
same operation as centering
of pipe
This minimize time for
doping, and ensure that the
RFO don't have to enter the
red zone for doping while
tripping in hole.
In Center Operation Animation
In Center
Dimensions
The In Center is a fully hydraulic integrated
Machine, no need for control system upgrade.
This give a flexible solution regardless of control
System installed.
Well Intervention Pump
Constant speed eliminates need for costly
speed control device, clutches, multiple stage
gearboxes etc.
Patented Technology
Small footprint
Variable stroke, 0-100%, step less while pump are running
for accurate volume/pressure/Flow control
Soft start, no shock load on piping and well equipment.
PLC controlled. Able to run at constant pressure, constant
flow or fixed volume. Perfect for MPD and pressure testing.
Well Intervention Pump
Wide flow/pressure range for each plunger size.
No need to replace fluid end body when changing
plunger size
Plunger Size (In)
4,5
4
3,5
Max Flow l/min
1075
850
480
Max Pressure (Bar)
150
200
350
SKILD lift arm
Skild can deliver special arrangement for personal
lift.
Here is one example for how we can design a
basket for use where the operator need to get
access on different sides or positions of
equipment or location.
This kind of basket reduces the need for use of
riding belt or climbers and ensure that the
operator can gain safe access to working place.