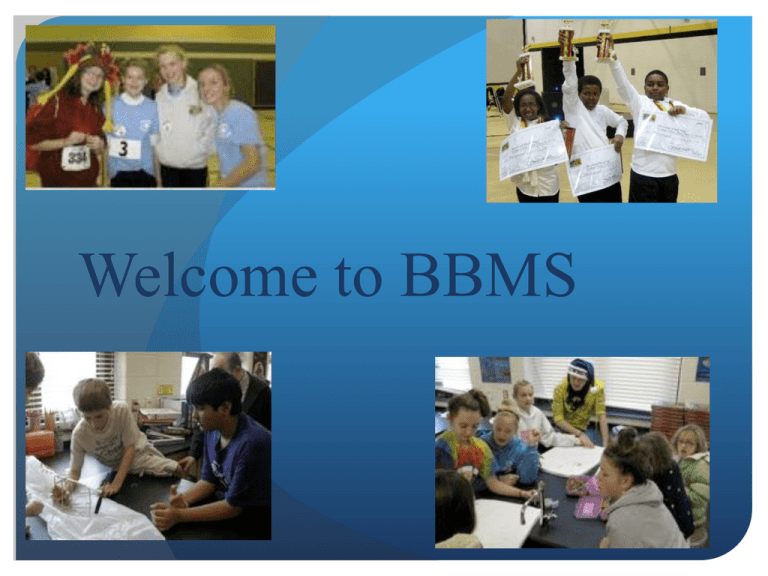 Welcome to BBMS
BONNIE BRANCH MIDDLE SCHOOL
HCPSS
Vision: Every student is inspired to learn and
empowered to excel.
Mission: We cultivate a vibrant learning community
that prepares students to thrive in a dynamic world.
Build Relationships
Be respectful, responsible, and ready
Motivate, inspire, and empower
Strive for excellence
BONNIE BRANCH MIDDLE SCHOOL SIXTH GRADE TEAM
CHER JONES – PRINCIPAL
NAN BROWN – ASSISTANT PRINCIPAL
DAVID EBBIE – ADMINISTRATIVE INTERN
DEBBIE GERMROTH – GUIDANCE COUNSELOR (LAST NAMES A - K)
MEG SAVAGE – GUIDANCE COUNSELOR (LAST NAMES L - Z)
TANYA JOHNSON – TEAM LEADER, MODULES TEACHER
JOCELYN ANTHONY-WILLIAMS – ELA
ASHLEY KRONZER – ELA
AVI TURNER - ESOL
HOLLY BYRON – MATH
ELISSA SCHUYLER – MATH
LAUREN ALTMAN – SCIENCE
SHELLEY HEINZ – SCIENCE
STEPHEN BOONE – SOCIAL STUDIES
TODD GARNER – SOCIAL STUDIES
ROBIN BREGMAN – SPECIAL EDUCATION
DAWN WRENN – SPECIAL EDUCATION
KIM BRISCOE – PARA-EDUCATOR
BRITTANY GEELHAAR – PARA- EDUCATOR
PTA
 Membership
 Direct Donations
 Committees
Monday – Thursday week 1
Shark Talk
• A BBMS "Advisory" Program
- 1x/month 30 min. lesson – all students
- Topics include Anti-bullying and PBIS
- Other lessons based on need
- Coordinated by School Counselors
• Supports HCPSS goals
• Lesson information will be on BBMS Student Services
wiki each month
Homeroom
3 R's: Respect, Readiness, and
Responsibility
Shark BucksStudents will have the opportunity to earn Shark Bucks 2 or 3 times a
week on a school-wide basis. At these times, a desired behavior will
be announced and all students in the class exhibiting that behavior
will earn a Shark Buck. The Shark Bucks will be color-coded by
quarter and expire (i.e. must be spent) by the end of each quarter.
Shark Shop
Quarterly Fun Days
Raffles
Breakfast $2.00 and Lunch $3.25
milk - $.50
Week 1 - lockers & buses
15 minutes early at stop
riding assigned bus
Teacher Wiki and websites
Aspen
BBMS website:
bbms.hcpss.org
BBMS twitter: Follow us @hcpss_bbms
Back to School Night
Wednesday, September 10th from 6:00 – 8:30PM
ODE wiki:
https://bbmsoutdoored.wikispaces.hcpss.org/
ODE is from Oct. 20-24
Agenda
Steps to modify your
HCPSS News account
1) From BBMS home page
click subscribe on bottom
right corner of web page.
2) Click account management
or to create account, click
subscribe
3) Enter the email
address associated
with your account.
4) Click Change
your subscription
info. & follow steps.
New Math website
 http://hcpssfamilymath.weebly.com/
Personal Property
Outdoor Education
Outdoor Education
When/Where is Outdoor Education?
- Bonnie Branch will be using the facilities of NorthBay in North
East, MD.
11 Horseshoe Point Lane
North East, MD 21901
(phone) 443-967-0500/(fax) 443-967-0501
www.northbayadventure.com
- Departure: Monday, October 20, 2014 around 9:00 AM
- Return: Friday, October 24, 2014 around 1:45 PM
Outdoor Education
How much does Outdoor Education cost?
- Student Cost: $255
- Parent Cost: Free
$255 cover the cost of:
- use of NorthBay facilities (5 days/4 nights and includes meals)
- transportation to and from NorthBay
- commerative Outdoor Education t-shirt
Is there financial assistance to help pay for Outdoor Education?
- Joe Corbi's Fundraiser can assist with the reduction of the
student fee
- Partial student scholarships are available for families that
need assistance. Please contact Nan Brown, Assistant Principal.
Important Parent Information
How to Receive Emergency/School Closing and Delay Information
The HCPSS uses the methods listed below to announce school closings and
delays. (This list is also provided in the 2013-2014 Student/Parent Handbook,
page 38.) www.hcpss.org
The school system's website is the first and most complete source of
information on school closings and delays.
HCPSS News email and text message alerts
Register at www.hcpssnews.com. Parents who subscribe to this free service can
also opt to get news from their child's school, and will receive the school
system's Weekly News, which provides valuable information on school
activities and HCPSS-related information.
For step-by-step instructions on signing up, go
towww.hcpss.org/news/newsletter/subscribe.shtml.
Important Parent Information
How to Receive Emergency/School Closing and Delay Information
HCPSS TV - Cable TV Comcast 95/Verizon 42
NotifyMeHoward
Register at https://notifyme.howardcountymd.gov and choose to receive news
from the HCPSS.
Local media:
WBAL-TV – Channel 11
WRC-TV – Channel 4
WBAL-AM – 1090 Regional Emergency Broadcast Alert System
WTOP-FM – 103.5 Regional Emergency Broadcast Alert System
HCPSS Information Hotline 410-313-6666
Twitter – @hcpss
Important Up-coming Events
Date
Activity
August 25
ODE Packet & Joe Corbi's will go
home
August 27
ODE Information Meeting at BBMS
from 6-7 PM
September 5
Joe Corbi's orders and Parent
Chaperone forms are due
September 9
Five Guys fundraiser at the
Columbia, MD location. 5:30 –
9:30 PM
September 10
BACK TO SCHOOL NIGHT
6:00 – 8:30 PM
September 15 – 19
Collection of ODE forms and
money. Selection of cabins!!!