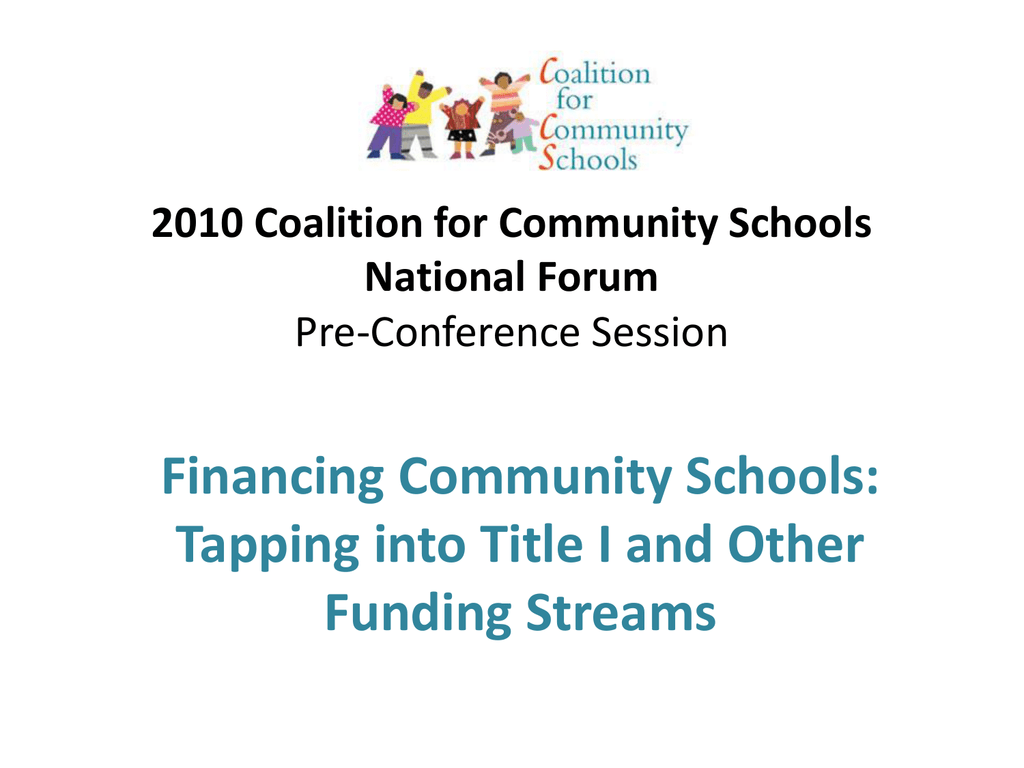 2010 Coalition for Community Schools
National Forum
Pre-Conference Session
Financing Community Schools:
Tapping into Title I and Other
Funding Streams
Panelists
• Cathlin Gray, Associate Superintendent for Family,
School, and Community Partnerships, Evansville
Vanderburgh School Corporation
• Diana Hall, Program Supervisor, SUN Service System,
Multnomah County, OR
• Darlene Kamine, Consultant, Cincinnati Public Schools
• Lee Ann Kwiatkowski, Director of Differentiated
Learning, Indiana State Department of Education
• Richard Long, Executive Director of Government
Relations, National Title I Association
Moderator: Sarah S. Pearson, Deputy Director, Coalition for
Community Schools
Session Goals
• Provide the audience with an overview of the
Coalition's Finance paper (to be released soon)
• Examples of 3 different community school system
financial structures
– how started, challenges, and innovative solutions to
developing a financial system, etc.
• Insight into Title I directors' motivation and perspective
on the community school approach
– State and National level
– How to approach these leaders about community schools,
be more involved, and to help you in the search for other
funding streams.
Agenda
9:00
9:10
9:20
9:30
10:00
10:15
10:30
10:45
11:30
Welcome, introductions, overview of session goals &
agenda
Review of the Financing Community Schools report
Audience Q&A
Voices from the Field
– Cathy Grey, Diana Hall, Darlene Kamine
Title I Directors' News and Views
– Rich Long and Lee Ann Kwiatkowski
Panel Discussion
Audience Q&A
Breakouts - Panelists move to tables in the audience
for small group discussions.
Adjourn
Financing Community Schools
Methodology
Name
State
Site or System
Number of Schools
Chicago Community Schools Initiative
IL
Not District wide System
162
Evansville Vanderburgh School Corporation
IN
District wide System
38
Community Schools Collaboration (Tukwila
Public Schools)
WA
District wide System
5
Chicago Public Schools – Individual Sites
IL
2-Elementary Schools
High School
3
Children's Aid Society
NY
Elementary School
Middle School
2
Schools Uniting Neighborhoods Initiative,
Portland
OR
Middle School
High School
2
Sayre University-Assisted Community School,
Philadelphia
PA
High School
1
Hoover Elementary Community School,
Redwood City
CA
Elementary School
1
Community School Funding Source – Data Collection Matrix
Financing Community Schools
Name/Position:
Address:
Intermediary/Partner:
Date:
Name of School:
This data reflects the  current school year  past school year (check one).
Data Collection Tool
Purpose: This project seeks to identify the variety of ways in which community schools are financed. We hope to untangle the mystery of how community schools are funded for the
benefit of the field and others aspiring to develop community schools.
For each program or service available at your school, please provide the following information:
1. Mark as "a," "b," "c," etc. Or a combination of the following:
a.
b.
c.
d.
e.
Direct allocation by intermediary, by school district?
Funds raised by lead partner, or other source at school? For example, a grant goes to lead
partner which in turn delivers service or provides a portion to the community school. Or, a CBO
receives prevention grant and delivers services at the community school. Or, CBO is a HUD
Housing Council agent and offers financial education, or provides other services at the school.
School-based student support involved with the community school. For example, school nurse.
Redirection/leveraging of existing funding by partners to sites? For example, Children's Literacy
Council provides ESL classes; Community College offers technical courses; local hospital or clinic
provides services. [e.g. Boys & Girls Club offers services]
In-kind funding or other support such as volunteers, materials, space?
Federal
Academic Enrichment
State
County
3.
Write the name of the funding source and estimated amount, e.g., 21st Century, CLC,
Medicare/Medicaid, CNCS Learn & Serve, Americorps, Safe and Drug Free, Dept. of Agriculture
programs, work study, etc. (For programs and services, please provide $ amounts. For existing
staff, provide % of FTE, For volunteers, provide hours, and for college students, provide # of work
study hours, if applicable.)
What is leveraging the integration of resources? A policy structure? Leadership? A mix of structure
and leadership?
City
st
a) 21 C ($110K)
District/
LEA
Private
Foundations
b) Family Ctr.
Prog. ($75K)
d) Medicaid
($50K)
Health Services
d) U. Penn work
study – 2 interns,
part time for 100%
salary/6 mths.
In-Kind
e) 3 Univ.
graduate
volunteers
/interns.
b) Casey Found.
($25K)
e. XYZ Co. ( 5
ppl/2 days per
month/10 mths.)
Mentors
Parent Education
Parent
Involvement/Leadership
Recreation & Sports
Service Learning/Civic
Eng.
Tutors
Volunteers
-
CBOs
c. Nurse @
20% FTE
Life Skills
•
Indiv.
Donors
d) Library
resources ($5K)
After School
Early Childhood
Family Support Centers
Site Coordination
Private
Businesses
a. Local
approp.
($50K)
Adult Education
Immigration Services
Interns -- College
2.
a) 50% FTE site coord.
d. 25% FTE site
coord.
b. 25% FTE site
coord.
Preliminary Findings
Community schools unite an abundance of diverse social and
academic opportunities and services for students and families.
Figure 1 – Combined System and Independent Sites
How Resources Are Used in Community Schools
Preliminary Findings
Funding at individual community schools is widely diverse.
Findings - Preliminary
Preliminary Findings
Two schools under the Children's Aid Society model, in the same city.
•
Preliminary Findings
Funding at the community schools systems is also diverse.
Preliminary Findings
The cost of site coordination is small in relation to the amount of programs,
services, and resources leveraged by the site coordinator.
Preliminary Findings
The cost value of community schools is demonstrated in their ability to
leverage school district dollars with three dollars from a variety of other
sources.
As a result of a diverse funding strategy and advocacy efforts, community
schools may be more adept than other schools in weathering a downturn
in the economy.
Preliminary Findings
Intermediaries work at the systems level with support from community
leadership and reach across silos of funding to capture resources for
community schools.
• Schools Uniting Neighborhoods in Multnomah County in Oregon
• Community Schools Initiative in Chicago, IL
• Evansville Vanderburgh School Corporation in Evansville, IN
• Community Schools Collaboration in Tukwila, WA
• Children's Aid Society in New York City
Partnerships are the backbone of community schools.
• Non-Profit, Community-Based Organizations and Faith-Based Organizations
• Corporate and Philanthropic
• Higher Education
Visionary leaders mobilize a community school initiative and steer it toward
success.
Title I in Community Schools
In Title I, Part A ARRA, funds may be used in accordance with the statue's
education reform goals to:
• Strengthen the quality or complement the effectiveness of early learning
programs (e.g. Head Start or a preschool program)
• Extend learning time for students (before and after school programs)
• Provide Saturday school and summer school
• Extend half-day kindergarten
• Expand the school day, week or year and support services for homeless
children/youth
• Add time for teachers to plan collaboratively, including providing more
instructional time and opportunities for service-learning, internships, and
apprenticeships, the arts, and other activities that enrich curriculum and
promote student achievement
• Strengthen parent involvement
–
–
–
–
–
Build ties between parents & school – parent liaisons
Home visits
Parent resource room in school
Parent leadership academy
Conducting a series of forums for parents of Title I students transitioning from middle to high
school, etc.
Allowable Uses of Title I Dollars to Support
Community School Strategies
• Community planning.
• Coordinating and integrating Title I services with other
programs from ESEA or services funding with public or
private funds.
• Professional development targeted toward developing
capacity of school professionals.
• Design, implement and provide PD for curricula that
connects students to real-world issues.
• Hire site coordinators who integrate school and community
resources.
• Out-of-school programs providing additional instructional
time.
• Parental involvement that addresses barriers to learning.
Panel Discussion
• From a states perspective, how can schools and districts leverage
their Title I funds to enhance community partnerships?
• What are the risks of getting lucky with big federal grants, Title I
funding and generous support from the district's general budget?
• How does a school district leverage their funding streams to
support this work?
• With decreasing school budgets – a national issue – how does this
affect a school district's ability to find funding to support the
community school initiative?
• How can school districts not only align their funding streams, but
the functions within a school district that are designed to support
this work?
• What are the best strategies for sustainable funding that will help
bullet proof the community schools development you've done in
your district?