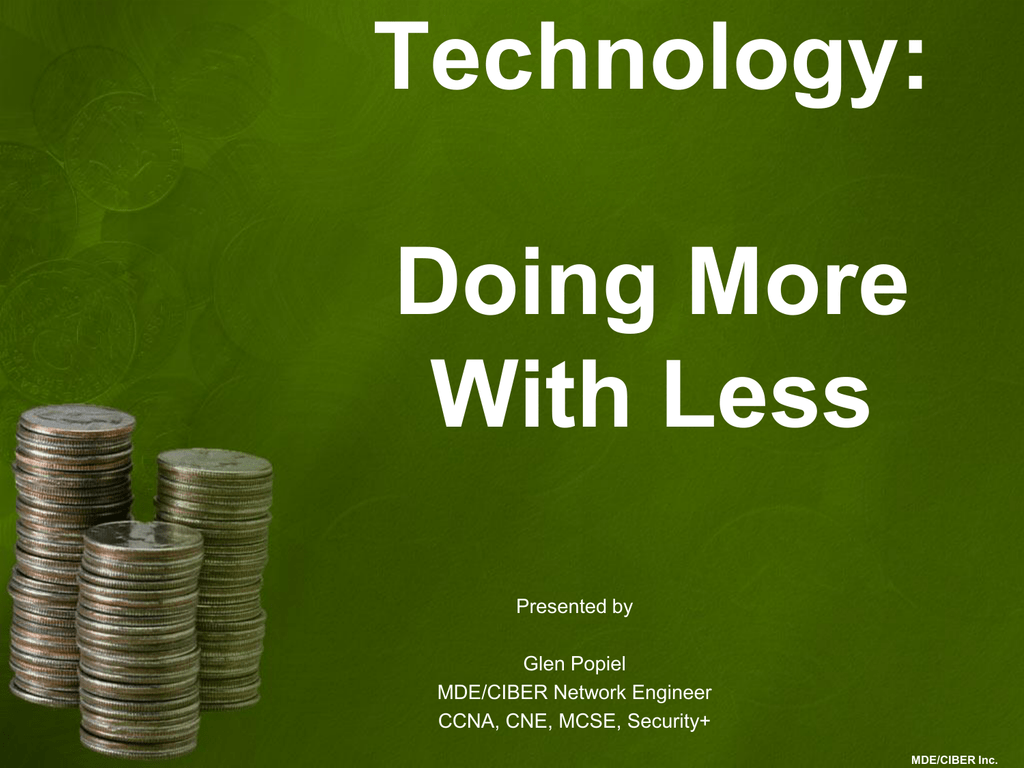 Technology:
Doing More
With Less
Presented by
Glen Popiel
MDE/CIBER Network Engineer
CCNA, CNE, MCSE, Security+
MDE/CIBER Inc.
Problem #1:
We have no money
• Budget reductions are affecting State
and School District budgets. These can
be expected to continue
• To improve the quality of education, we
need more technology in the classroom
• Technology comes at a price, in terms
of hardware, software, support costs
and manpower
MDE/CIBER Inc.
Problem #2:
We have no bandwidth
• More and more applications are moving
to an online web-based format instead
of being locally hosted as in the past
• Internet bandwidth usage is growing
exponentially and there is not enough
bandwidth to support these
applications
• Each application moved online
consumes additional bandwidth which
is only compounding the problem
MDE/CIBER Inc.
Bandwidth
Availability
•
•
•
•
At the state level there is 1,200 Megabits per second
of bandwidth allocated to the K-12 MPLS network
Usage by ALL districts MUST average 7.9 Mb/s
1791 Mb/s is allocated by the state to the district
offices alone
– We're 591 Mb/s short before we even include the
schools into the equation
– The only reason this works is typical Internet
data is not constantly streaming but is
intermittent bursts of data
• However, more and more of our Internet
usage is streaming data (video, etc)
Increasing the bandwidth at the district/school level
doesn't gain anything since the bottleneck is
effectively at the state level
MDE/CIBER Inc.
The Laws of Physics
are still being enforced
• Bandwidth demand cannot exceed bandwidth
available
– We're already negative 600 Mb/s at district
offices alone
– The move to more streaming Internet
content is stretching this to the breaking
point
• Since neither Stephen Hawking nor Albert
Einstein are working on this problem, we're
basically on our own
MDE/CIBER Inc.
At The School Level
• The average school is connected to the Internet
via a single 1.5 Mb/s T1 circuit
• Assuming the average student online learning
session consumes 300 Kb/s and contains
streaming content, each school can have about
5 students using any of these applications at a
time with NO bandwidth available for other
Internet activity
• Even if the school is not connected via a T1, the
overall 7.9 Mb/s average per district still applies
MDE/CIBER Inc.
Application
Bandwidth Usage
•
•
•
•
•
•
•
•
•
•
•
•
•
STAR Early Literacy : 32,790 Kb/s
English in a Flash : 14,450 Kb/s
Fluent Reader : 12,390 Kb/s
Accelerated Reader : 9,027 Kb/s
MathFacts in a Flash : 6,178 Kb/s
STAR Math : 5,825 Kb/s
Accelerated Math : 4,333 Kb/s
MPB/Distance Learning : 3,000 Kb/s
Streaming Video : 3,000 Kb/s
STAR Reading : 2,929 Kb/s
Compass/Odyssey : 2,560 Kb/s (HS) 1,280 Kb/s (K-8)
Plato : 1,280 Kb/s
Streaming Music : 1,280 Kb/s
•
•
•
Based on 10 concurrent users
T1 Bandwidth = 1,544 Kb/s
Based on estimates provided by software manufacturer
MDE/CIBER Inc.
Problem #3:
We're not getting all the bang
for our technology bucks
• Implementation of Online Applications we don't
have the bandwidth to support
• Implementation of new technology we don't
have the network infrastructure or personnel to
support
• Technology staff is not being involved in
purchasing decisions
– Not enough manpower to support
– Network infrastructure insufficient
– Bandwidth not available
– Cost of support not considered
• Vendors tend to sell what they want you to buy
not what you really need
MDE/CIBER Inc.
There Are Solutions
• Bandwidth options
• Smart technology purchasing
• Virtualization
• Free Stuff
• Other Cost Savings
MDE/CIBER Inc.
Bandwidth Options
• Conserve Internet bandwidth
– Content Filtering can help but it's a band-aid
– User education to reduce bandwidth waste
– Don't use online backup services such as
iDisk, Carbonite, etc. They can transfer huge
amounts of data
– Implement local Windows Update and
Antivirus update servers
• More Bandwidth
– But I said there's no bandwidth available
• Consult with your technology staff, MDE
and the CIBER reps for possible
solutions
• Host your Applications locally
– Adds to hardware and support costs
MDE/CIBER Inc.
Buy Wisely
• Do you really need what you're planning to
buy?
– Is there a more effective solution available at
a lower overall cost?
• What are the TRUE bandwidth and
infrastructure requirements?
– Do you have the bandwidth to support it?
– Single User demos always work great. You
have to scale it to the planned number of
users
• Can your existing tech staff support it?
– Will it require additional infrastructure
and/or manpower?
MDE/CIBER Inc.
Alternative
Solutions
• Moodle
• Virtualization – server and desktop
• Firewall, VPN, Content and Spam
Filtering
• Voice Over IP Phone/Intercom/Bell
Systems
• Google Apps
• Open Office
• Open Source Learning Applications
MDE/CIBER Inc.
Moodle
• Moodle is a FREE Open Source Course
Management system allowing teachers to
create their own course content in an online
environment that is hosted locally
• Because it is hosted locally, students and
teachers can use Web 2.0 technology in a
closed, secure, safe and managed environment
• Thousands of teachers have already created
content you can use immediately in the
classroom
MDE/CIBER Inc.
Virtualization
Virtualization is the latest technology trend that
allows for reduction of physical equipment
while providing the same level of functionality
to the end user
• Server Virtualization
– Allows the consolidation of server hardware
to fewer physical units, reducing long term
costs
– The software required to do this is free
• Desktop Virtualization
– nComputing/Thin Clients
– Significantly reduces the cost and number
of physical workstations required, replacing
them with just a monitor, keyboard, mouse
and a thin client device
MDE/CIBER Inc.
Firewall, VPN, Content
and Spam Filtering
• ClarkConnect/ClearOS is a FREE Open Source
Content Filter, Firewall, VPN and Email Spam
Filter solution which performs as well as
expensive commercial solutions.
– Some commercial solutions actually use
customized versions of the same software
components in ClearOS in their products.
– Already used in over 100 Mississippi School
districts
– Fully CIPA compliant
– Includes a Helpdesk Ticketing System
• Commercial filtering solutions can cost $5/yr per
user or higher
• MDE/CIBER provides training and FREE support
MDE/CIBER Inc.
Voice Over IP
Phone Systems
• Asterisk is a FREE full featured Open Source
Voice over IP Phone system with the same
functionality of an expensive commercial phone
system with integrated videophone capability
– Used by school districts to replace
telephone and intercom systems
– Used as a school bell and alert system
– Used for one-on-one video distance learning
sessions
• Typical savings of $30,000 per campus over
commercial solutions
• MDE/CIBER provides training and FREE
support for the Trixbox version of Asterisk
MDE/CIBER Inc.
Google Apps
• Google Apps is an online suite of applications
that provides email with calendar, word
processing, spreadsheet and other features
– Includes mobile access for Blackberry,
iPhone and other smartphones at NO
EXTRA CHARGE
– Integrates with Microsoft Outlook
– 24/7 support
– Email Archiving is available
– Uses your existing k12.ms.us domain name
– Free to schools for first 1000 users
– Users can access their information from
anywhere
– Google Docs can be used offline
MDE/CIBER Inc.
Open Office
• Open Office is a FREE suite of
applications that provides word
processing, spreadsheet, presentation
and other features
– Look and Feel similar to Microsoft
Office
– Compatible with Microsoft Office
data formats
– Can create PDF files
• Microsoft Office Suite 2010 costs $240
per user on the state EPL volume
pricing list
MDE/CIBER Inc.
Open Source
Learning Solutions
• A vast amount of FREE Open Source
Learning Applications is available on
the Internet
– www.schoolforge.net
– OSWINS is a collection of Free and
Open Source software for
educational use available for
download from os.cqu.edu.au
– Edubuntu Linux is a free Linux
distribution tailored for education
that includes a number of
educational applications
MDE/CIBER Inc.
Other Savings
• Substantial savings can be gained by turning
off the power on your workstations, etc. at the
end of the day
– Easily implemented and can be cancelled by
a user working late
• The average compact refrigerator costs $21.25
per year
• Not only do space heaters pose a significant
fire hazard, they use a lot of power and put an
unplanned load on the school's electrical
system, often overloading circuits used for
workstations. A space heater can cost a district
$54 each per winter.
MDE/CIBER Inc.
Power Savings
• In a district with 1300 workstations,
simply by turning off workstations after
hours, $2,350 per month could be
saved. Over a 10 month school year this
adds up to $23,500.
• Based on 2007-2008 MOTE survey data,
there are 146, 874 workstations
statewide. This yields a potential
statewide savings of $632,800 to over
$3,000,000 in wasted electricity costs.
MDE/CIBER Inc.
We're here to help
• Work with your technology staff to implement
technology wisely. Involve them in your
purchasing decisions to make sure you get the
most out of your technology purchases
• MDE provides the CIBER representatives FREE
OF CHARGE to all districts for Consulting,
Training, Technology Support and E-rate
assistance.
• The MDE staff and CIBER representatives can
also assist you in evaluating and determining
your IT purchasing requirements and
evaluating vendor quotes
• Contact MDE or a CIBER representative if you
would like them to assist you with these and
other cost savings ideas
MDE/CIBER Inc.
In Conclusion
• We CAN do more with less
• We need to become more aware of the full
impact of our technology decisions
– Spend wisely
– Involve your Technology staff in your
technology planning
– Take full advantage of the FREE MDE
and CIBER resources available to you
• A copy of this presentation is available at:
www.mde.k12.ms.us/mde_field
MDE/CIBER Inc.