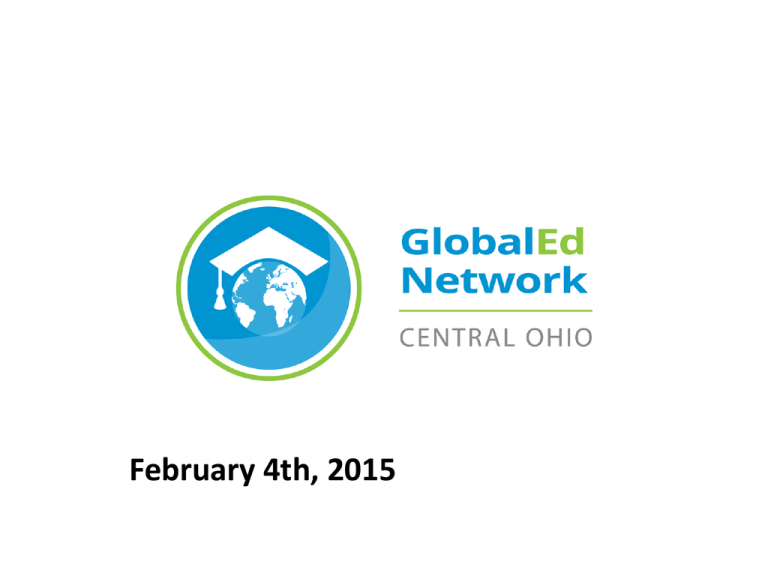 February 4th, 2015
LED BY:
IN PARTNERSHIP WITH:
Today's Agenda
• Welcome and Introductions
• CNIS World Percussion Ensemble
• Moderated Panel Discussion
"Global Competence in Today's Workforce"
• Open Discussion
• GSD Updates and Discussion
Welcome
• Mr. Kenny Lee
– Principal (Columbus North International School)
Columbus City Schools
Panel Discussion
– Kim Wilson: Superintendent: Tolles Career and
Technical Center (Moderator)
– Scot McLemore: Technical Workforce
Development Mngr. – Honda of America Mfg.
(Panelist)
– Jeanne Rocco: Manager of Nurse Recruitment –
Nationwide Children's Hospital (Panelist)
– Ryan Bernath: Asst. Superintendent – Granville
Exempted Village Schools
Global Scholars Diploma Update
•
•
•
•
New Partnership: Westerville City Schools
Total: 193 Students (161: Level I, 32: Level II)
Cross-Cultural eModule coming in March
Next Global Scholars Event Feb. 13th at Fisher
School of Business
• March 27th: Global Careers Day: Honda of
America, Mfg.
Wrap-Up
Next Network Meeting:
April 29th
Please complete your survey and provide some
suggestions or comments
THANK YOU FOR YOUR SUPPORT!