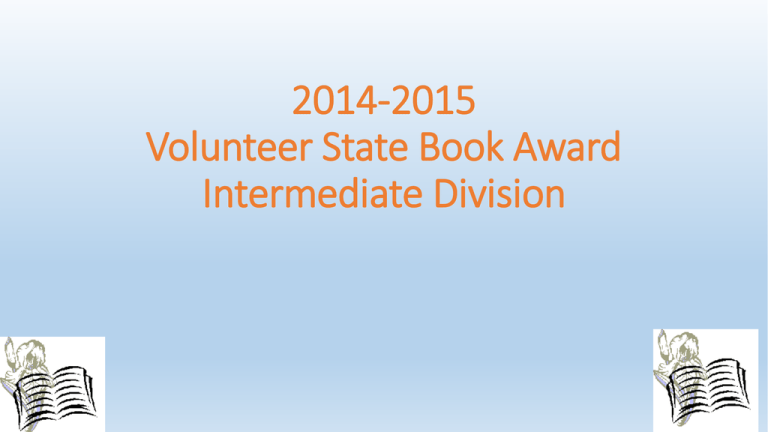 2014-2015
Volunteer State Book Award
Intermediate Division
Prairie Evers
by Ellen Airgood
• Ten-year-old Prairie is happy
being home-schooled and
raising her flock of chickens, so
transferring to regular school is
a big change, but fortunately
she meets a wonderful friend.
The One and Only Ivan
by Katherine Applegate
• When Ivan, a gorilla who has
lived for years in a run-down
circus-themed mall, meets Ruby,
a baby elephant that has been
added to the mall, he decides
that he must find a better life for
his new friend.
Little Dog, Lost
by Marian Dane Bauer
• Written in free verse, this novel
tells the story of Mark who
wants a dog and Buddy the dog
who needs a boy. What happens
when they find each other?
The Fast and the Furriest
by Andy Behrens
• Kevin is the overweight and
unathletic son of a famous
football player. When he
discovers that his equally fat and
lazy dog is interested in
competing in dog agility
contests, the two begin training
together.
The Prince Who Fell From the Sky
by Jean Claude Bemis
• When a spacecraft crashes on an
Earth where animals have
regained control, a cubless
mother bear adopts the only
survivor, a young boy, and leads
him on a journey toward safety
from the ruling wolf clans.
The Year of the Book
by Andrea Cheng
• Anna navigates relationships
with family, friends, and her
fourth-grade classroom and then
finds a true best friend.
The Quilt Walk
by Sandra Dallas
• Ten-year-old Emmy Blue learns
the true meaning of friendship-and how to quilt--while making a
harrowing wagon journey from
Illinois to Colorado with her
family in the 1860s.
The Case of the Rock N' Roll Dog
by Martha Freeman
• Tessa and Cameron, daughters
of the first female president, are
the owners of a very
rambunctious dog. When a
valuable object goes missing
from the White House, the two
girls have to play detective.
Wildfire Run
by Dee Garretson
• A relaxing retreat to Camp David
turns deadly after a faraway
earthquake sets off a chain of
disastrous events that traps the
president's twelve-year-old son,
Luke, and his two friends within
the compound.
Tuesdays at the Castle
by Jessica Day George
• Princess Celie loves Tuesdays at
Castle Glower, because every
Tuesday the castle adds a new
room, a turret, or sometimes a
whole new wing, and Celie likes
to map the changes to the
castle, but when her parents,
King and Queen Glower are
taken captive, it falls to Celie and
her knowledge of the castle to
defend their home and save the
kingdom.
Leo the Snow Leopard
by Juliana, Isabella, and Craig Hatkoff
• Leo, a snow leopard, lost his
mother in the snowy Himalayan
mountains of Pakistan and was
raised by a shepherd before he
was transported to the Bronx
Zoo.
The Hero's Guide to Saving Your Kingdom
by Chris Healy
• iam, Frederic, Duncan, and
Gustav, all former princes who
had been rejected by their
princesses and cast out of their
castles, encounter trolls,
witches, and dragons during
their quest to become heroes.
Ungifted
by Gordon Korman
• After he pulls a prank at school,
troublemaker Donovan is sent to
the Academy of Scholastic
Distinction, a special program for
gifted and talented students, by
mistake.
Wonder
by P.J. Palacio
• Auggie Pullman was born with a
severe facial deformity that has
prevented him from going to
school. When he starts middle
school at Beecher Prep, he
wants nothing more than to be
treated as an ordinary kid.
A Dog's Way Home
by Bobbie Pyron
• After a car accident strands
them at opposite ends of the
Blue Ridge Parkway, eleven-yearold Abby and her beloved sheltie
Tam overcome months filled
with physical and emotional
challenges to find their way back
to each other.
May B.
by Caroline Starr Rose
• When a failed wheat crop nearly
bankrupts the Betterly family,
twelve-year-old May's father
pulls her from school and hires
her out to a couple new to the
Kansas frontier.
The Storm Makers
by Jennifer E. Smith
• Twelve-year-olds Ruby and
Simon have been growing apart
since their parents moved them
to a Wisconsin farm. Weird
weather events tied to Simon's
emotions brings them into the
Makers of Storms Society and
strengthens the bond between
the twins.
The Silver Bowl
by Diane Stanley
• From the age of seven when she
became scullery maid in a castle,
Molly has seen visions of the
future which, years later, lead
her and friend Tobias on an
adventure to keep Alaric, the
heir to the throne, safe from a
curse.
Queen of the Falls
by Chris Van Allsburg
• At the turn of the nineteenth
century, a retired charm school
instructor named Annie Edson
Taylor decided to do something
that no one in the world had
ever done before--she would go
over Niagara Falls in a wooden
barrel.
The Prairie Thief
by Melissa Wiley
• In late nineteenth-century
Colorado, Louisa's father is
erroneously arrested for thievery
and, while under the charge of
the awful Smirch family, Louisa
and a magical friend must find a
way to prove his innocence.