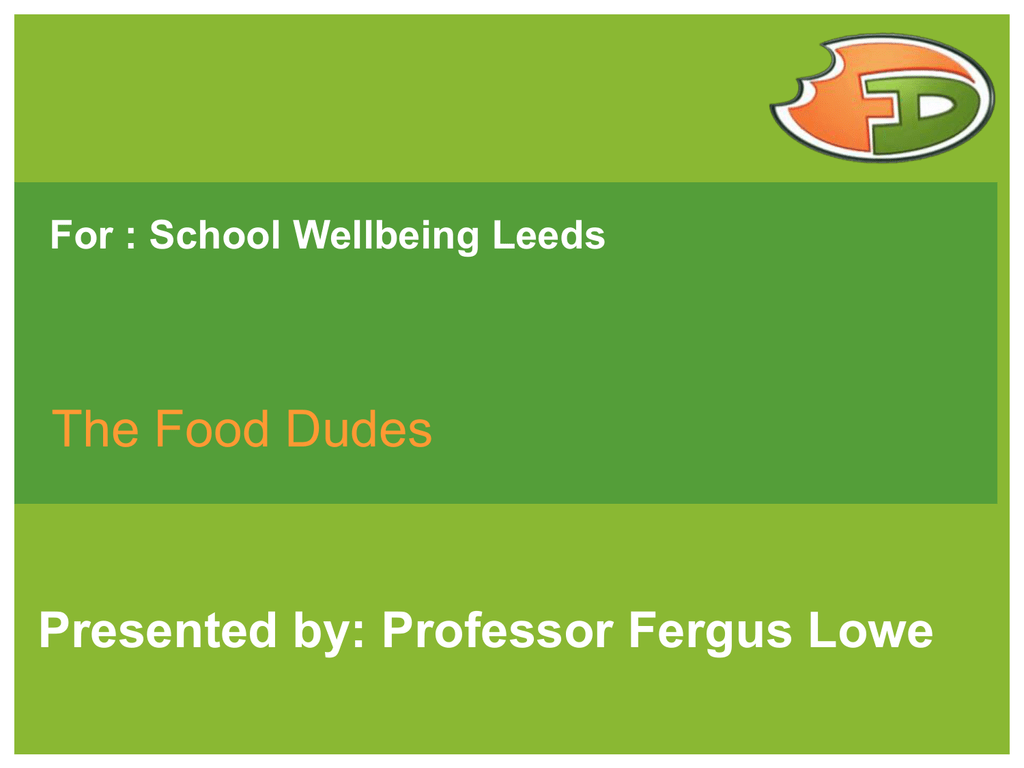 For : School Wellbeing Leeds
The Food Dudes
Presented by: Professor Fergus Lowe
About Us : Behaviour Change for Children's Health and Well-Being
Focus: Healthy eating & Physical Activity
700,000+ children participating
Award winning social enterprise
Whole School Behaviour Change
Home
Classroom
Curriculum
Dining Hall
Current & Future Vision
Early Years
Primary Schools
SEN
Whole Environment
Sustainable Behaviour
Change
Home Programme
Retail Outlets
Restaurants / Fast Food
Outlets
How is childhood obesity prevented?
Change Children's
Eating Habits and
Physical Activity
Requirements for Interventions
Should Connect with Child's Psychology
Should Demonstrate Strong Evidence Base
Should Actually Change Behaviour
Role Modelling: Meet The Food Dudes
Rewards
Repeated tasting
Whole School Programme: Primary School
Programme Overview – 'Food Dudes Full Force' (Y1)
Intensive Phase
Movies
Tasting
Rewards
Parental and
family
involvement
Days 1-16
Maintenance Phase
Dining Room
Experience
Competitions
All Year
Parental and
family
involvement
Choice Architecture: FD Dining Experience
Food Dudes
Branding
F&V
Presentation
Staff
Prompts
Reward
System
Aligned to School Food Plan
Visual Cues
Food Dudes Menu
Positioning
Healthy Choice
'Nudges'
Card Reward
System
Portion Control
Staff Modelling
Monitoring &
Evaluation
Walsall, Dudley & Hounslow School Lunchtime Results
50%
49%
50%
Fruit
Vegetables
40%
Sweet/fatty
% consumed
32%
30%
20%
20%
19%
21%
10%
0%
Baseline Follow-up
Baseline Follow-up
Baseline Follow-up
Home Consumption of F&V POST Food Dudes
Children
Parents
Awards
World Heath Organization
Best Practice Award for Counteracting Obesity
Chief Medical Officer's Gold Medal Award
Combating Obesity
Public Health Excellence Awards, West Midlands
Partnerships
Local Authorities Research + Intelligence Association
Best Use of Health Research
Local Authority Catering Award
Most Innovative Concept
Outcomes
Large and long-lasting improvements in diet
Biggest effects with poorest eaters
Benefits whole family
Starts early – from Nursery onwards
Inclusive- children of all abilities
Thank You
London Schools Study: Preventing Health Inequalities
50%
48%
Fruit
48%
Vegetables
% consumed
40%
30%
20%
11%
10%
7%
7%
4%
5%
2%
0%
Before
After 4 months
Before
Food Dudes School
After 4 months
Control School
Horne et al. (2004) Increasing children's fruit and vegetable consumption: a peer-modelling and rewards-based intervention.
Eur. J. Clin. Nutr. 58, p1649-1660.
Parental Endorsement
"It would be beneficial for the health of
children if Food Dudes were introduced
into all primary schools.